We recently took a road trip to Columbus, Ohio and stayed at one of our favorite hotels, Drury Hotels. We love all of the extras at Drury Hotels including free hot food at breakfast and dinner time!
Take a short video tour of our suite:

I received accommodations to facilitate this post.
Drury Hotels is the only hotel to receive J.D. Power award as "Highest in Guest Satisfaction among Upper Midscale Hotel Chains"  for 11 consecutive years! It is easy to see why, this family owned and operated hotel goes above and beyond what other hotels offer.
Drury Hotels earned this award for their clean rooms, friendly service, and exceptional value. Their tagline is "The Extras Aren't Extra®." and it is true!
Check out these FREE amenities including:
Wi-Fi
Hot breakfast featuring fresh waffles, biscuits and gravy, eggs, yogurt and more
Soda and popcorn from 3 to 10 p.m.
5:30 Kickback® reception including beer, wine, mixed drinks and appetizers
24-hour business and fitness centers
Indoor/outdoor pool and whirlpool
Drury Hotels Suite
There are Drury Hotels across the majority of the country with 8 in Ohio. During our visit, we stayed at one of three Columbus, Ohio locations, in Dublin, Ohio.
The Dublin, Ohio location is right off I-270 making it easy to get to and stay while visiting places like COSI, the Columbus Zoo, and downtown Columbus.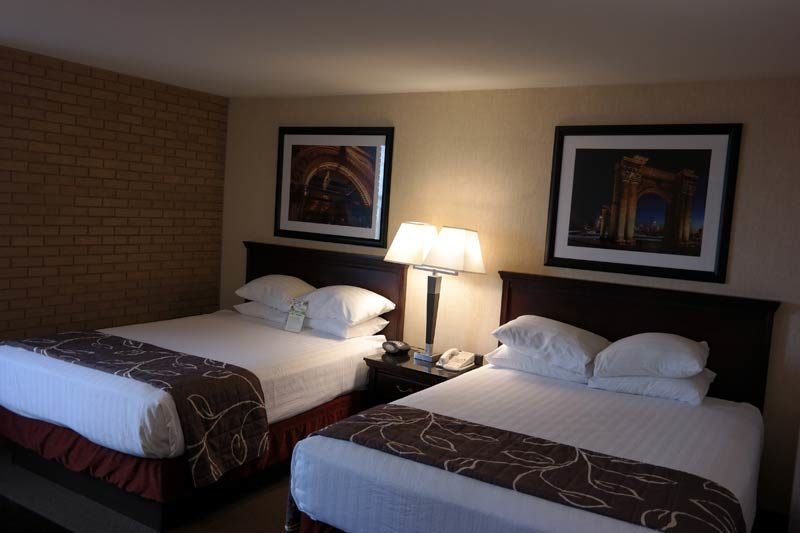 We've stayed at Drury Hotels many times and had enjoyable stays in their deluxe rooms with two queen beds. During this trip, we decided to check out their suite.
We decided to go to Columbus with friends – my son had a friend with her mom and my son had a friend with his mom join me and my kids. It was kinda like a girls weekend away but with kids! In my suite, the moms slept in the two queen beds and the girls sleep in the living area on the pull out sofa sleeper. They were able to stay up, watch movies, and giggle while us moms slept!
I love how spacious the suites at Drury Hotels are. The bedroom has two queen beds, LCD TV, and dresser. The living area includes a sofa that pulls out into queen size bed, a chair, LCD TV, microwave, refrigerator, and bathroom.
More extras that aren't extra at Drury Hotels is free wifi, free guest voicemail, free local and long distance calls.
Free Hot Food at Drury Hotels
A huge draw for families to Drury Hotels is their free food!  Drury Hotels offers a free hot breakfast in the morning, a 5:30 Kickback dinner, free soda, and free popcorn. It is the perfect option for affordable family travel with two meals and snacks covered.
The food is way better than you would expect since it is free! We were all impressed with how many fresh and healthy options there were including salad, vegetables, soups, meats, and more. This is what Taco Night looks like complete with tacos, salad, chili, and a baked potato. There was other food available as well including hot dogs, nachos with hot cheese sauce, and more.
Also with dinner came unlimited soft drinks as well as beer, wine, and mixed drinks for the adults.  We were all able to find delicious food that everyone liked for every meal. Our back-up plan was to run out to get more food if anyone was hungry or if they didn't have anything good. Our kids went back for seconds, so needless to say, we were very satisfied with the free hot food at Drury Hotel!
Breakfast was just as yummy as the 5:30 kickback. There was always a variety of hot food as well as pastries, bagels, oatmeal, cold cereal, and fresh made waffles.
I'm like a kid when it comes to fresh made waffles at hotels. I have a waffle maker at home but they never taste the same as at the hotel. They had two waffle makers and they were usually always running because they are so popular! Oh, bonus for me is that they had sugar-free syrup – many hotels don't. As a mom with two Type 1 Diabetic children, I really appreciate that!
Our kids enjoyed the indoor/outdoor heated pool and whirlpool a lot! We spent hours in the pool during our 3 day stay.
They loved swimming between the indoor and outdoor pool. I believe the glass opens up during the warmer months. Really, all my kids want for vacation is a pool. Taking a road trip to Columbus and staying at Drury Hotels is a perfect getaway anytime of year for families. Add an event or two like the Columbus Zoo or COSI while there and you've got a fantastic stay-cation. In fact, Drury Hotels is the preferred partner for Columbus Roar & Explore Getaway Package. It includes four tickets to the Columbus Zoo & Aquarium, Zoombezi Bay and COSI along with a 2-night stay at Drury Inn & Suites for just $430! It is an unbelievable deal.
Drury Hotels is offering a new program for guests to save even more with their Use Less. Get More. program. You can earn 250 Drury Gold Key Club Points every time you decline housekeeping services. This conserves energy (about 5 million kilowatt hours annually) and water (about 11 million gallons of water each year when combined with other water conservation efforts already in place). I love it when a company gives me rewards back, especially when it is so easy. Becoming a Gold Key Club member is free and easy online or at the front desk.
If you are planning a quick getaway or a vacation, I highly recommend checking out Drury Hotels. They are affordable, clean, and provide many extras that other hotels don't without an additional charge!