Summer is almost here! It is time to plan your summer vacation getaway. Whether you are taking a road trip or flying across the country, adventure awaits for your family. Once you select your destination, head on over to the Extended Stay America website to find the closet location to your destination. With more than 625 hotels across the USA, you are sure to find one nearby.
This is a sponsored post.
Why Choose Extended Stay America for Summer Travels
There are many, many choices for lodging while traveling. If you want all of the comforts of home for your family to unwind at the end of a busy day of exploring, Extended Stay America is a great choice.
Last month I had the opportunity to stay at an Extended Stay America Hotel in Toledo.  Toledo has a great zoo, children's museum and other attractions, and, simply, it was on our way to the start of our Michigan trip.
Extended Stay America offers affordable suites so you aren't cramped into a standard hotel room. Besides that, you'll have the comforts of home including a fully-equipped kitchen so you don't have to eat out for every single meal – saving you money and the hassle of packing up the family for every single meal. Plus, they have FREE grab-and-go breakfast items for those early mornings when you are off to sight-see.
For me, the best part of Extended Stay America is the spacious rooms and kitchen. As fun as vacations are, everyone needs a little space to unwind after a full day exploring.
As you can probably gather from the name, EXTENDED STAY is meant for people that want to stay.. for a while. In fact, the longer you stay, the more money you will save with weekly, biweekly, and monthly rates. Save up to 31% depending on the length of your stay!
When you plan to stay longer than just a few days, you'll really appreciate that the room comes equipped with the basics for a kitchen.  A family can stock a fridge, cook from a regular stove, eat at a real bar, and not feel like they have to eat pre-packaged tuna sandwiches while sitting on a bed. Yuck!
I know a lot of people look forward to dining out for meals while on vacation and so do I. However, I love having a fully-equipped kitchen while on vacation too. It allows us the OPTION of dining in or dining out. I don't like dining out for every single meal for several reasons.
First, it allows me to feed my family on my schedule without getting the whole family dressed to go out to eat, we can relax more with the option of dining in.
Second, we can eat healthier with the option of having a meal or healthy snacks in the hotel room.
Third, it saves money by eating some meals at the hotel and not every single meal out.
Fourth, we can take leftovers back to the hotel to enjoy later – I always hate wasting leftovers from meals while on vacation
This was a quick trip for us, so we needed only the basics- a quick trip to the local grocery store landed us some essentials- and a $6 uncooked pizza.  Seriously less expensive and better for you than even the most modest fast-food endeavor!
Being able to provide my family with a  real meal while traveling is important.  I think it is an excellent reason to choose Extended Stay America for summer travels.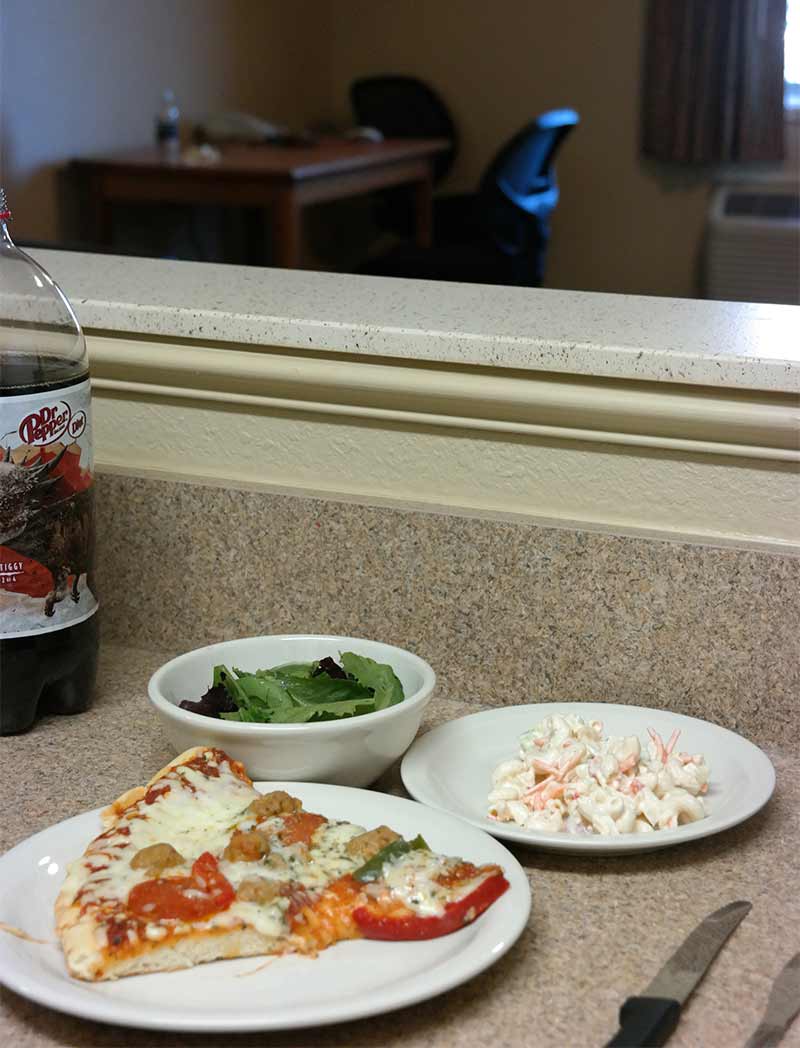 From San Diego to Virginia Beach, and from Orlando to Corpus Christi, there are more than 625 Extended Stay America locations are spread across the country in every major vacation and metropolitan area- including in our own backyard like Cincinnati and Pittsburgh.  Oh, and don't forget they offer pet-friendly rooms, laundry services, grab and go breakfast options!