Can you guess where this is? I'll give you a couple of hints.  It's known for champagne glass tubs, heart shaped swimming pools, shag carpeting, and it's just next door.  You guessed it, the Poconos.   If you have not been there lately, you'll be surprised at how its changed!
My parents honeymooned there, as did my husband's (at the same resort, on the same week we found out years later!) at one of the old fashioned all inclusive getaways with horseback riding, candle making, roller skating, and such- a place called Birchwood.  That lovely little destination has been long since abandoned, and countless others have closed or fallen into disrepair, leaving little cabin ghost towns that are being reclaimed by nature.
In their place, new modern resorts are springing up with casinos and the area is undergoing an indoor waterpark-hotel boom with three more scheduled to open in the next year, but these places are a far cry from the quaint, romantic adventures that our parents experienced.
Delaware Water Gap
We were looking for a vacation to soak up the natural beauty of the Poconos with our extended family, and we found that near Bushkill Falls, Pennsylvania, a part of the Delaware Water Gap National Recreation Area.   The natural beauty of this area is something to behold.  The rock formations are filled with fossils, and the wildlife have no fear of people, which I love.
While there, we saw many wild turkeys, the deer were so tame that they practically ate breakfast with us on the deck, and a pheasant nearly flew into our car while driving down a mountain.  What I was really hoping to see were some black bears, as the area is riddled with them.  With the woods still unthawing, however, they were not out and about yet.
Where to Stay in the Poconos
I received accommodations to facilitate this post.
Always a fan of renting vacation properties rather than going to a hotel for Pennsylvania family travel on a budget, our accommodations did not disappoint!
Even though we came in between the winter snow season and the summer water fun, we found plenty to do in hiking, horse backing riding, and soaking in the local color.
We spent the week at Eagles Nest  in Pocono Mountain Lake Estates.
The home met our needs beautifully, and everyone (all eight of us in total) had plenty of space to stretch out and call our own for the week.
The four bedrooms, three bathrooms, and two fully stocked kitchens gave each family room to breathe and enjoy each others company without being cramped.
The three levels of the home allowed me to keep my early risers from disturbing the late sleepers, which was nice.
Pet-Friendly! That the owners allow dogs was a huge benefit for us, and we were relieved to see that Bailey is an excellent traveler and house guest, as well.
The hot tub was the icing on the cake and was just what the doctor ordered after our long hike up and down a mountain.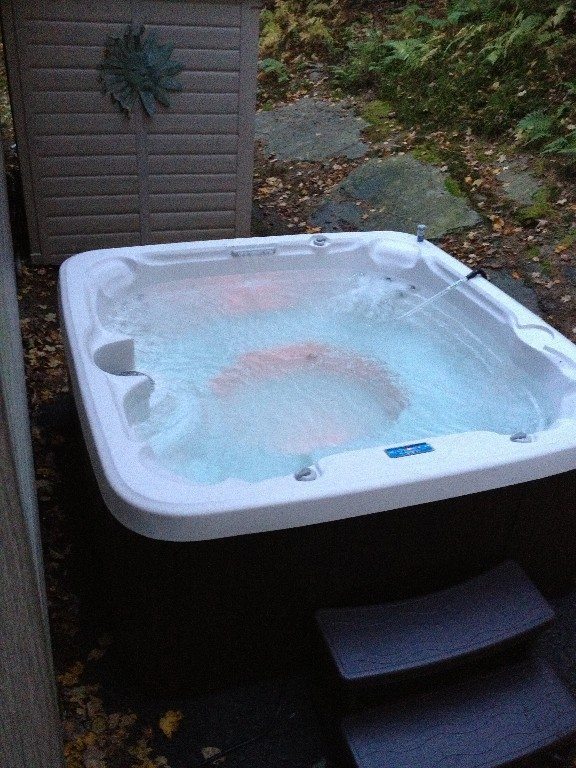 Entertainment in the Poconos
Horseback Riding in the Poconos
We were also treated to horseback riding at Pocono Ranchlands, a perk of the rental, and that was the highlight of the trip for my girls who fell in love with Blue and Joe, the horses they rode there.  Shannon, the Ranch Manager, is a gem and the horses are very well tended.  We would return just to go there again, and believe me, that's my girls' plan.  If they had their druthers, they'd have ridden them all the way home to Ohio.
Swimming and Archery
Indoor swimming was also on our list of must haves for our trip, and we found that at the Bushkill Inn and Conference Center.
Their indoor pool was lovely, and we enjoyed the archery range across the street, where my girls honed their skills with the pink compound bows they got for Christmas.
Dinner and a Show
If you are looking for a little culture, check out the Shawnee Playhouse.  While we were there, The Crucible was playing, and the lineup for the rest of the year is action packed.  This is one busy little theater, and is really worth checking out.  With matinees, and evening shows, you'll have no trouble fitting in some entertainment.
Hiking the Poconos
There are plenty of places to hike in the Poconos, but some parks like Bushkill Falls National Park require a fee.  We found some lovely free hiking and more at PEEC (The Pocono Environmental Education Center), on the fossil trail.
While this trail was a little more than we bargained for, each member of our group from age 2 to age 76 made it up and down the mountain, and enjoyed the nature along the way, particularly the frogs in the vernal bog.  There are also sensory trails where you get a blindfold, and follow a rope around a path, listening, feeling and experiencing nature without your eyes, and it's all free and the trails are open every day of the year.
Take a Trip to the Poconos
The Poconos are just over 6 hours away from the Akron area, making a weekend or week long trip feasible.  There's so much to do any season of the year, we only just touched the tip of the iceberg and we plan to go back often to soak it all in.  After all, I still need to see those bears, and the girls have to visit their new equine friends!  If you are going to make the trip, I'd recommend you contact of Valerie and arrange a visit to Eagle Lake Retreat, and tell them AkronOhioMoms.com sent you!
Make the trip, you won't be sorry you did!