During our recent Lansing, Michigan road trip, we stopped by the Impression 5 Science Center located in downtown Lansing for an afternoon of interactive fun with science!
This is a sponsored post.
We experienced larger than life exhibits, nano exhibits and everything in between at Impression 5 Science Center. What we liked most about this science center is that every exhibit is hands-on, their goal is to get your five senses engaged in play, creating, challenging, and learning. Here are a few of our favorite exhibits:
By far, our favorite exhibit was FLOW: A Water Experience. Kids love water! This 2-story exhibit gives children of all ages the opportunity to play with water, making it move many ways with levers, tubes, hoses, vortex, locks, jets, and more.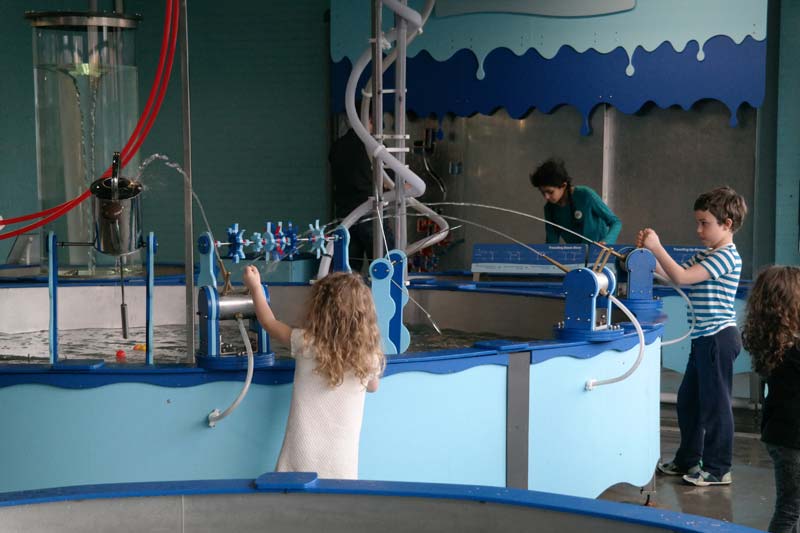 There is nothing better than giant smiles and laughter coming from kids of all ages playing together!

Another favorite spot is the Pop! A Bubble Experience exhibit. Kids love bubbles! We were excited to check out all the ways bubbles can be made including a station in which the bubble lifts up around your entire body! Beyond fun, kids learn about buoyancy and the molecular structure of a bubble through this creative play station.

Little scientists will enjoy the Nano exhibit as they discover nanoscale science learning the difference between multi-cellular and single-celled organisms.  Use the equipment to spy algae, herbivores, worms, and even cyclops!
In the Build Zone, little engineers will have fun building with blocks where they will learn about gravity, tension, and compression when applied to structures. Mostly they just have fun building impressive constructions and towers in this area! It's all about how much parental involvement you give your kids in what they learn from these experiences.
We enjoyed  spying on downtown Lansing too!
The Spectrum exhibit sparked a lot of creativity with my kids, especially with playing with light sources, lenses, mirrors, and screens.
In the Chemistry Lab, you can sign up for various classes throughout the day for a few dollars more. During our visit, they were making slime!
The Momentum Chair was lots of fun too. It was clever to see how the disc spun depending on your weight distribution.
Impression 5 Science Center has an impression gift shop with all the coolest science themed toys you could ever imagine. It was a seriously fun store to shop!
Admission is $8.50 per person. Expect to spend 2-4 hours at the museum, depending on the age and interests of your children. It is a must for families visiting Lansing, MI!
Impression 5 Science Center
200 Museum Dr.
Lansing, MI 48933
Phone: (517) 485-8116