Be prepared to get lost and confused in the Ripley's Mirror Maze  as you twist and turn and come to dead end after another! Mirrors are everywhere, making it nearly impossible to know which way to go. On top of that, there are LED lights!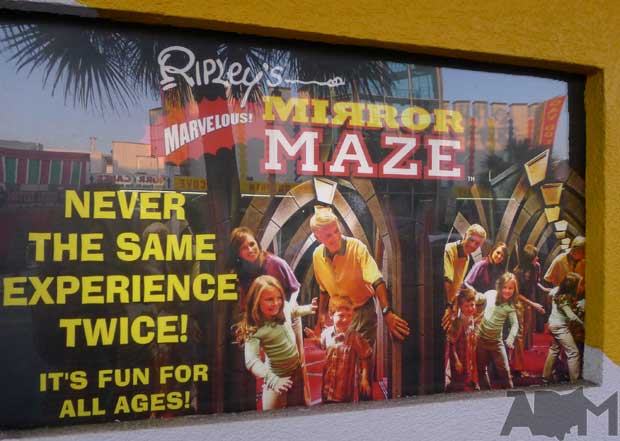 I received tickets to facilitate this post.
You won't know which way to turn or whether the path before you is a path or a mirror at the Ripley's Mirror Maze! My suggestion is to hold your hands out in front of you so you don't smack yourself into the mirror in front of you.
My kids loved it and were actually really good at navigating his way through it. Once we got to the end, we were able to go back through it the opposite way which proved to be just as challenging.

We just love mirror mazes, they are so much fun to do. I highly recommend adding this to your list of things to do in Myrtle Beach! Kid and Parent Approved!

Everyday: 10am – 11pm
Ripley's Mirror Maze
915 North Ocean Boulevard
Myrtle Beach, SC 29577
Phone (843) 448-2331
Connect Ripley's on Facebook and on Twitter.
Ripley's offers 5 attractions in Myrtle Beach that are fun for the entire family! Ripley's Aquarium, Ripley's Believe It or Not! Odditorium, Ripley's 5D Moving Theater, and the Ripley's Mirror Maze. We saved the Ripley's Haunted Adventure until our children are a little older.
You can pick and choose the attractions or buy a combo ticket and save up to 29%!
Plan your Myrtle Beach Vacation online today at www.VisitMyrtleBeach.com