Put a Captain John Whale Watching trip at the top of your Cape Cod and Plymouth, MA must-see list! Whale sightings are guaranteed as Captain John takes you to the primary feeding grounds for Humpback Whales, Fin Back Whales, Minke Whales, Dolphins, and more.
Captain John Whale Watching Review
When my kids heard we were going whale watching in Plymouth, they were floored. First, they were scared to be so close to such massive creatures, then, they couldn't wait! It was the highlight of our Plymouth Cape Cod vacation!  We received tickets to facilitate this post.
We departed from Plymouth Harbor in the early afternoon on our Captain John Whale Watching Trip. We were surprised at how calm the water was as we rode out to sea. The scenery was breathtaking as we made our way out to the Stellwagen Bank, a little more than 1 hour out into the ocean. The trip didn't seem like a hour, even with young kids, everyone was enjoying the ride and views.

Captain John Whale Watching boats offer seating indoors and outdoors on the upper and lower deck.
We chose the outside at the front of the boat. My kids didn't mind standing the entire trip out to the Stellwagen Bank which proved to be an amazing spot for seeing whales on both sides of the boat. We saw Humpback Whales, Fin Back Whales, and Minke Whales during our visit!
It didn't take long for us to spot the first spouts of water surging up from a Minke Whale. This short video clip reveals the excitement of the much anticipated whale sighting.
From there, we saw two Humpback Whales that were amazing and so close to the boat!  I can't believe we were so close to the 40-foot plus creatures. It was so majestic.
The on-board naturalist was able to explain the behavior of the whales and what to expect throughot our trip. There were also educational displays on board.
New England waters are rich and productive for marine wildlife, it is the perfect place to visit and see these amazing creatures first-hand. 
Pictures and even video cannot do the experience justice. This is a must for families visiting Plymouth and Cape Cod, MA. Everyone was so excited and giddy to see the whales!
We had a fantastic time on our Captain John Whale Watching trip and would do it again in a heart beat! We are now addicted.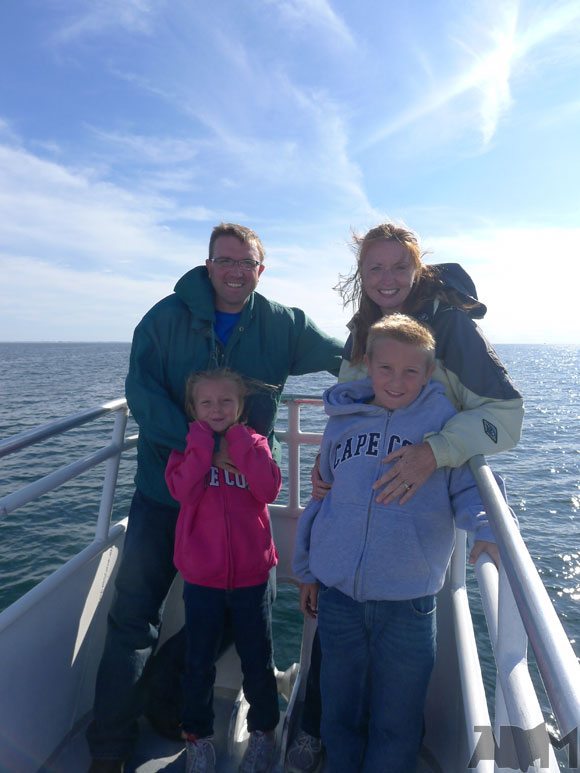 Our new Boston, MA friends agree! It was their first time on a whale watching trip and couldn't believe they waited so long since they live so close.
As far as activities on vacation, this was a relaxing and fun time for all – including for parents. The excitement of being on a boat in the ocean watching whales makes everyone happy and content. I loved experiencing this with both my kids and my husband. It is great for families and couples.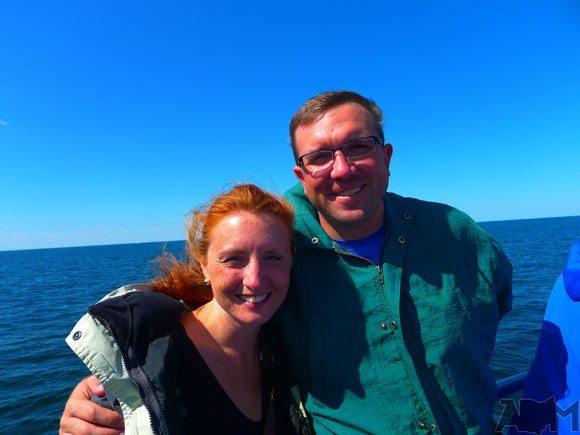 You are welcomed to bring snacks and drinks on the whale watching trip as well as order from their affordable snack and souvenir bar.
Even the scenery as we arrived back at Plymouth Harbor was gorgeous.  All in all, it was a remarkable trip.
Captain John Whale Watching Trips
10 Town Wharf
Plymouth, MA
508-746-2643
Like Captain John on Facebook
Follow Captain John on Twitter
Where to stay in Plymouth, MA.
This was not a paid post. My own opinions were used based on my perceptions and experience. Thank you to Captain John who provided us with tickets for review.