Whether you are traveling to Historic Plymouth as a couple, family or even as a group, the Blue Spruce Motel & Townhouse is where to stay in Plymouth, MA. You'll find spacious accommodations with a backdrop of serenity. Just minutes from all the attractions, the location is both convenient and restful.
Blue Spruce Motel & Townhouses Video Review
Blue Spruce Motel & Townhouses Review
We enjoyed staying at Blue Spruce Motel & Townhouses during our recent trip to Plymouth and Cape Cod. We received overnight accommodations to facilitate this post.
Blue Spruce Motel & Townhouses offers a variety of accommodations to from traditional motel rooms and efficiency studios to cottages and townhouses. We stayed in one of the townhouses.
The Blue Spruce Townhouses feature all the comforts of home in a 2 floor layout. On the first level is a living room with both a daybed and a queen size sofa bed, LCD TV, kitchen, dining area, and a full bathroom.
The living room is spacious and comfortable, perfect for hanging out with the family.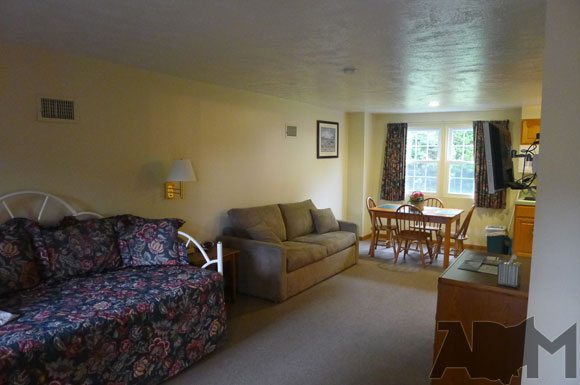 The kitchen offers all the comforts of home including cooking-ware, dining ware, and all the must-have accessories. Right off the kitchen is a small dining room table for four.
On the second floor, you'll find 2 queen size beds with a LCD TV, full bathroom, mini fridge, small sitting area, and private balcony with seating.
Both bathroom were impeccably clean and stocked with plenty of towels, shampoo, and soaps. I loved having two bathrooms for us to all get ready in the morning and/or take showers after the pool time! It was so convenient. This townhouse is large enough to sleep 8 easily or two families. Having two full bathrooms on different floor levels gives privacy to each family as well.
Known for a grove of pine trees, Blue Spruce is a relaxing, quiet retreat. Enjoy the view from either the upper balcony or first floor deck.
The first floor deck stretches in front all all the townhouses with seating in front of each townhouse.
One of the things I enjoyed most about our Blue Spruce Townhouse was being able to feed my family meals. Dining out at restaurants is certainly fun while on vacation but sometimes it is nice to not have to go out for every meal. It is nice to stay in for dinner, lunch, or just be able top grab a Klondike bar from the freezer for an afternoon snack!
There are also grills available to grill out, which we enjoyed doing.  My husband is the grill-master in our family, so while he was preparing the grilled foods, I was able to prepare the rest inside.
Just like him, having a healthy meal at the table really put our family at rest during our trip to Plymouth. Some normalcy is good for not only kids but adults alike. There is a grocery store right across the street from Blue Spruce, so it is very convenient.
My kids thoroughly enjoyed the outdoor pool! It is a large 22×40 pool that goes from 3 to 9 feet in depth.
There is plenty of seating all around to rest by the pool as well.
If you know my kids well enough, you know they spent most of their time in the 9 feet area – jumping!
Another very nice amenity at Blue Spruce is the guest laundry room. It is a new addition that is so convenient for families, especially if you have babies who go through 5 outfits in a day! It is a very clean facility, just like the rest of Blue Spruce.
During our Plymouth leg of our Massachusetts vacation, our stay at Blue Spruce was the most relaxing. We all had plenty of space to retreat either upstairs, downstairs, or outside. When you are on a long vacation, staying at a townhouse is a must. Our kids enjoyed the freedom to watch a little TV on their own while my husband and I either worked on the computer or watched TV downstairs.
I even did a little blogging while on vacation while my kiddos slept – just like home. 🙂 It was nice to be able to chill out and do our own thing while the kids were sleeping at night instead of going to sleep at 9pm too!
Your stay at Blue Spruce Motel & Townhouses in Plymouth includes a free breakfast where everyone gathers outside at the tables or inside.  It is a friendly place to sit back and relax at the start of a new day in Plymouth.
Breakfast includes plenty of bakery,  breads, donuts, juices, fresh fruit, cereal, yogurt, and more.
Blue Spruce Motel & Townhouses has been family owned and operated by the Kyriakids family since 1970. They are a very friendly couple ready to make your stay in Plymouth, MA one you'll remember and want to return again and again.  If you need anything at all, they are always there to assist in any manner.
You know that the owners enjoy what they do when you see them walking about and talking with guests. We saw Tom several times throughout our stay chatting with guests and welcoming them to their home away from home.
Book Your Stay at Blue Spruce Motel & Townhouses
Blue Spruce Motel & Townhouses is AAA approved and associated with the Plymouth County Convention & Visitors Bureau. It is a place you and your family can trust and enjoy on your next trip to Massachusetts.
Tell them AkronOhioMoms.com sent you!
Blue Spruce Motel & Townhouses
710 State Road
Plymouth, MA 02360
800) 370-7080 or (508) 224-3990
Like Blue Spruce Motel & Townhouses on Facebook
This was not a paid post. My own opinions were used based on my perceptions and experience. Thank you to Blue Spruce who provided us with accommodations for review.