When vacationing in St. Augustine, FL, make plans to spend at least a day at the Guana Tolomato Matanzas National Estuarine Research Reserve (GTM Reserve). You'll be able to explore the natural side of Florida at this 74,000 acre reserve from the pristine, remote beaches to the marsh and uplands. There are at least 44 mammal, 358 bird, 41 reptile, 21 amphibian, 303 fish and 580 plant species that call GTM home, some of which are protected. Enjoy hiking, beaching, kayaking, seining, and many educational and fun activities for the whole family.
Beaches at GTM Reserve and St. Augustine, FL
Our first stop in Florida is always the beach! We were ecstatic to find there are 42 miles of beaches in the St. Augustine area to explore.
Ponte Vedra Beach is to the north and Vilano Beach is to the south of GTM. We visited the GTM Beach which connects the habitats of the ocean to the marsh and forests for a spectacular experience of natural Florida. The soft, sandy beach with beautiful sea shells and gorgeous blue ocean is in front of you at this beach.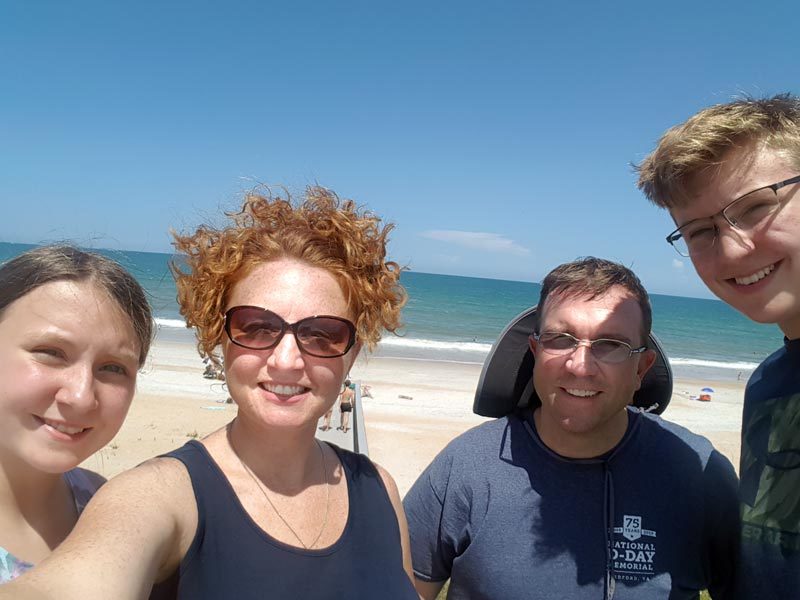 Behind, you'll see natural sand dunes, marshes, and the uplands. What an amazing landscape to discover through trails and guided hikes. My son is an avid junior plantsman and marveled most at the plants at the GTM Reserve. Many of which he has purchased for his aquariums and terrariums at home. My family loves nature, so the GTM Beach is 100% ideal for us – it not overpopulated or touristy. Just pristine, gorgeous beaches in a natural setting.
There is plenty of parking along the beach for a nominal fee. The boardwalk walks over this area as to not disturb the plant-life and animals that call this beach home.
Crescent Beach is just south of St. Augustine. This beach is unique with a hard-packed sand that allows for bike rides, walks, and even horse back riding on the beach. This beach has lifeguards, showers, pavilions, and more for your convenience.
You can't go wrong with the gorgeous beaches of St. Augustine, there is one just perfect for your family adventure style.
GTM Reserve Exploring
The GTM Reserve is only 1 of 29 national estuarine research reserves in the USA. They protect the landscape, plants, and animals in this natural biodiversity area through education, research, and science-based stewardship.  Your family will enjoy learning and exploring the interconnected habitats from the ocean and beach to the marshes and uplands.

GTM Reserve has many educational and fun activities for families. You should really check out their schedule and reserve your spot and plan your vacation around this extraordinary opportunity to get into nature. Many of the events are free. They offer a variety of events including guided exploration hikes where you'll learn about the 5,000 years of human history and estuarine resources.
Their Beach Exploration will give your family a new look at the beach as you learn about the animals that call the beach their home.

Seining events where you can actually get in Guana Lake to pull a sein through to collect fish, crabs, and more. This is an amazing opportunity for kids to learn about animals in their natural habitat. We did something similar when our kids were young in OBX and my kids still talk about it. Plus, this event, like many others is FREE. Just check out their event calendar to reserve your spot.
There really is something for every nature and adventure lover at GTM including guided kayaking tours that allow you to get into nature to see if up close.
The amazing diversity of plants, animals, landscapes, and conservation efforts of the GTM Reserve is outstanding. We are fortunate to be able to visit such an establishment and thankful that these natural habitats are home to 48 protected animals and eight protected plants too. My son literally wants to live here and work here when he grows up. He is in ecology heaven.
Located just north of St. Augustine, you can easily visit multiple times during your vacation.
There is also a 21,000 square foot Visitor Center for more educational opportunities with interpretive exhibits, aquariums, and working laboratories. Be sure to stop by during their operating days and hours.
GTM Research Reserve
Visitor Center
505 Guana River Road
Ponte Vedra Beach, FL 32082
904-823-4500
We are sharing our vacation LIVE across social media using #AOMExploresHistoricFL
Check out all of our Travel Florida features here.