The best way to capture family memories is through professional photography. I love the idea of professional photos taken while on vacation to capture the beauty of the location, the ages of my kids, and our memories of that vacation all at once. We recently visited our favorite Florida destination, St. Augustine. It has been over a decade since we have family beach photos taken so I searched for the best family beach photographer in St. Augustine, Florida and found Sydney Roessling Photography.
Best Family Beach Photograper in St. Augustine, Florida – Sydney Roessling Photography
I reviewed the Sydney Roseeling Photography website to check out the types of photos she takes – there are major differences in professional photographer's styles that will reflect in your final photos. She updates her facebook and instagram pages daily with gorgeous portrait sessions. Every single portrait session that she posts is drop-dead gorgeous. I love her style, creativity, posing abilities, and how she captures the emotions and family dynamics of each session. Check out her social media, you'll start stalking her like I did!
We couldn't be more pleased with our family beach photos. I know that I will treasure these photos for a lifetime.
St. Augustine locals and visitors all agree that Sydney Roessling Photography is one of St. Augustine's best photographers as noted in the 2022 Best of St. Augustine awards! She has been featured in multiple photography magazines like Bold and Beautiful, Shutter Up Magazine, and Dragonfly Photography Magazine.
And, showcased throughout my home! I couldn't wait to frame my family beach photos and now have them showcased throughout my home! I just love them.
Working with Sydney was fun, relaxed, and easy. There were no uncomfortable poses! She is super friendly, personable, and easy to work with. We felt relaxed and ready to have fun the moment we met her. This is key to having a great photo session and is even more important in the outcome of your family photos.  If you are uncomfortable with the photographer or if she can't engage kids in the session then the results will show negatively in your portraits. Meeting her was like catching up with a long-lost friend; we just instantly connected.
Why can't you take your own beach photos? Well, look at the two photos above. There is a major difference between a professional photograph and an amateur and that was with a posed look!  You really can't capture the beauty of your family and the scenery the way a professional can.
Syndey knows all of the perfect beach photo spots in St. Augustine and surrounding areas. She takes amazing pictures in historic downtown St. Augustine too!
I love the variety of photographs she took on the beach and near the sand dunes. I love how she captured nature – something very important to my family in these sessions. Everything doesn't have to be perfect to be gorgeous. From my naked eye, I would never consider this spot because the seagrass isn't perfectly manicured and there are footprints all up and down the stairs but Sydney captured the beauty of it. With the recent storms, the waves crashed up to the stairs causing the sand to push up and under these stairs making it a unique and beautiful spot for beach photos.
Everything was perfect from the backdrop of sand dunes and seagrasses to the lighting to my beautiful daughter. She is gorgeous – inside and out. I'm so thrilled that Sydney was able to capture her beauty in photos that we'll treasure forever. It sure beats annual school photos!
We took our photos at sunset which gave the best lighting with less heat, and less people to worry about in the background. 
My son is a senior this year which is hard to believe. I asked Sydney to capture a couple of senior pictures on the beach for him.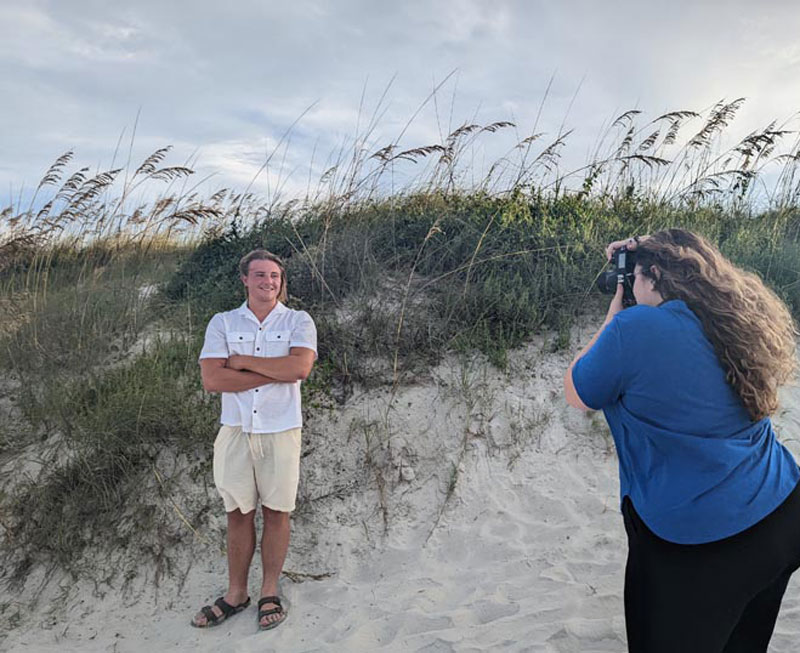 They are stunning. Syndey Roesssling Photography specializes in senior portraits, couples, Family, kids, engagement, maternity, newborn, elopement/wedding, portraits, senior portraits, lifestyle and events. If there is an important milestone in your life, she'll capture it. If you are planning a trip to St. Augustine, Florida, consider planning to have your child's senior pictures taken by Sydney for unique portraits that can't be captured in Ohio!
The majority of the photos were taken in front of our hotel, Beacher's Lodge which is located next to public beach access. All of the sand dune photos are she took were at the public beach access, which in places weren't as pristine as the hotel beach. That being said, everyone has access to getting beach photos at Crescent Beach, which is a St. Augustine beach.  Even with extra signs in the way and people, Syndey knew the perfect spots for photos.
I'll treasure this senior portrait of my son forever.
There aren't many times in life that allow you to capture beautiful photos of you with your children one-on-one. Most of the time my photos are of the whole family or selfies with just one of my kdis. I love photos and they are all special but having professional photos with just the right poses are keepsakes.
I love how Sydney posed both my son and I and my daughter and I. As my son heads off to college, I'll have to hold him tight in my heart while letting go. I'm already feeling this, so having an affectionate photo now with my son is extra special.
My daughter and I have a close relationship too. Although we don't walk around holding hands like we use to when she was younger, I love how nature and beautiful this photo is of us chatting together and having fun. I hope our heart to heart conversations never end.
What could be better than a picture of my two handsome men side by side. This photo really highlights the similarities of my men, my son has always been a mini of his dad, now he's not so 'mini' but so much like him in his looks, creativity, and thoughtfulness. 
I love this sweet father-daughter picture. It captures the love they share and also similarities. Both are kind, loyal, and beautiful inside and out.
This is another picture I'll treasure and what I have in mind when I think of my kids. We've been on many adventures as they've grown up. As a stay-at-home mom, I've been able to spend so much time with them, time that is a true gift that I will always be forever grateful for.  From playground visits to walks in the woods to waterpark days, it has often been the 3 of us.  Now that they are older, they spend more time with friends but they still have time for a chat or walk with mom and still like to go on adventures with me from mushroom hunting in the woods and on.
We've also been fortunate to have my husband around all the time while our kids have grown up. He has been working from home well before it became a must and now popular after the pandemic. I love that my kids have had their dad not only around but very present in their everyday lives. What a blessing. I think that the family dynamic is captured in the below photo.
My husband and I have been together 28 years, married for 24 year. We are still very much in love and committed to each other. This photo is by far the most romantic photo I've had of the two of us – including our wedding. Sydney Roessling specializes in romantic couple photos – whether it's part of a family beach photo like ours or as engagement, elopement, anniversary, or wedding photos.  She mentioned that someone once said that some of her photos are like romance novel photos. Now, who wouldn't want to be on a romance novel cover?! Seriously, Sydney will get to know you and what you are comfortable with for your couple photos.
The below photo captures our relationship so well. We are always walking hand-in-hand often even when we are taking both our dogs for a walk on the hike and bike trail. Having that closeness captured in a photo is beautiful. It's a relaxed, 'real' photo that truly showcases our everyday relationship for the past 28 years, walking through life together, hand in hand while talking.
I like that Sydney offers options too with her online gallery that's included in her packages. The one above is more like an art piece with us as a couple off on the side with the beautiful ocean and sky on showcase. We'll have this photo in living room. The photo below is very similar but we are the focus in this photo, this would also look nice in the living room but I plan to add it to our bedroom.
Of our entire summer vacation, having these beach family portraits in St. Augustine was my favorite part of the trip. I told my husband when we were getting ready in our matching white and khaki beach clothes that I knew it would be my favorite part. I didn't know that the photos would turn out so stunning although I should have guessed after seeing all of Sydney Roessling's photos on facebook and Instagram. She's such a talented photographer.   I highly recommend Syndey Roessling Photography for family beach photos while visiting St. Augustine, FL, and surrounding areas. If my photos aren't enough to prove her talent, check out her photo galleries, I promise you'll fall in love!
One of the best parts is that having St. Augustine's best photographer doesn't have to break the bank either – and is one of the least expensive parts of any vacation!  Family and Couple photo shoots start at 1 hour for $125 that include 20+ digitally edited images and an online gallery. She even offers seasonal mini sessions.
If you are looking for couples, family, kids, engagement, maternity, newborn, elopement/wedding, portraits, senior portraits, lifestyle, and event photos, I recommend Sydney Roessling Photography in St. Augustine, FL.  Being in Florida, these photos can be taken year-round too.