Treat your family to an award-winning Spanish/Cuban dinner at Colombia Restaurant while in St. Augustine, FL. Founded over 114 years ago by Cuban immigrant Casimiro Hernandez, this is the oldest restaurant in Florida and still family owned.  Not only is it the oldest but rated one of the best 100 restaurants in America!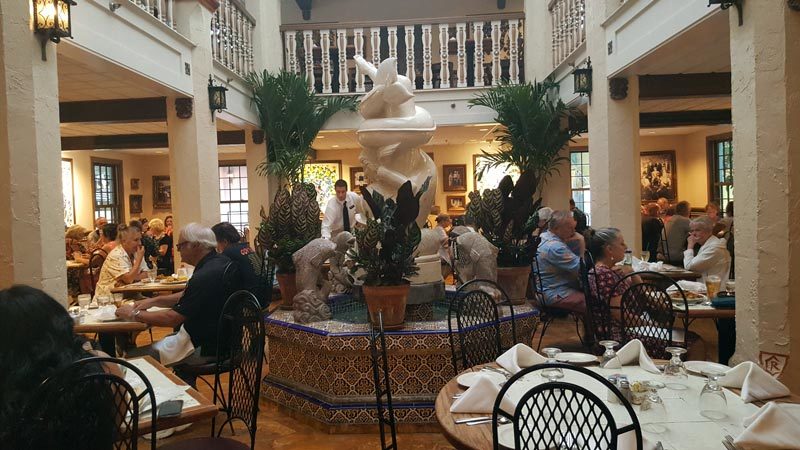 The Columbia Restaurant is one of America's Most Historic Restaurants serving traditional Spanish foods since 1905. While in St. Augustine, you must visit. They serve delicious fresh seafood as well as century-old family recipes like Paella "a la Valenciana," Red Snapper "Alicante," Pompano en Papillot, Roast Pork "A la Cubana" and Filet Mignon "Chacho."  I consider this a fine family dining experience that is family friendly, but on the nicer side (men aren't to wear sleeveless shirts).  The restaurant is gorgeous inside with old world charm with hundreds of hand-painted tiles, Spanish-style fountains, and unique dining rooms.
We started dinner off with Coliflor Fito (fried cauliflower florets with brava sauce), and a Tapeo Sampler of Croquetas de Pollo (fried croquettes made with chicken and Cuban cracker crumbs) and Gambas Al Ajillo (large shrimp with fresh garlic and chili pepper). What an explosion of flavor to start our dining experience. We all had our favorites and everything was consumed in a flash. Everything was perfectly seasoned with lovely sauces.
My family loves experiencing new foods wherever we go.  We haven't had the opportunity to enjoy many Spanish and Cuban meals.  The Columbia Restaurant was a culinary delight for us all – we had our forks in each other's dishes trying and tasting each unique dish. Although we did order individual entrees, ordering from their tapas menu is ideal for trying many dishes at once.
Many Spanish dishes include rice and every dish we ordered at Columbia did as well. My husband ordered Paella "a la Valenciana" which is well worth the additional 30 minutes of prep time when ordered. This traditional dish is loaded with clams, mussels, shrimp, scallops, calamares, chicken, and pork. It is baked with Valencia rice. This is the ultimate Spanish dish and can also be ordered with seafood only, vegetarian, or with pork, chicken and chorizo. 
My daughter ordered the Pollo "Riojana" which is a breaded chicken breast served over yellow rice with fresh vegetables and Rioja tomato sauce and Spanish Tetilla cheese. She loved it. It was an excellent flavor combination for my daughter who enjoys trying new foods but nothing too spicy or complicated.
I ordered a guest favorite, Grouper "Jimmy" which is a red group from the Gulf of Mexico served with fresh blue crab meat with a lemon butter sauce. The fish was mild with a flaky firm texture. It was melt in your mouth moist and delicious. It was served with their signature "good rice" and fresh asparagus. An absolutely perfect dinner. 
My adventurous seafood loving son also ordered a guest favorite, the Red Snapper "Adelita".  Red snapper is a delicate and mild white fish. This sweet flavor fish taste amazing prepared with the rich flavors but simple enough for even those not accustom to eating fish to enjoy. This dish is loaded with a mouthful of flavor experiences with the hearts of palm, artichoke hearts, and sun-dried tomatoes with an olive oil, garlic, & onion sauce.
Treat yourself to authentic Spanish Cuban food that is shaped in local culture with rich flavors and homemade recipes at Colombia Restaurant during your next visit to St. Augustine, FL.  You cannot go wrong with any menu selection and it will be a dining experience you won't quickly forget. We can't wait to go back.
Colombia Restaurant
98 St George St
St. Augustine, FL 32084
We are sharing our vacation LIVE across social media using #AOMExploresHistoricFL
Check out all of our Travel Florida features here.