When we travel, we like to find a comfortable place to call "home" away from home. While in St. Augustine, FL, that place was at St. Francis Inn Bed & Breakfast.
We chose this bed and breakfast for so many reasons – it is the oldest inn in the nation's oldest city, it is in a great location, and the amenities are numerous (gourmet breakfast, evening social hour with appetizers, free evening dessert and s'mores, free drinks & snacks all day, heated pool, free day at the beach with chairs, free St. Augustine Lighthouse tickets, discount attraction tickets, beautiful gardens, and finally, spacious and comfortable accommodations.
This is a sponsored post.
St. Francis Inn Bed & Breakfast offers many types of overnight accommodations from cozy rooms to multi room suites for every traveler's needs. We stayed at their 1800's Wilson House.
I'd like to give you a peek inside one of their 3-room Saffron's Suite. This suite is perfect for families with room enough for everyone to have their own space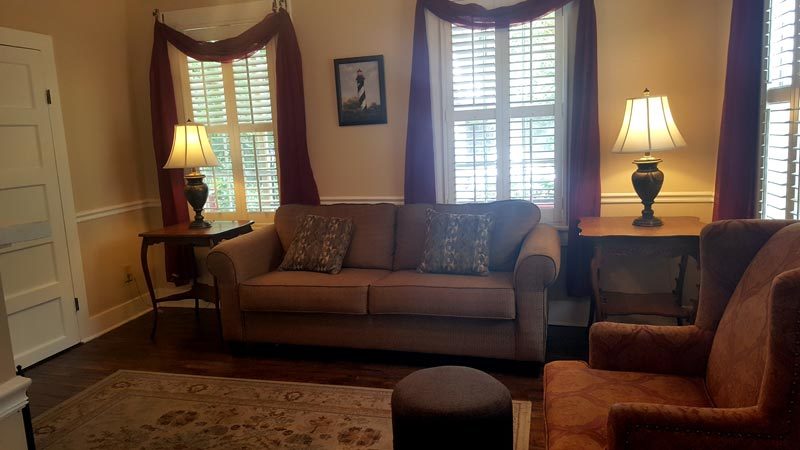 During the day, we hung out in the living room. In the cooler months, we would have made good use of the fireplace! There is a large TV in the living room too but honestly, we were having so much fun in St. Augustine and just relaxing on the porch, in the living room, or at the Inn that we never turned it on even one time!
At night, the living room became a bedroom for one of our children with the pull out full-size sleeper sofa.
The next room is a small sitting room with a love seat and table with chairs. This is a great place to relax as well. Again, having extra places for each of us to have our own space during the day and night was great.
My daughter usually slept here as well. So, if you have older kids of opposite sexes, this suite isn't 100% ideal since kids can't share a bed but we made due with the loveseat. I didn't ask if they had a cot, they may have but we were just fine with this set-up. If we had two girls or two boys, it would have been no problem to share the sleeper sofa.
Next is the bedroom. All of the rooms are spacious, including the bedroom with a queen size bed, dressing table, dresser, closet for clothes, and closet with a mini fridge and microwave. Outside, you can see views of the Florida gardens on two sides of the house (side and front) through the windows. It's just so peaceful and felt like home.
Off of the bedroom is a full size bathroom with a 2-person whirlpool tub/shower. I love how St. Francis Inn offers all the modern luxuries alongside refurbished or 1800's themed furniture and decor. It is such a unique place to stay in St. Augustine and fits the historical relevance of the city perfectly.
We really enjoyed our stay at St. Francis Inn Bed & Breakfast. The overnight accommodations were restful, the amenities were plentiful and spoiled us like we were family, the private porches, balconies, and hide-away gardens were lovely to enjoy throughout our stay. We love the outdoors so sitting on the porch during a rain storm or on the patio under a canopy of gorgeous Florida plants and trees was such a welcomed treat for us. It was such a great place to really reconnect with each other too.
If you plan a visit to St. Augustine, we highly recommend the suites at St. Francis Inn Bed & Breakfast for your family too.
Book your stay with St. Francis Inn for a truly unforgettable, historic stay! Call direct for the best packages and prices at 800-824-6062.
St Francis Inn Bed and Breakfast
279 St George St
St Augustine, FL 32084
info@stfrancisinn.com
800-824-6062
Check out all of our Travel Florida features here.