For the best view in St. Augustine, you need to climb about 219 stairs up! The St. Augustine Lighthouse is an exciting family friendly attraction that gives spectacular 360° views of St. Augustine, Salt Run lagoon, and the Atlantic Ocean! It is well worth the climb.
This is a sponsored post.
St. Augustine Lighthouse Review
Here stands the St. Augustine Lighthouse, built in 1874. What a gorgeous site to see and a must to visit while in St. Augustine. This is the oldest surviving brick structure in St. Augustine, FL. The first The first lighthouse in St. Augustine was in 1825 but erosion created the need for a new tower so they built on more inland.
Get ready to climb!! It is 291 stairs to the top! If you are traveling with young kids, be aware. Your child must be 44″ tall to climb and able to walk on their own – no carrying. If your child is too small, there is still plenty for them to do with the Science of Light Discovery Spot, Sailing Shipyard Play Area, and Pulleys & Knot Tying Area specifically for kids. Plus, children under 44″ are free and one adult gets in 1/2 off.
The spiral staircase is gorgeous to look at and quite a workout to climb!
The good news is that there are 8 flights of stairs which means there are 8 resting places. There is plenty of room to catch your breath, and read facts on the wall on these resting levels. For instance, this cut-out shows how the lighthouse is constructed, made of Alabama brick, Pennsylvania iron and Georgia granite.
There are also several windows to peer out on the resting platforms. This is just a sneak peek of how spectacular the view is on top.
Wow! What a view! I admit that I was a little scared walking up the spiral staircase – it's so far to the top! Once on top, I was equally nervous but the view was worth it!  We walked all around the top of the lighthouse, taking in the stunning 360° views. The lighthouse offers sunset and sunrise tours, something that must be out of this world beautiful!

At ground level, we were able to tour the Lightkeeper's Office and Workroom. Here, the lightkeeper kept a daily record of everything that happened at the station while making sure the light was burning properly.
What a beautiful Florida lighthouse.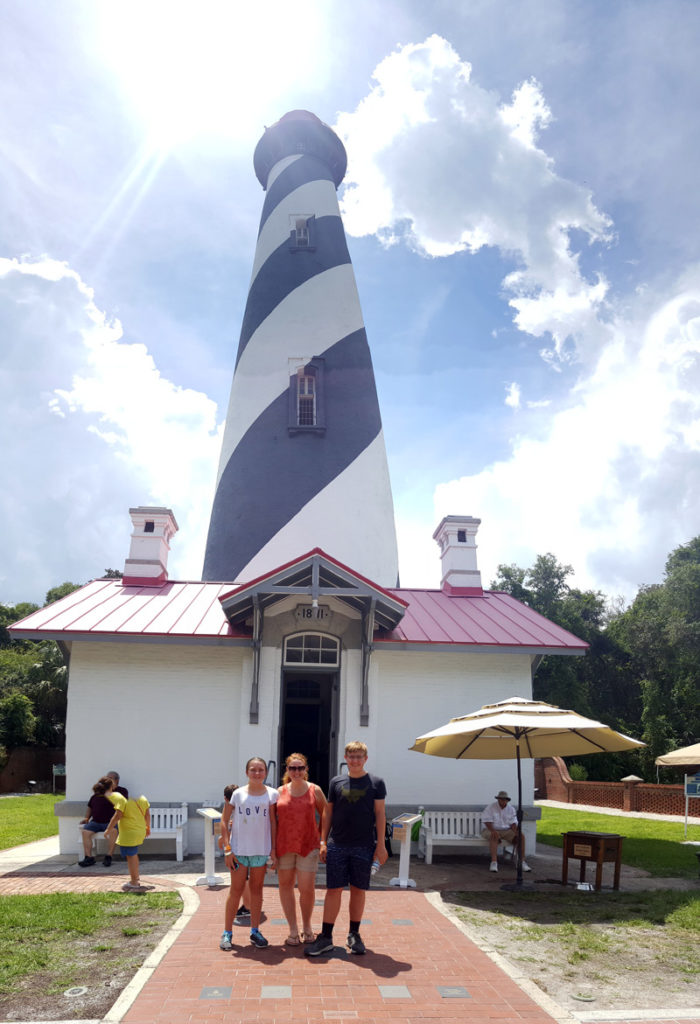 Your admission ticket also includes Exhibits are housed in the Keepers' House and Lighthouse, Historic Site and Grounds, the Maritime Center, and World War II-era Structures. Plan to spend several hours exploring it all. There is a great gift shop too with St. Augustine gifts.
Below is another shot of the St. Augustine Lighthouse as seen from the Victory III scenic cruise.
St. Augustine Lighthouse
81 Lighthouse Avenue
St. Augustine, FL 32080
We are sharing our vacation LIVE across social media using #AOMExploresHistoricFL
Check out all of our Travel Florida features here.