The AC Hotel Dublin is situated in the more-than-brand new Bridge Park area of Dublin, Ohio. This fabulous Hotel overlooks the Scioto River and is sandwiched between restaurants, entertainment venues, parks, and the fabulous downtown Dublin area.
This is a sponsored post.
AC Hotel Dublin Video Overview
AC Hotel Dublin – Your Starting Point for a Columbus Spring Break Trip!
As a starting point for any quasi local spring break trip, AC Hotel of Dublin provides a magical respite between all of the outstanding attractions and venues that Columbus has to offer.
Located just 5.1 miles from the fabulous Columbus Zoo you're also located within the innerbelt area of Columbus to access attractions like COSI, Ohio State University, and the Ohio State fairgrounds as well as numerous museums.
The AC Hotel Dublin welcomes you with extremely easy on site free covered parking. There are plenty of places inside the main hotel to chill out with your family including welcoming seating areas for adults and kids in the lobby and lounge (pictured above with fireplace).
Enjoy upscale dining at the rooftop restaurant, Vaso breakfast, lunch, dinner, and more. They serve a variety of flavorful fare for any taste including gluten-free, dairy-free, and vegan sishes.
There are actually fur-lined chairs and heaters on the rooftop bar/restaurant Vaso! What a gorgeous outdoor deck with plenty of seating and amazing views of the Scioto River and historic Dublin neighborhood.
The hotel boasts European styling throughout with funky lighting, very modern bathroom amenities, sleek decor, crisp modern art, and full-height windows giving west-viewed visitors a view of the river. My kids love checking out the view from high up in hotels! The leaves are just now starting to bud, how gorgeous this will be in a few weeks!
The guest rooms are ultra modern and chic while still inviting and immaculately clean. There are a variety of rooms to fit any family size, including some with pull-out sofa sleepers.The rooms are spacious and very family-friendly. We really like the European style, a welcome change from the standard, ordinary hotel rooms you find everywhere else.  The natural lighting that pours in from the floor-to-ceiling windows is a welcome treat, especially this time of year in Ohio!
Nearly every wall and power outlet contains a USB plug to make for easy device charging parentheses which matters a lot when you have a household of kids and everyone has devices! Phones, tablets, headphones, games, and laptops! They have you covered! The television is pre-connected to allow for easy login to your Netflix or Hulu account, and is also loaded with not only it HBO channel for HBO GO giving you access to their entire streaming video library.
I love the wood floors – they are stunning and also makes it easy to find lost items! Plus, we all know accidents happen with kids, so don't feel bad about a dropped water or juice bottle because clean up is a breeze. There is also a sleek mini-fridge with a glass door on the front – perfect for snacks and drinks during your stay. There is also complimentary bottles of water, coffee, and tea in the room.
The bathroom was spacious, clean, and modern. The walk-in shower has the option of a rain shower and handheld shower.
Guest room floors are only accessible by guests of that floor as well as Hotel staff, so you can be sure fat the folks on your floor are paying guess which is a nice feature.
Entertainment & Dining Walking Distance from AC Hotel Dublin!
There is plenty to do and see within walking distance of AC Hotel Dublin!
Directly across the Crossway street from the AC Hotel of Dublin is Pins Mechanical Company. This is a duckpin bowling attraction that is also bar. I suggest taking kids during the daytime hours for duckpin bowling and a variety of games of skill including duckpin bowling, pinball, large size Jenga games, and other accoutrements.
There's plenty of comfortable seating throughout to relax. In the evening, this place is packed with a younger crowd hanging out at the bar and bowling.
Next door to Pins Mechanical Company is the 16-Bit Bar + Arcade.
This arcade features a cacophony of 80s and 90s video games, featuring everything from Qbert to Ms Pac-Man to Defender. Also featured in this location is a live-action pong game, as well as historical consoles from Super NES 2 Sega.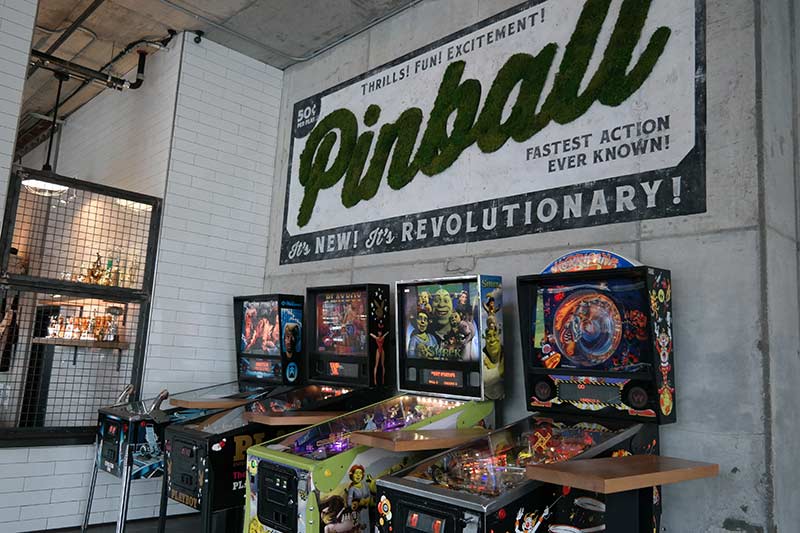 16-Bit Bar + Arcade is a wonderful in-house experience for families – perfect for your Spring Break itinerary!
The rest of Bridge Park area is up and coming retail Mecca. There are numerous restaurants from burger joints to Mexican, to a Ramen noodle joint. I also found a chocolatier Kilwins Heritage Chocolate that is a chocolate-lover's dream come true!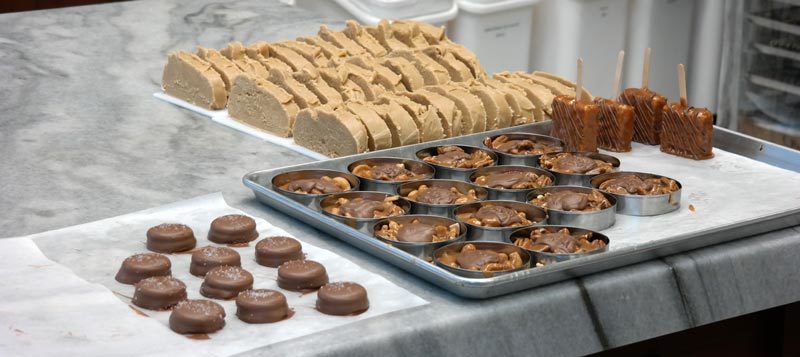 There are plenty of  coffee and tea shops, shopping, and I noticed two or three more blocks of shops that are being constructed. It is a fun place to explore with your family. If you aren't use to the 'big city', don't worry, you'll feel completely safe exploring this area on foot.
I also noted an under-construction walkway launch across the Scioto River to downtown Dublin.There is plenty of FREE parking at the hotel and all around the shops and restaurant, making it easy to get to and from anywhere hassle-free if you choose to drive.
Staying at AC Marriott in Dublin, Ohio is a place that your family will want to check out and tell others about so they can enjoy it too. Whether you explore the local area this Spring Break or tackle the Columbus iconic family entertainment, this is a great place to call home while you are away from home!
Book Your Stay at AC Marriott Dublin
Book your Spring Break getaway or future trip now on the AC Marriott Dublin website.
AC Marriott Dublin
6540 Riverside Drive
Dublin, Ohio 43017
614-798-8652