If you haven't been to the Greater Cleveland Aquarium lately, you're missing out! Nearly 75% of the aquarium has been updated in some capacity which includes new species on exhibit!  Pay close attention to updates in the Asia & Indonesia, Tropical Forest, Coastal Boardwalk, Imagiquarium and Industry & Habitat galleries.
Video Tour of Greater Cleveland Aquarium
If you didn't get to see us while streaming on Facebook Live, check out a quick video tour of the Greater Cleveland Aquarium here.

This is a sponsored post.
Experience the Updated Greater Cleveland Aquarium
My family hasn't visited the Greater Cleveland Aquarium since they first opened. We were amazed at how fresh and new everything still seemed, no wonder since 75% of the aquarium has undergone updates! We were very excited to visit to see the new updates and especially since my teenage son has become quite the aquarist and fishkeeper with 5 aquariums of his own since our last visit! I'll walk you through the aquarium in good detail so you get an idea of how amazing the Greater Cleveland Aquarium is, however, there is so much to cover that I can't possibly in one post!
You'll start off by exploring the native as well as invasive species found in Ohio's water.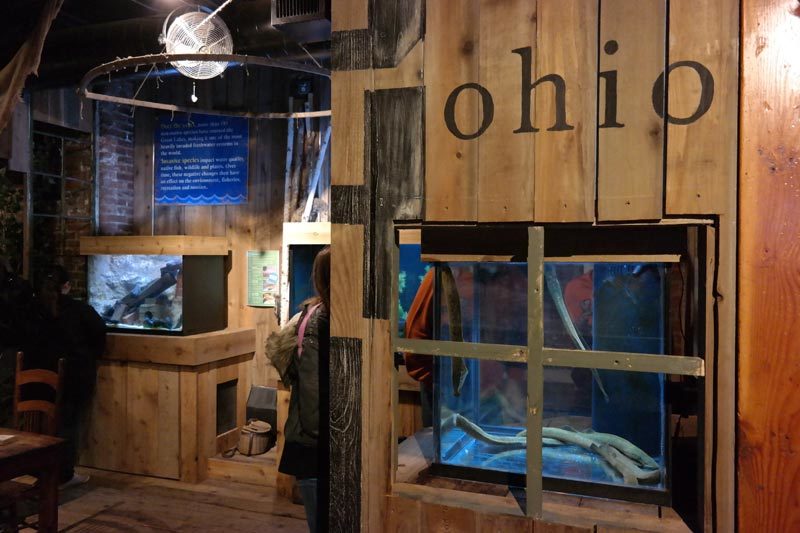 Learn about how over the last 185 years, the Great Lakes have become home to non-native species that make the Great Lakes one of the most heavily invaded freshwater systems in the world. Learn about how this affects the environment, fisheries, and our water-recreation.
The Sea Lamprey are the creepiest looking things swimming in Ohio Rivers with their long, smooth, scaleless, boneless tube bodies. The other fish in the waters aren't happy about their blood sucking tendencies. This invasive creature is overtaking native species habitats as well as clogging waterways that affect our fishing and boating activities. How would you like swimming at Lake Erie and find this guy? Yikes!
We love the adorable new species on display, the Round Goby. They are recent transplants to Ohio via trans-Atlantic cargo ships. I also like how the Greater Cleveland Aquarium uses natural elements found in nature for their aquarium set-ups. My son has various types of fish, plants, and themes for his aquariums at home. He remarked at how well the Greater Cleveland Aquarium aquascaped their aquariums and got some ideas of his own to incorporate even more natural elements into his aquariums. He's inspired to create an Ohio bog aquarium after his visit.
I really like the open top aquariums where you can see life from above and below the waterline. The turtles are spotted swimming and hanging out on the rocks and logs on top of the water.
Below you can find common Ohio fish including Largemouth Bass, Channel Catfish, Longnose Gar, and more. 
Your kids will delight in seeing common creatures at the aquarium that they've seen in the wild too like this Midland Painted Turtle, Ohio's most abundant turtle! This little guy can be found around streams and rivers all over Ohio, be on the look-out on your next hike, just don't touch.
When you go from one exhibit to another at the Greater Cleveland Aquarium, you'll see a switch of aquatic decor and fish. The Asia exhibit welcomes you with a Japanese Maple Tree that was made in house using repurposed materials.
You'll get to visit many species of Asian fish including Hi Fin Banded Shark, Red Glass Barb, Red Panda Barb, Gold Dojo Loach, Giant Danio, and more.d
We love the Tropical Forest, it is a really pretty exhibit at the Greater Cleveland Aquarium.
The Tropical Forest is home to the new exhibit for the Argentine Black and White Tegu. My son has been researching tegus for a long time and trying to convince me to allow him to get one as a pet. They are very interesting and friendly creatures from Brazil, Bolivia, Paraguay, Uruguay, and Argentina. You may have heard of them recently as they are in Florida as an invasive species, preying on native species. They can reach up to 4 feet long!
It is also home to exciting life including the Ocellate River Stingray, Red Hook Silver Dollar, Ripsaw Catfish, Banded Leperinus, Yellow Spotted American River Turtle, and Toucan birds (new species on exhibit next to the tegu). 
There is so much to see and experience at the Greater Cleveland Aquarium, especially if you take your time and really explore.  My kids are older now and spend more time observing the fish as well as reading and learning about the fish and their natural environment. I know it is harder with young kids, so pick and choose the information you try to pass on to younger kids to make this a fun learning experience. My son has a keen eye for aquariums, plants, and fish, as I mentioned before. He was, of course, the one that noticed two fish spawning, if you look close, you'll see the fish eggs.
A very popular destination at the Greater Cleveland Aquarium is the Coastal Boardwalk! This is where you have the chance to touch a Cownose Stingray, the stingrays that always look like they are smiling!
With 2 fingers, guests are invited to touch a stingray as they swim around the 11,000-gallon touch pool. You'll want to save enough time to really relax and enjoy this exhibit.
The smile and amazement on this child says it all! Young and old alike can really enjoy this exhibit with the clear glass walls touching the ground and within reach to touch the stingrays.
We were fascinated by the new species on exhibit in the aquariums surrounding the stingray pool, the Pacific Spiny Lumpsucker was an oddly curious creature!
Another new species on exhibit is the Upside-down Jellyfish, we've never seen anything like it!
Of course, the Giant Pacific Octopus is spectacular! This cold-water dwelling aquatic animal is intelligent and active which makes him memorizing to watch.
The main attraction for most is the giant 175-foot underwater seatube where you can walk under swimming Sandtiger Sharks, Atlatic Nurse Sharks, and a variety of beautiful fish. Where else can you be surrounded by sharks and be in amazement and not panic and fear?!
The shark exhibit is very popular. It is spacious where you walk around the outside of the shark tank and then through it via the tube. There are even places to sit next to the tank to just relax and watch these wondrous creatures swim gracefully all around. Here's a fun fact, the water that fills this tank was LOCALLY sourced. 
It is also a very popular place to get your picture taken with a shark!
There are many daily activities that you'll want to plan around including Sharks & Scuba Dive Talks, Stingray feeding, animal encounters, and more. Make plans now to check out the new updates at the Greater Cleveland Aquarium with your family. It is a fun and educational experience for all ages. For me though, it is all about spending time with my family and making memories. I'm so happy my husband snapped this photo of me and my kids having fun together, because that is what it is all about.
Buy tickets online! Admission Pricing is as follows: Adult (ages 13+): $19.95, Children (ages 2-12): $13.95,Toddler under 2 and guests age 100 or older are free.
Discounts: These rates are only available for in-person ticket purchases. Adult with military or first responder ID (ages 13+): $17.95, Children accompanying adult with military or first responder ID (ages 2-12): $11.95 and Seniors (age 60+): $17.95.
Monday – Sunday, 10 am – 5 pm (last tickets are sold at 4 pm.) All year long except for Thanksgiving and Christmas Day.
Greater Cleveland Aquarium
2000 Sycamore Street
Cleveland, OH 44113
216-862-8803