Thanks to Cedar Point, voted the world's best amusement park 15 years running, my 8 year old is quickly becoming a coaster nut!  From his first trip on the now disassembled Disaster Transport to Millennium Force last year to yesterday's media preview of the new GateKeeper!
8 Year old Elijah and Mom on GateKeeper Ride Experience Video
GateKeeper at Cedar Point
GateKeeper has forever changed the entrance of Cedar Point. You'll notice the difference from the beginning as you see the GateKeeper stretch from the beach of Lake Erie across the entire entrance of the park. The excitement of the Best Amusement Park in the World will be at full throttle from the moment you arrive as the GateKeeper showing off its rolling flyover maneuvers!


Now, you'll see and hear the excitement of one of Cedar Point's 16 world-class coasters upon arrival as you pick up your tickets and enter the park.

GateKeeper at Cedar Point, from the perspective of an 8 year old
My 8 year old son has become a roller coaster enthusiast. Last year, he rode the Millenium Force for the first time at age 7 with his dad. He couldn't wait to ride the GateKeeper! Mom on the other hand, was quite nervous! I think he felt that I was nervous because he wanted to ride the GateKeeper with Daddy first – and then Mommy.

He did admit that he was nervous the couple weeks before we arrived at Cedar Point Media Day. You can see the excitement and a little bit of nervousness in the picture below as he waits for his first ride!


The GateKeeper is the Longest wing roller coaster with the longest drop of any wing roller coaster in the world! The vertical drop is 164 feet – and you'll feel every single foot as you soar through the sky at 67 mph.  If you have ever dreamed of flying, the GateKeeper will fulfill that desire as you really feel like you are flyer through the air!  There is no track beneath or above you!  You are suspended from the roller coaster like you are sitting on the wings of a plan! My 8 year old is ready to FLY on GateKeeper!!!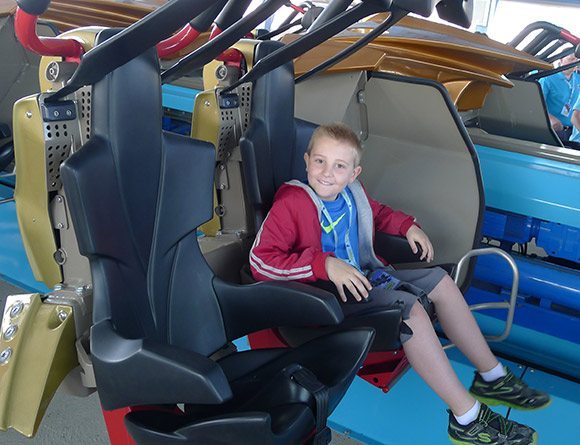 The first hill sends you flying down 164 feet below in as it rotates you 180 degrees to the right, then turns you upside down toward the ground at 65 mph.  There are a total aof 5 times that you will be upside-down. With all the twists, turns, and maneuvers, you hardly know when you are upside-down or right-side-up!

As if that isn't enough, there is a 360° In-Line-Roll that takes you way too close to 2 massive keyhole towers that are located right above the entrance of Cedar Point. It doesn't look like you'll be able to fit through the key hole towers but thankfully you do! This was my son's favorite part!
When he got off the ride, he was ready to go right back on. He's like the other roller coaster enthusiasts at the park on media day who went on 20 or more times! I had to take a 15 min break before going back on! The GateKeeper is a smooth, exciting ride. There is only one spot where you feel like you can catch your breath and relax before the final twist, upside-down turn – but don't count on it because it last literally 2 seconds!
One our second ride, we were in a special media line to have our ride recorded on video. We were so excited!  We were asked by Cedar Fair's CEO Matt Ouimet if he could jump in front of us for the video recorded ride.  Of course the answer is YES!
He was such a friendly man to us if it was ok in the first place – it is HIS ride, you know? And then to take time to chat with my 8 year old son, that was so admirable.
Cedar Point is trying to bring the beauty of Lake Erie and the beach to it's visitors at the park and they did a great job with the layout of the GateKeeper. There are several spots like the GateKeeper sign with plenty of seating around that have Lake Erie as a beautiful backdrop. This is a great place for you to take a break to relax while taking in the sites of both Lake Erie and Cedar Point.
The below wings (that look like waves) are near the entrance to the ride with a view of Lake Erie behind.

On our way out, we saw Rob Decker, the VP of Planning and Design at Cedar Fair. Earlier in the news conference, he mentioned that the GateKeeper is really a great family ride. And we agree! It is thrilling in so many ways, although it doesn't look intimidating for most. If you have a child that is 52″ or taller, you can easily ride this as a family! Elijah wanted to thank Rob Decker for the day at Cedar Point and for bringing all of us GateKeeper!  Rob broke away from his conversation with other executives to talk to my son. He thanked us for taking time to thank him. I'm continually impressed by Cedar Fair and how personable they are to their guests!
As if the day wasn't amazing enough, my 8 year old son had his first interview with WTOL 11 Fox Toledo's own Amanda St. Hilaire! Elijah was pumped to tell all about his ride on GateKeeper!
Elijah loved GateKeeper and so did all the roller coaster enthusiasts that we met and chatted with in line.  You won't be disappointed – make plans to visit Cedar Point soon!
Construction on the GateKeeper began in October, it was a busy winter at Cedar Point with Clermont Steel from southern Ohio traveling 200 miles with 100 semi-trucks to erect the steel components of the ride! I like that they gave many Ohio employees employment with this job! All in all, it took 8-1/2 months, 12 million pounds of concrete, 1,050 steel support bolts, 10,000 total ride bolts, 153,600 man hours to make the GateKeeper ready for opening day! The hard work paid off and it is ready for you to ride!
Visit Cedar Point
Cedar Point opens this Saturday, May 11, 2013!!!  Make plans to go with your family to the world's best amusement park! Cedar Point is open daily May 11 through Labor Day, Sept. 2, and Friday nights, Saturdays and Sundays through Oct. 27, 2013.
Buy your tickets online or at the gate.
Like Cedar Point on Facebook
Follow Cedar Point on Twitter
Check out the Cedar Point YouTube channel
This was not a paid post. My own opinions were used based on my perceptions and experience. Thank you to Cedar Point invited us to Media Day.