Looking for a fresh take on pizza? Try a gourmet pizza from Dewey's Pizza, located at the exterior of Summit Mall in Fairlawn, Ohio.  Dewey's Pizza is an upscale pizza restaurant offering a family-friendly sit-down dining experience with hand tossed pizza (gluten free crust available), flavorful fresh ingredient combinations, and exceptional service.
This is a sponsored post.
Dewey's Pizza in Fairlawn, Ohio
Hand-tossed pizza crust is showcased from the moment you walk into Dewey's Pizza. There is a large window looking into the immaculate kitchen to which you can watch your pizza crust being hand tossed high in the air.  I've never seen pizza crust tossed high in the air in 'real life' before and really got a kick out of it. My kids and several other kids were also in awe as we marveled at the pizza crust being tossed and then topped with fresh ingredients.
This was my family's first time visiting Dewey's Pizza. I knew that we were in for a treat when I saw the hand-written welcome said that mentioned "neighborhood foodie fix" because foodies go for more than just pepperoni pizza! My family loves trying new foods of all kinds, I guess you could call us a "foodie family."  We were excited to see the fantastic assortment pizza combinations on the menu.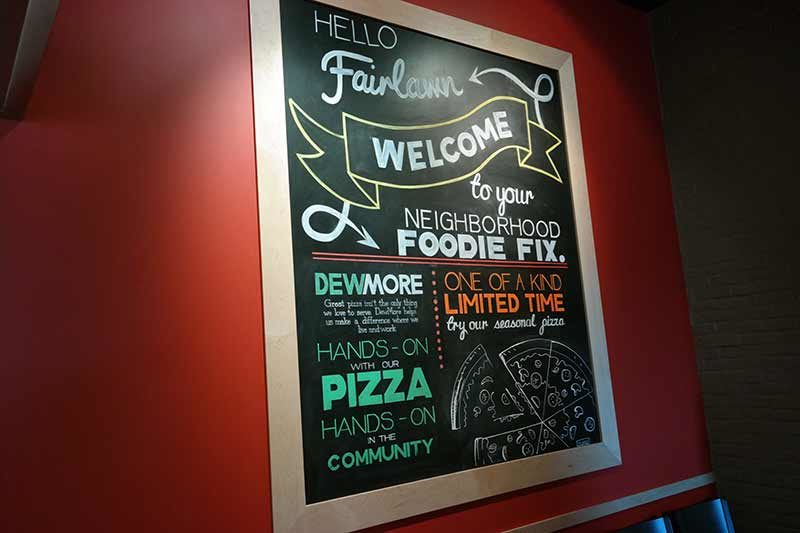 The restaurant is very welcoming with high ceilings with the modern look of exposed pipes on the ceiling. Choose from booths or tables that can be combined for larger parties. The large windows in the front offers natural lighting with additional soft lighting throughout. I like this so much more than traditional dark lighting in pizza restaurants.  
During our visit, there were many families as well as couples on dates. It is a very family-friendly restaurant that you can feel comfortable bringing even your youngest children. The kids all love standing by the kitchen window watching them toss the pizza crusts. I've heard that the chefs like to put on a show and even play tic tac toe in the flour on busy weekend night with the kids, it was a fairly quiet weeknight evening while we were there.
We were all smiles when the pizza arrived. There were so many tasty choices that we decided to choose 4 and split them between 2 small pizzas. For a family of 4, I recommend 2 medium size pizzas if you are only eating pizza. We also ordered one salad and a calzone, so two small pizzas were more than enough for us.
Dewey's Pizza is happy to do half one pizza and half another. In fact, they suggested it when we said there were too many delicious choices. Below on the left is Socrates' Revenge with olive oil, minced garlic, mozzarella, fontina, spinach, black olives, green olives, feta, red onions, and tomatoes. On the right is their Edgar Allan Poe pizza with olive oil, mozzarella, fontina, mushrooms, whole roasted garlic, kalamata olives, goat cheese tomatoes and parsley fresh on top.
We don't often go out for pizza because my 10 year old daughter doesn't like pizza. She normally orders a salad, which she did at Dewey's. She ordered a side salad portion of their Peppercorn Ranch Salad with romaine lettuce, bacon, tomatoes, shaved parmesan, red onions, house-made peppercorn ranch dressing with grilled chicken.  She loved the salad.
However, once our pizzas arrived, she asked if she could try a piece…or two…or three. She LOVES Dewey's Pizza!  I can't believe my girl is eating pizza again but I can totally understand why. Dewey's Pizza is not like ordinary pizza, although you can certainly order a more traditional pie if that is your preference. Their pizza is made fresh for you, so you can have it just the way you like it. The crust is phenomenal!
We use to call my daughter "Olive Girl" because she has always loved a variety of olives. Both the Edgar Allan Poe and Socrate's Revenge have plenty of olives, offering great flavor. I also like the variety of cheeses used on each pizza.
My son and I were pretty happy with our selections as well. My son loves pizza and also ordered a calzone.
The calzones are plenty large enough to split as they are basically a 12″ pizza folded in half with mozzarella and ricotta cheeses and 3 or more pizza fresh ingredients.
I ordered and highly recommend the Caprice pizza made with olive oil, minced garlic, mozzarella, fontina, fresh basil, and sliced tomatoes. What a fresh flavor combination!  The thin, hand-tossed pizza crust is just the right thickness for a lighter pizza like this one. I could eat slice after slice after slice, it's so good.
The Green Lantern pizza is another favorite with red sauce, mozzarella, minced garlic, mushrooms, goat cheese, artichokes, and pesto. You can't go wrong with artichokes and pesto but the combination of that with a red sauce and goat cheese was superb.
Like I said, my family loves flavorful food and that's exactly what we got at Dewey's Pizza. There are many combinations to choose from, including vegetarian and gluten-free. There is something for everyone.
We had an exceptional time at Dewey's Pizza. Our server was very attentive, friendly, and joked around with all of us. We were all smiles throughout dinner, not only was the food good but the atmosphere was so relaxed that we could just chill as a family and have fun over dinner.
Dewey's Pizza is a great way to enjoy quality family time before the kids go back to school and to chat about how school is going once it starts back up. Making time to enjoy a relaxing meal that everyone can agree on is more than just filling your stomachs with delicious food. Dining at a fun place like Dewey's Pizza is about experiencing life together and taking time to enjoy being together with your family, spouse, and friends. Make a date to check out Dewey's Pizza this week, you'll be glad you did!
You can also order Dewey's Pizza to go!
Dewey's Pizza
Exterior of Summit Mall
3265 W Market St
Fairlawn, OH 44333
Phone: (330) 873-4444