Traveling as a single mom with kids can be a challenge. Whether you are a divorced mom or your spouse can't get away from work, traveling solo with your kids to Great Wolf Lodge in Sandusky, Ohio is an easy vacation! It offers fun for everyone under one roof so you never have to leave the resort once you arrive. Plus, I feel very safe and comfortable at the resort so I can focus on making memories.
This is a sponsored post.
Travel Solo with Kids Easily at Great Wolf Lodge in Sandusky, Ohio
As a divorced mom with three kids from ages of 1-10, I have to plan all of my travels more so than as a married family. The destination needs to keep all of my kids happy and I need to be able to feel comfortable and safe as a woman traveling solo with kids. Great Wolf Lodge in Sandusky, Ohio offers all the comforts of a dream vacation including an amazing indoor waterpark, dry-land activities, and dining all under one roof! I never have to leave the resort for anything once we unpack our bags!
The one add-on that I highly suggest is their Paw Pass. This is the first time we utilized it and we'll do it again for sure!
The Paw Pass includes all of the extras that your kids are going to be begging for! It is a lot easier to have everything paid for and included in the pass upon check in than trying to take care of 3 kids and paying for everything individually. The Paw Pass includes MagiQuest or ShadowQuest, a wand or belt, Creation Station animal, Clubhouse Crew Adventure, arcade card, candy cup, goggles, glitter tattoo, and leather name bracelet!
The top dry-land activities are included in the paw pass but can also be done individually if you don't get the pass.  My kids love the Northern Lights Arcade. It is great for a couple hours after a full day at the waterpark or just to stop by for a few games throughout your stay.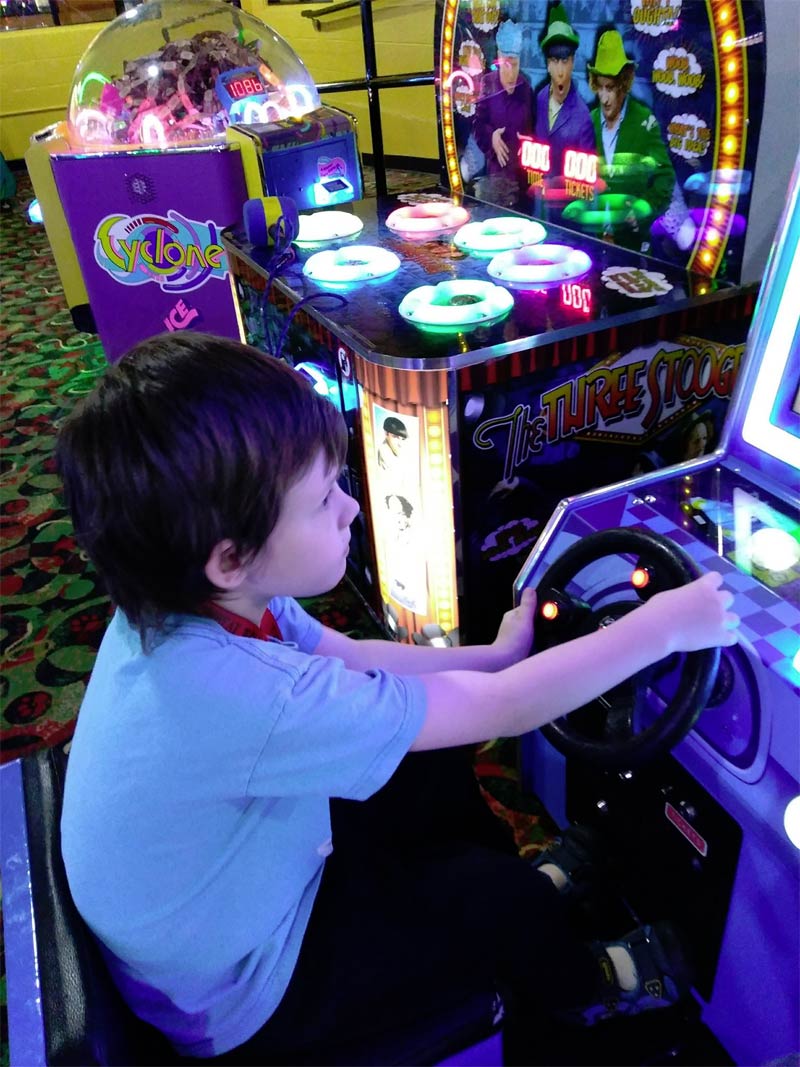 There were games to keep all of my kids entertained – I even had fun playing some!
I like that the arcade is in an enclosed area. I can easily keep an eye on all 3 of my kids even if my big kids want to play a bigger game while I play a game with my baby. As a single mom, I like that there is just one entrance to the arcade and I can easily keep a close eye on my kids.
Creation Station is a way for you to create your very own souvenir – a Great Wolf Lodge character – kinda like build-a-bear. MagiQuest is another dry-land activity in which you go throughout the resort on a quest, as you can see, my kids held onto their magic wands even at bed time!
Speaking of bedtime…Great Wolf Lodge in Sandusky, Ohio has amazing suites for every family size.  Suites including KidCabin Suite with a log cabin-themed sleeping areas with bunk beds for kids and queen bed for parents.  The rooms are very clean and up-to-date. I was very happy with our home away from home living conditions.
Plan ahead to save up to 50% off when you book at least 60 days in advance.
The main attraction is obviously the massive indoor waterpark where it is always 84 degrees! This is another bonus for those of us living in Ohio! You don't have to plan a trip around the weather – which often doesn't cooperate – because it is always perfect weather inside the waterpark!
There is something for every age at Great Wolf Lodge from babies to teens and adults. This was the first time my baby has been to a waterpark and he loved the toddler area!!!
Although we could have easily went back to our room when it was naptime – another huge benefit of an indoor waterpark, my baby fell asleep while we were going down the lazy river. I admit, it was quite relaxing and I could have gone for a nap! ha! We just allowed the river to rock baby to sleep while the bigger kids and I enjoyed lounging on the rafts going down the river for a while!
There is a large activity area with a giant bucket dump, an activity pool with water basketball, big slides and little kid slides, big foot pass with floating lilly pads and cargo net, and two hot tubs – one for families and one for adults only. So much to do! I also like that you get 2 full days of waterpark fun for every night stayed. So, you can arrive early before check-in to get the most out of your stay and then stay all day after you check out on your last day at the waterpark. Unlike other indoor waterparks, only overnight guests are allowed in the waterpark which makes it a lot less crowded than other indoor waterparks!
This waterpark is perfect for moms flying solo with their kids. It isn't too big where you feel like you and your kids are going to quickly get lost. When my older kids are a couple years older, I'll be fine with them going off on their own for a while. This trip, my two older kids were big enough to go down the small waterslides and big foot pass while I sat with my baby. They were within viewing distance but I had no worries about their safety. I didn't feel like I had to be right  next to them the entire time to keep them from getting lost or worse.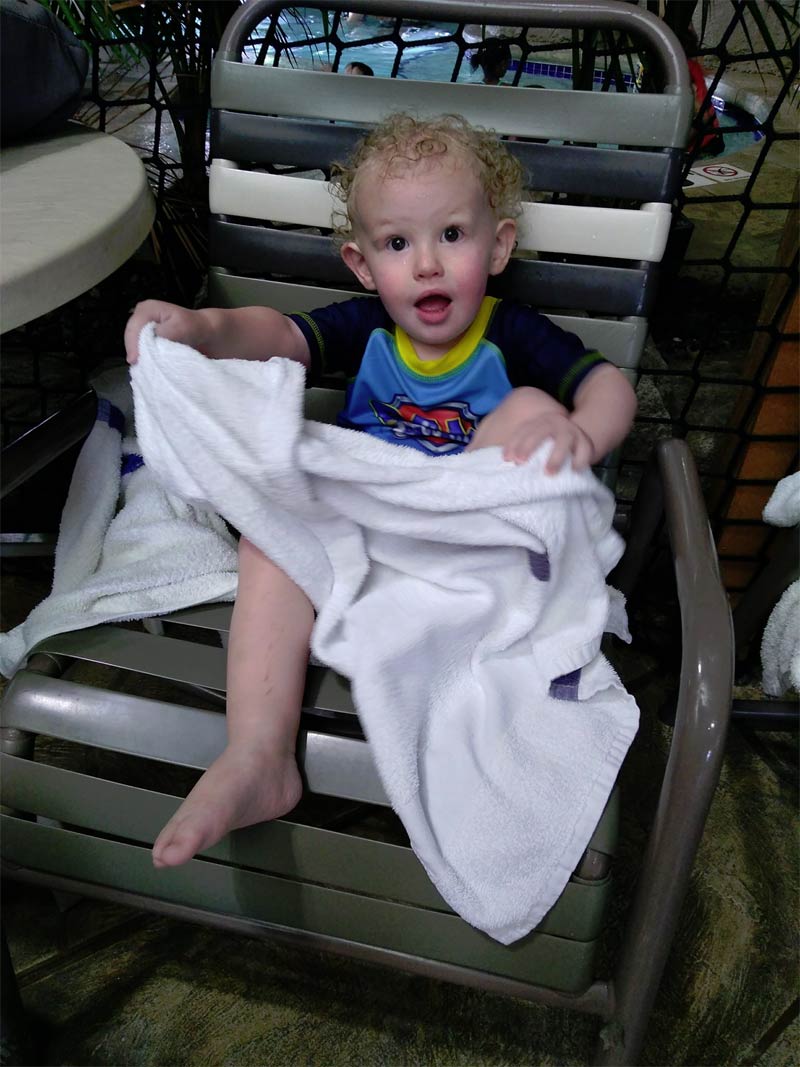 Like I said, one thing I love about Great Wolf Lodge is that you never have to leave the resort, not even for food! Great Wolf Lodge has plenty of food, snacks, and coffee to keep everyone fueled and happy for breakfast, lunch, dinner, and snacks! I like that I can relax and enjoy my vacation too without loading up three kids and a diaper bag to get something to eat! There is even a snack bar inside the waterpark!
Great Wolf Lodge in Sandusky, Ohio also has a full day of activities you and your kids can enjoy from sun-up with Wake Up with Wiley and Friends morning activities to an evening PJ Party with Great Wolf Lodge Kids! Many of the activities are free while others are an additional fee. We enjoy the animated clock tower shows and storytime the most.
If you want to take your kids somewhere this summer without your spouse or if you are single with kids, I highly recommend Great Wolf Lodge in Sandusky, Ohio. If I can do it, you can do it! We had such a great time making fun memories together as a family. I wasn't stressed at all with 3 little ones.
Check out the current Great Wolf Lodge in Sandusky, Ohio deals here.
Great Wolf Lodge
4600 Milan Rd
Sandusky, OH 44870
800-641-9653