If you are looking for an upscale hotel with historic charm close the Lake Erie, the Island House is the perfect choice. Built in 1886, it has provided a retreat to Presidents, Hollywood Celebrities, and families like yours. This centennial hotel underwent a full remodel in 2008, providing guests with a modern, upscale resort experience.
Island House is centrally located
Located located in downtown Port Clinton, Ohio, it is close to everything.  Stroll downtown to the quaint shops, dock, and restaurants.  Island House is next door to JetExpress, the quickest way to the islands of Put in Bay, Kelly's Island, and several wineries. Lake Erie is the Walleye capitol of the world and the Fisherman's Wharf is just steps away so you can charter a boat.  Presidents Hayes and Garfield, both avid sportsmen stayed at the Island House and took advantage of the convenient location to Lake Erie fishing.  Island House Hotel is just a short drive to parks, beach, golf courses, Playmakers Civic Theatre, Monsoon Lagoon Water Park. Cedar Point is just an easy 1/2 hour drive away.
Family review of Island House Hotel
My family was recently invited to stay overnight at the Island House in Port Clinton, Ohio. Immediately, we were welcomed by the charm of the hotel and attentive staff. With just 38 rooms, the atmosphere is intimate and welcoming. The hotel staff is friendly and will do anything to treat you and your family like VIPs.
The lobby is formal and inviting with seating, cozy fireplace, and piano. I can imagine the fireplace crackling and live music playing in the winter. It is easy to see why this was the spot for Hollywood celebrities like Humphrey Bogart, Lauren Bacall, Babe Ruth and Joe DiMaggio stayed in the 1960's. The Island House has a beautiful balance of historic charm and modern luxury.
Small wedding ceremonies have taken place right in the lobby of Island House. The hotel is small enough for an entire wedding party to book the hotel, have the rehearsal dinner in the Island House Restaurant,  have the ceremony in the lobby with the bride coming down the gorgeous wood staircase, then have the reception in the hall. What a beautiful place for a wedding in Port Clinton by the lake.
Island House Suite in Port Clinton, Ohio
We had the pleasure of staying in one of the Island House  suites. If you are going to travel with kids, a suite is the best option. There is plenty of living space for kids to run around in and be happy. The living room in the Island House suite is generously sized with a full couch, lounge, tables, and flat screen TV.
We enjoyed relaxing as a family in the evening watching TV together. It was so clean, comfortable, and relaxing. I mention "clean" because many times while in a hotel, I cannot relax because I don't feel the hotel is clean enough. I didn't see anything to alarm me, in fact, the Island House Hotel was spotless!
The Island House suite includes a full kitchen. This is essential when vacationing with kids. You could easily cook meals in the kitchen for your family to enjoy healthy meals while on vacation. I loved it because I could make my kids a healthy snack before bedtime and hot breakfast in the morning with groceries I purchased at a local market. All of the dishes and cookware that you could possibly need was stocked. The kitchen included a fridge, freezer, stove, oven, toaster, coffee maker, microwave, and full size sink. Again, everything was spotless.
The bathroom was beautiful.  The vanity, sink, and faucet was a gorgeous combination of high end elements. It was very clean so I didn't have to worry about my kiddos taking a bath in the tub.
The bedroom was spacious and inviting. Once you lie down in bed, you won't want to get up. The beds & linens are brand new and welcoming. The bedding is plush and luxurious. Again, the hotel was recently renovated in 2008, so everything is new and top of the line. My son in the below picture said the beds were so comfortable that he could sleep for days! This picture is a posed picture but the kids slept very well in their bed at night and so did we.
What I love about the Island House is the historic charm. This is a centennial hotel with a rich past. They have preserved the past with elements such as the original door knob on the bathroom. They purposely kept this and like features in the hotel to preserve the hotel's historic past while modernizing the doors, decor, etc. Island House is simply beautiful.
The charm and amenities continue throughout the hotel. The decor is well designed throughout. There were sitting areas tucked away around corners throughout the hotel floors. My daughter is posing here outside out suite in one sitting area.
Island  House Restaurants in Port Clinton, Ohio
The Island House has two restaurants on either side of the lobby, Rum Runners Sports Bar and Island House Restaurant & Lounge.
Rum Runners offers a great appetizer menu and sandwiches such as ruebens, angus beef burgers and fresh lake perch sandwiches. It's a great place for casual dining or grabbing a drink while watching the game.
The Island House Restaurant offers guest a  fine dining experience. Choose from an elegant menu selection including  NY Strip steak, fillet mignon, Lake Erie Perch dinner, and more. There are even special occasion dinner menus. The Island House Restaurant starts your evening or ends your evening on an elegant note. There is an additional hall that can be reserved to accommodate up to 200 people for weddings, conferences, meetings, and more.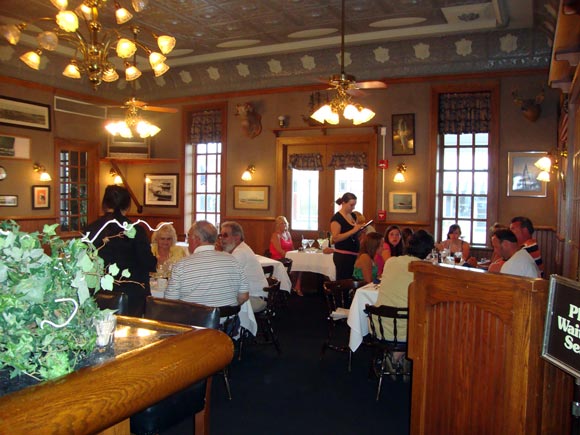 Island House Services
Port Clinton Romantic Escape
Escape with your lover with their Romantic Escape packages starting at just $179/night. Your package will include:
Jacuzzi tub
Chocolate covered strawberries or box of chocolates
Rose petals
Bottle of Champagne
For $60 more, get a suite
Want to add something else special? Just ask, they are very accommodating at Island House and want you and yours to enjoy your stay as a VIP.
Port Clinton Conference Room
The Island House does have other rooms that can be reserved. The below Conference Room can be set up for an intimate meeting room or set up for a meeting accommodating up to 20 people. This is also where free coffee is available in the mornings.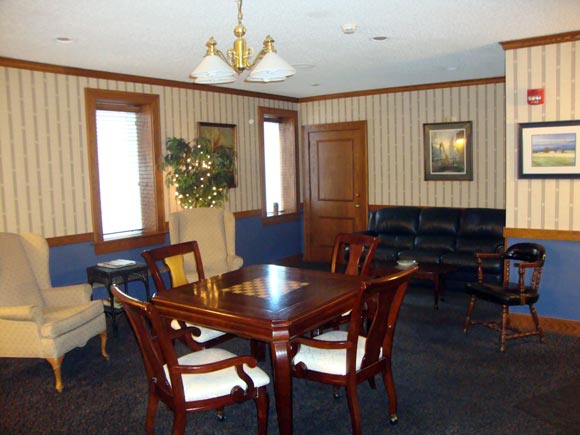 Make your reservations to Island House Port Clinton Hotel
Make your reservations now for your Port Clinton getaway. You can make reservations online or call 419-734-0100.
102 Madison Street
Port Clinton, Ohio 43452
islandhouseportclinton@gmail.com
This was not a paid post. My own opinions were used based on my perceptions and experience. Thank you to Island House  for the stay for review.