You don't have to travel far to have an amazing vacation, a short road trip to Kalahari in Sandusky, Ohio is perfect for family vacations! Whether you are planning a trip for Spring Break (there is still time!) or a trip this summer, Kalahari is always 84°, sunny, and loads of fun for the whole family! Just a warning, there are a LOT of photos in this post and yet I still didn't capture all there is to see and do at Kalahari!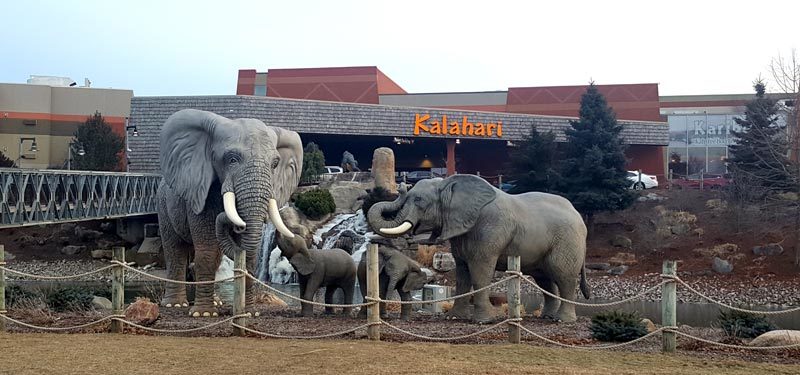 This is a sponsored post.
Kalahari Water Park Sandusky, Ohio Video Overview
Check out a few highlights of Kalahari water park in Sandusky, Ohio and their combination 2-bedroom with living room suite.
Vacation Fun in Sandusky at Kalahari
After this long, cold winter, Kalahari was just what we needed! I packed up my kids and a couple of their friends and we took a quick vacation to 84° and sunshine. Although it is a quick road trip from Akron to America's Largest Indoor Water Park, our time there felt like we were a million miles from the freezing cold Ohio!  Plus, we got out of the house and had a blast in the water!!
Plan to spend at least 2 nights and 3 days at Kalahari if you can because there is so much to do inside the waterpark and at the resort that you really can't take it all in in just a day or two.  There is a reason Kalahari is America's Largest Indoor Water Park! It is enormous with plenty of things to do for the youngest of kids to the oldest of adults – and everyone in between!
They have all kinds of water slides – for all adventure levels!

Kalahari is a fun place for adventures but I love that they have slides and activities for every level – from scardey cats to thrill-seekers!
I've still not gotten up enough courage to try all the attractions, including the Extreme Rush where the floor flies open beneath your feet after being launched.
The lazy river is always a favorite for us in between the more adventurous parts of the day! I love the African theme that is present throughout the entire water park and in the hotel. You never know if you'll find an elephant or hyena or waterfall around the corner of the river!
The Leopard's Lair 3-story playground is where my kids always run to. Even when they were little ones, they loved all the dumping buckets including the 400 gallon tipping bucket that unleashes a torrent of water throughout the day!
You can also find mild level slides that are still loads of fun for older kids with their parents as it is for younger kids.
There are always a couple activity pools that you can shoot some hoops and swim around.  Lots of boys (kids, teens, and adults) seemed to gravitate here. I love that Kalahari is big enough and 'cool' enough for teens and adults to really get in the water and have fun. This is not a little kid water park!
Of course there are some moms on the sidelines stuck on their phones – totally missing out on all the fun and memory sharing – don't be that mom. Obviously, I had my phone with me to take photos but I put that sucker away as soon as I could – lockers are easy and convenient to use right at the entrance of the water park and in the locker rooms although many people pile their stuff on their chairs and leave it out in the open.
For the little ones, there is a separate section just for them with a zero depth entry water play area featuring slides, bouncers, waterfalls, and more.
Unlike other water parks in the area, Kalahari has a spacious water park area for toddlers with plenty to do!
If you are visiting Kalahari with a group of adult friends or visiting with another family and can share kid responsibilities, you may be able to slip away to the Mud Hut where you can get your favorite adult beverage while relaxing in the indoor/outdoor hot tub.  Otherwise, there are two additional indoor/outdoor hot tubs at Kalahari for the whole family to enjoy! My kids love going to the outside part of the hot tub when it is freezing cold and after dark. We make several trips per day there!
There is even more that I didn't capture in photos but check out our Facebook Live video as I walked through the majority of the water park live!
Food at Kalahari in Sandusky
Kalahari has many dining options during your stay. You literally do not need to leave Kalahari for anything once you check in! Choose from two eateries within the water park. Both have good deals on pizza, fried foods, sandwiches, salads, burgers, and more.
During your stay, plan to enjoy at least once good sit down dinner at their signature dining experiences.  My kids always love buffets where they can get exactly what they want.  If you plan a trip during a holiday, take advantage of tier holiday brunches including Easter.
Cafe Mirage is perfect for grabbing a sweet treat, sandwich, snacks, and Starbucks coffee any time of day.
We always look forward to a sweet treat at the Candy Hut, we normally go for their giant candy apples!

My husband didn't make it on this past trip so I surprised him with a Turtle Caramel Apple, he was so, so pleased! You can also get ice cream at the Candy Hut!
Overnight Accommodations at Kalahari
Kalahari has the perfect accommodation set up for your next vacation! Depending on whether you are traveling as a couple, family, or group of friends, there is a room or suite perfect for you.  Check out all the overnight accommodations here including single rooms, 2 bedroom suites, and 3-10 bedroom suites and villas! Even if you are traveling with a group of 44 of your closest friends, you can stay together!!
Kalahari Combination 2-Bedroom Suite with Living Room
If you are traveling with another family or you have a larger family of your own, the Combination 2-Bedroom Suite with Living Room gives you plenty of space to relax and unwind after a fun day at the water park. Get the video tour in video at the top of the post.
The above picture of the living room includes a queen sofa sleeper, fireplace, dining table, and 32″ flat screen television.
The combination has two bedrooms: one with king bed and 32″ flat screen TV and their very own personal bathroom with a whirlpool tub! I call this the master suite.
The second room has two queen beds and flat screen TV.  This was perfect for the teenage boys to hang out and watch TV into the early morning hours while the rest of us got some sleep. It is so good to have space to allow those that want to sleep the opportunity. If you have younger kids, this means that you can put them to bed while the older kids and parents watch a movie and stay up longer.
The second bathroom has a stand-up shower and toilet separate from the sink, making it easier to get everyone ready. We loved the cute elephant folded hand towel! Fully equipped kitchen and dining room set. There is also a patio or balcony with furniture, depending on the floor you are on.

It is always sad to say goodbye but we can't wait to go back this Summer to enjoy the outdoor water park as well!
Kalahari is Spring Break headquarters. There is still time to book your room or visit the water park just for a day! Check out their special offers here. For reservations call: 877-525-2427
Kalahari
7000 Kalahari Drive
Sandusky, Ohio 44870