This summer was made for creating memories and having more fun than ever after the last bummer summers thanks to the pandemic. My family is trying to spend as much time as possible with all our family and friends and can't wait until the Ohio State Fair opens next week!  If you haven't been to the Ohio State Fair in a while, make plans now to take your whole family July 27 – August 7, 2022 for the ultimate family time together.
This post is sponsored by the Ohio State Fair.
Ohio State Fair 2022
I'm a firm believer that the best memories are made when you are having fun with your kids. Add grandparents, aunts, uncles, nieces and nephews and you have lifelong stories that will last a lifetime!  Good wholesome fun at the Ohio State Fair is where all the fun is at this year!  There is so much to see and do that the whole family from babies to grandparents will enjoy a day or two or three at the Ohio State Fair!
Whether you love to visit the famous butter cow and calf, enjoy seeing Smokey Bear in Natural Resources Park, or can't miss the sounds of the All-Ohio State Fair Band and Youth Choir, there is a tradition waiting for you at the Ohio State Fair.
You can only find the Butter Cow at the Ohio State Fair!  Back in 1903, there were butter sculpting contests. Everyone loved the butter cow sculptures that they are a permanent attraction for the past century with new sculptures each year!

It's pretty amazing but you'll also love visiting the animals up close in the barns. You can even feed and milk a cow in the OVMA Veterinary Education Center!
We could spend all day visiting all of the livestock and Agriculture buildings. It is the only time must of us come in close contact with cows, goats, pigs, horses or even chickens. It's so much to see the excitement from delighted kids seeing and petting animals for the first time!
My kids are teens and still love visiting all of the animals. I can't wait to see my baby nephew experience the Ohio State Fair for the first time this year. It'll be such a bonding experience for all of us to experience that together.
There is so much fun with animals at the Ohio State Fair – our local fairs are great but they can't compare with the magnitude of the Ohio State Fair!  We love visiting the free petting zoo! They are some curious creatures and so much to see up close and personal!  Make sure to bring some extra cash to feed these adorable animals.

My dad and brother love pigs so I can't wait to see and hear them laughing and having a high ol' time watching the piglet races!!  Of course the kids all love this fun free attraction as well. I mean, who can resist?!  Going to the fair as a family of 4 is great but there is something extra special about going with all the family – from grandparents to grandchildren to experience all the fun together. You should try it! Get everyone scheduled now to visit over the next couple weeks.

Your State Fair admission includes free entertainment stages featuring live music, amazing hypnotists, impressive magicians, and wholesome family-friendly shows. You can also petexotic animals in the free petting zoo, see livestock shows, browse Ohio arts in a beautiful gallery, see pop-up entertainment performances, get your photo with costumed characters, try kayaking, go fishing, and so much more!

You never know what pop-up show (pictured above) or who you'll meet while walking the grounds!

There are so many street performers as well as scheduled attractions and shows that you just can't see it all in a day or two but you sure can pack in as much fun as possible! 
There are just so many surprises around every corner and such much fun to be had! We all deserve a little extra fun this summer with our families and friends.
We even ran into the governor once!
Kids and adults alike will enjoy the entertainment and shows, check out these gorgeous draft horses! I really suggest you browse through the shows to pick the must-see shows and plan your visit accordingly! You can't see it all in one day, so plan on spending the night or making a couple of trips to the fair!
If you love concerts, check out the schedule of free concerts at WCOL Celeste Center like the Ohio State Fair Youth Choir.

Check up the line-up of paid concerts too including Foreigner, Nelly, Dru Hill, Zach Williams, Kidz Bop and more.
The Natural Resources Park is a must for families. It closes around 7, so be sure to catch this first. Kids will enjoy free fishing, kayaking, archery, a watercraft simulator and more.
There are so many things to do and see at the Ohio State Fair – and most is included with your general admission ticket including kayaking! If your kids (or grandma) have never tried kayaking before, this is the perfect place to get your feet wet!
This is also where you'll find the butterfly house which is a hit for young and old! Bring your camera because you can really capture some amazing photos here.
d

Some rides like the giant slide are included with fair admission. I highly, highly recommend you going down the slide or any other ride, attraction or experience with your child. It might be easier to watch from below or sit and watch but you are really missing out on creating those lasting memories that you will enjoy looking back on later in life. Trust me. Sliding down the slide together is going to be more memorable than watching your child slide down.

Fair Rides!
We love the traditional and fun rides that you can only find at a fair. There are rides for younger kids as well as older kids and adults for the whole family to enjoy.
Check out all the rides here but here a couple of favorites my kids enjoyed from years past.
I might be still brave enough to ride the swings this year. It depends on if I can get my sister or brother to join in! 
If you can't handle the more exhilarating rides, there are always plenty of fun to be had at the fun houses for a small fee.
Don't forget all the midway games – that's another fun opportunity to bond with your family. I love seeing my kids having fun and making memories with their grandparents like you only can at a place like the Ohio State Fair.  These are precious memories that they will always remember.
Fair Food
This is not the time to go on a diet. This is the time to enjoy your fair food favorites and experience something new to share together with your family.
Enjoy sweets but fill up on hearty Ohio classics like sausage and kraut.
Then go back for more Ohio classics like buckeyes or even fried buckeyes.
Get to the fair early and stay late. You might want to check out their discounted hotel options.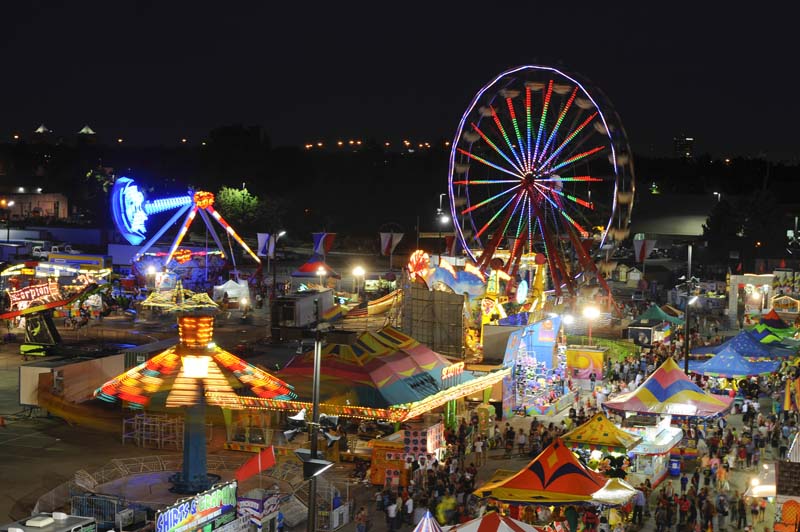 Enjoy the fun, food, rides, and excitement of the Ohio State Fair, July 27 –August 7.
Ohio State Fair 2022 Dates, Hours, Prices & Parking
July 27 -Aug. 7, 2022
Hours of operation:
Monday through Friday:10 a.m.-9 p.m.
Saturday and Sunday*:9 a.m. -9 p.m., except Sunday, Aug. 7, when admission gates close at 6 p.m.
Gate admission prices:
Adults (ages 13-59) —$10
Youth (ages 6-12) —$8
Senior (ages 60+) —$8
Children five and under —Free
Veterans, Military, and First Responders (Police, Fire, and EMTs) —Free with appropriate ID
General Parking —Free
Buy Ohio State Fair tickets online and Midway ride-all-day wristbands online. Or, buy in person at participating O'Reilly Auto Parts Stores.
You can find deals by being in advance through July 26th for admission at only $8 (through July 26 only) and Midway ride-all-day wristbands —$25 each.
General parking is free in the main O'Reilly Auto Parts Parking Lot north of the Cardinal Gate. Accessible parking is available in the main O'Reilly Auto Parts Parking Lots.
Ohio State Fair Ticket Giveaway
You have the chance to win a family 4 pack of tickets to the Ohio State Fair!
a Rafflecopter giveaway

This promotion is in no way sponsored, endorsed or administered by, or associated with, Facebook. In order to comply with the latest Facebook Promotion Guidelines (revised 5/11/11), the following statements are true: