We are making this summer our best ever as we try to make up for lost family time due to the pandemic. We missed sharing fun times with family and friends over the past two years so this year, we are having the best time really enjoying spending time together – something we took for granted for years.  Each year, we take a family trip to Put-in-Bay with my whole side of the family. It's a day we set aside to enjoy having fun together – something families of all sizes need to do.
One of the highlights of our trip to Put-in-Bay is the Miller Ferry ride over. It's our escape from reality to island life!
The 20 minute ferry ride is fun for everyone. There is seating upstairs but we prefer to stand on deck to take in all the sights of Lake Erie.  The ferry leaves Port Clinton as early as 6am in the summer and returns at 9pm. 
We use this time to take plenty of pictures with gorgeous blue skies and Lake Erie in the background.
Sometimes at the front, the waves splash up against the ferry and into the ferry which is welcomed on hot days with screams but not on this trip.
You can also bring your vehicle or bike for an additional fee. Get your tickets online or at the ticket booth.
Find detailed reviews on Miller Ferry with these previous articles.
We've traveled around Put-in-Bay by bus and tour train and it was fun but if you want to explore at your own pace, rent a golf cart. We like E's Golf Carts, located right up the hill from Miller Ferry and to the right. They always have a great selection of 2, 4, 6, and 8 seater golf carts that you can rent by the hour or the day. I've found them to be the best golf cart prices on Put-in-Bay. We shop around since we normally get 3 golf carts for our large family outings to Put-in-Bay and normally get a little larger golf cart to have plenty of room for all our bags!
We have so much fun scooting around in the golf carts, exploring the island from downtown to the far ends of the island. It's such a beautiful drive – such a beautiful island. The golf carts are very easy to operate and don't go too fast, so it's safe and fun. E's will give you a car seat or booster seat if you have young children, just ask.
Find detailed reviews on E's Golf Cart Put-in-Bay rentals in these previous articles.  Once we leave E's, we are welcomed to Put-in-Bay with this billboard. I don't know why but it always gets me excited to see it!
There is so much to do and see at Put-in-Bay, don't let anyone tell you otherwise. We have been going for the past 12 years since my kids were 3 and 5 and love it. We've never had a bad experience and have never wanted to go home before the last Miller Ferry leaves the island!
We've explored Put-in-Bay top to bottom over the years to discover everything family fun to do in Put-in-Bay as these articles show.
This trip was all about catching up and having fun as a family. We have missed so much due to the pandemic that we really needed this family time together. I love seeing my son talking with his grandparents, uncle, and older cousin pictured below. They are laughing, talking, and catching up on lost time. Being on the island takes everyone from the ordinary, everyday life. It's an escape to island life, vacation time, and family time.

It's been a few years since we visited the The Perry's Victory and International Peace Memorial so we decided to take the 32 steps up and less than 1 minute elevator ride to the top!
The view from up 352 feet is spectacular!  You can walk around the entire tip of the monument to see all around Put-in-Bay.
You can even see Cananda islands!  The National park rangers were happy to point out where all the Canadian islands were to us and answer any questions we had about what we were seeing.
Of course it is a great spot for pictures of both Lake Erie and Put-in-Bay as well as family! You can see in this picture below of my kids that the ledge is very wide, so it's super safe even with younger kids.
This was the first time my sister and her kids made the trip to the top and they loved it!
Here I am with my mom and dad. So thankful that we can spend time together and for my kids to spend time with them. We lost so much precious time during the last 2 years.
There is a nice Visitor's Center to tour with a replica of the Battle of Lake Erie and many informational pieces on the War of 1812 and the peace we have to this day. There is also a great gift shop.
We typically stay together the entire day but you never know who is riding with who on the golf carts. The kids like to take turns riding with their aunts and uncle or grandparents. I like it because everyone gets to take turns having fun together on the carts – that one-on-one interactions with each other having fun is priceless – and can't be achieved at a typical family gathering at grandma's house. Put-in-Bay is a unique bonding experience for families for sure. 
We like to drive all around the island. If you are around my brother or dad, expect plenty of horn beeping!  It's such a friendly island, people often wave to each other as they pace on the road on golf carts.
We always stop at the fish hatchery but it was closed by the time we hit that side of the island this time around. It is a free educational activity at Put-in-Bay with large open air fish tanks of fish and turtles found in Lake Erie as well as many fish aquariums of various kinds of Lake Erie fish throughout the building. Kids can also fish off the dock!
We always stop by The Boardwalk for a meal. We normally stop below deck and eat outside for views of the harbor. Plus, they have several stands so everyone can get exactly what they want. Kids can get burgers while adults get seafood. I can't go to Put-in-Bay without getting their lobster bisque in a sourdough bread bowl. Read all about The Boardwalk with my reviews here.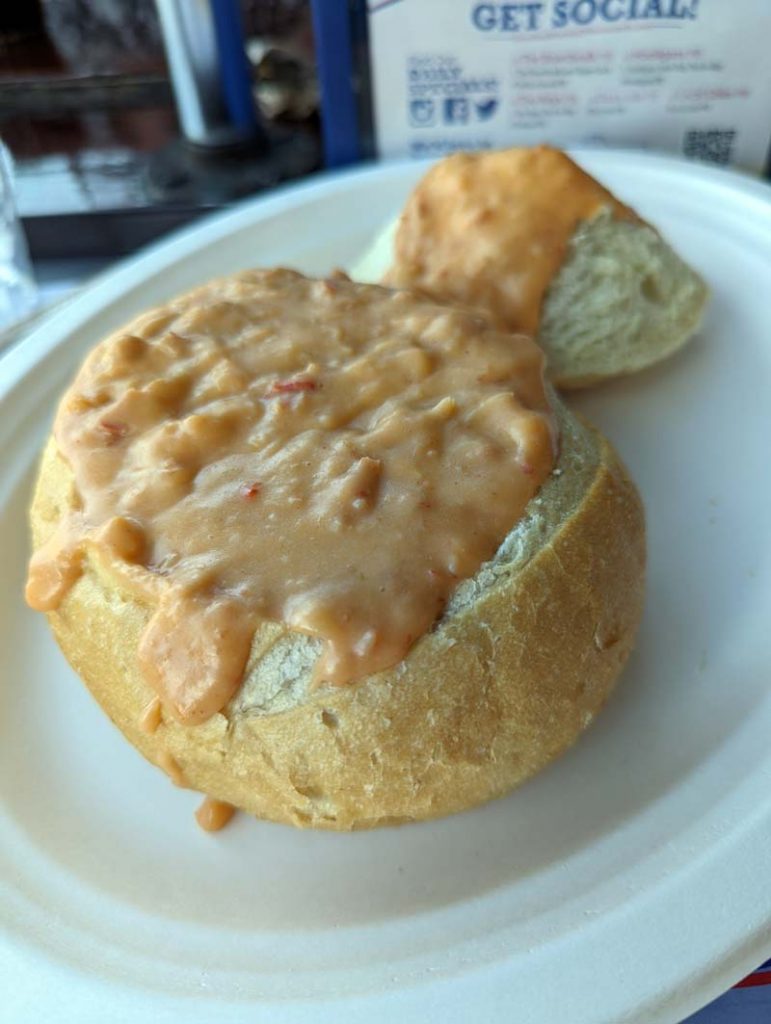 We always make time to visit South Bass Island State Park for swimming and playing on the playground! You can also rent kayaks and boats at the park.  This is a view from the pier that you can walk on below.
The kids have so much fun cooling off and swimming together! 
This park is also where the new Put-in-Bay sign is located. It's the perfect photo opp. We were there the day they revealed it – but sadly the reveal was at 8:30 and we had to catch the 9apm ferry across the island!
After a full day of fun, it's time to head out to take the last ferry home. My youngest nephew found a Ferry Boat toy at the gift shop by the Miller Ferry port. He was so excited! He loves riding Miller Ferry – he has every year of his life! Now he can have pretend Put-in-Bay trips in his bathtub or pool!
The fun doesn't end when we board Miller Ferry to go back to the mainland. Get your cameras ready for the most amazing sunsets on Lake Erie!
It's such a gorgeous ride back!  The whole sky puts on a show for us!
We had such a fun family adventure at Put-in-Bay this year – it never disappoints. I think next year we will plan to spend the night either at the campgrounds at the park or at one of the hotels or cottages to extend the fun. There is still plenty of time this summer to plan a trip for your family, extended family or with friends this summer!