I get asked all the time if Put-in-Bay is good for families. Check out the smiles below and tell me what you think!Ohio Island Getaway for Families – Put-in-Bay!
After the craziness of 2020 and early 2021, we all deserve an Ohio Island Getaway to Put-in-Bay!  We need to feel the wind in our hair as we ride Miller Ferry to the island. We need to fun and relaxation of a care-free island atmosphere, we need to eat good food, and we need to laugh with family and friends. This pandemic has been heartbreaking – not spending time with my family was one of the worst parts. It was amazing being with my parents, sister, brother, and their families!
We love riding on Miller Ferry to get to Put-in-Bay, it's easy to park in the free parking and get right on board the ferry. They offer an awesome schedule so there is always a ferry to catch.
We normally stand on the lower deck so we can enjoy the wind, view, and sometimes splashes of Lake Erie. It's always exciting when the view of Put-in-Bay gets close!
Getting off Miller Ferry is quick and easy too. We all eagerly walk off the ferry for our island adventure! Notice the kids – many families visit Put-in-Bay for island fun!
Up the hill and to the right is E's Golf Carts. It's so easy to get to and they work the line super fast!
We have rode with them for years – in 4, 6, and even 8-seater golf carts. The staff is super friendly and helpful. We've always had a good experience! 
You can even request a free car seat if your kid are little like my nephew!
From E's, we head on the road to downtown Put-in-Bay usually to start our adventure. Honestly, between Miller Ferry and E's Golf Carts, we could be happy all day! We love riding both.
The kids couldn't wait to get to South Bass Island State Park swimming and playing on the playground! You can also rent kayaks and boats at the park. We'd love to camp here sometime!
Happy kids at Put-in-Bay!
It's been about 10 years since we visited the World's Largest Geode – Crystal Cave. It's amazing!
We have a lot of caves in Ohio but this is the prettiest by far!
Right downtown by the harbor is a large playground, it's always been a favorite part of Put-in-Bay for kids. Even big kids!  This is where you can find a shower house too!
Put-in-Bay is for explorers!  There is so much to see, do and experience. We really need to camp and spend a few days on our next trip!
Perry's Monument is a great spot to talk about the history of the island with kids and also get amazing views from the top!
One of our favorite restaurants The Boardwalk. Whether you eat inside or outside, the views are breathtaking and the food is delicious.
I always get the lobster bisque bread bowl and always love it.
Again, more pictures of happy kids. This is almost all the cousins on my side of the family – loving the time at the island and being with eachother! This is our first trip or any kind of outing together since 2019, so it was really a special time of being TOGETHER!
Oh, the views. Several of us commented on how extra pretty the water was during our visit. It was gorgeous. Or maybe we are just all really appreciating what we took for granted before. I don't know. I just know that Put-in-Bay is 100% absolutely for families.
That being said, there are a lot of bars in downtown. If you wouldn't take your kids to a bar after dark on a weekend at home, then you probably shouldn't at Put-in-Bay. There are people there to drink and have a good time – but if you are there during the day, you should be just fine. That's the biggest thing I hear when people ask about Put-in-Bay being ok for families.
We shoot around in our golf carts all over the island.  We never get tired of being together, exploring together, honking the little horns on the carts, and laughing together.
Speaking of laughing. Who makes you laugh more than Lucille Ball?! We love stopping by the Chocolate Cafe where we can watch her infamous candy conveyor belt scene on TV and enjoy chocolate and ice cream too!
The ice cream cones are enormous – with about 30 to choose from!
Time flies while on the island and it's always too soon to leave. We normally catch the LAST ferry back off the island. When you do this, you get to see the most amazing sunsets on Lake Erie!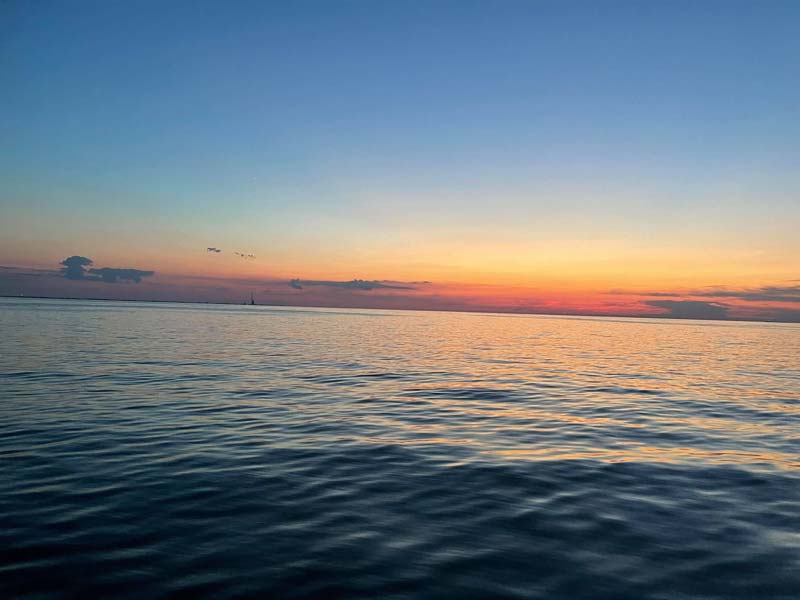 Plan you family trip to the island of Put-in-Bay with your family before summer ends – or this Fall. Start with Miller Ferry!