The Five Bells Inn offers the best Port Clinton rentals for couples and families. Choose from their romantic bed and breakfast suites or the family cottage. Five Bells Inn offers a retreat right on the shores of Lake Erie in Catawba Island.  My family was able to retreat to the family cottage after a day at Cedar Point last week. We received lodging in exchange for this review. The hosts, Eileen and Jerry Jarc have been offering a place for people to retreat to on Catawba Island for more than 15 years and their passion is stronger than ever.
Five Bells Inn offers breathtaking scenery of Lake Erie and a beautiful lagoon.  The 2-1/2 acres of land is well-groomed, offering the perfect setting to stroll and take in the beauty. Located on the west side Catawba Island Peninsula, it is the perfect spot to enjoy beautiful sunsets.  We enjoyed sitting by Lake Erie, enjoying the sights and sounds.
Five Bells Inn is one of the only places that offer Port Clinton rentals right on Lake Erie. With just the road between the B&B and their private grassy area and beach access, you can relax by the shore.

Or, if you have kids, explore! During parts of the year, there is a sandy beach, other times it is rocky at the edges but sandy as you walk further in. You are welcome to swim and wade into the water.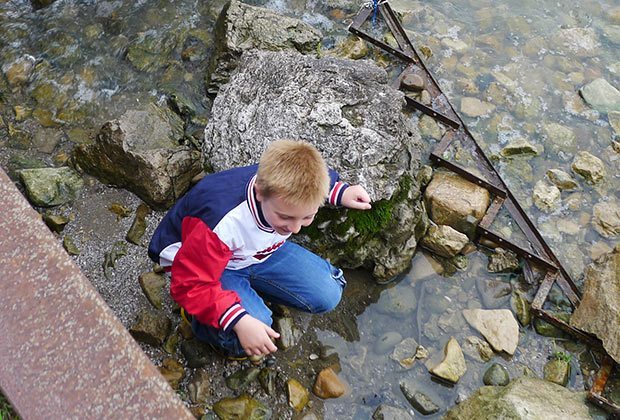 Five Bells Inn offers many opportunities to relax and retreat.  There are sitting areas throughout the grounds, on decks, and porches. Enjoy the 8 person hot tub while taking in the sunset or under the stars.

There are several options to stay on the lagoon side where you'll witness birds of all kinds including a family of swans. For the adventurous, they have boats available to take into the lagoon.

Five Bells Inn offers 3 bed and breakfast and the family cottage near the lagoon.

Five Bells Inn seemed like an aviary while we visited. There were so many beautiful birds singing and flying around. We even saw an Eagle's nest!  Below are just a few birds that have been spotted at Five Bells Inn this season.

Port Clinton Rentals Five Bells Inn Family Cottage
My family of 4 enjoyed retreating to the Five Bells Inn Family Cottage after a day at Cedar Point last week. It was just about 20 minutes from Cedar Point and a very welcomed retreat after a long day of fun at the amusement park. I can't tell you how nice it was to drive a short distance and relax instead of traveling all the way back home.

This family cottage rental offers lodging for 8 people. It has 2 bedrooms – 1 with a queen size bed and the 2nd with 2 single beds.  Upon the entrance of the cottage, there is a set of bunk beds as well as a sleeper coach for additional sleepers. All linens are provided, so no need to pack anything. It was more than enough for our family of 4 and would be so much fun with another family.
We enjoyed the extra living space the family cottage gave us compared to a hotel.  My kids loved hanging out in the living room, watch TV and playing games that were in the cottage.
It was just like living at home with all the comforts of home including a full kitchen with stove, fridge, microwave, and dishwasher. This is great for preparing meals and snacks for the family instead of eating out for every meal while on vacation.

There is a small table and a bar area for dining inside and also a deck outside with a table. The family cottage rate is $200 per night.
Port Clinton Rentals 5 Bells Inn Bed and Breakfast
Choose from 8 rooms with a variety of themes and views when staying in the romantic bed and breakfast rooms. Choose from rooms with a view of Lake Erie or the lagoon. All rooms include a private bath as well as access to all the amenities, including free high-speed internet access.  Jacuzzi suites are also available.


In the morning, B&B guests will enjoy a full breakfast that includes an assortment of the following:  fresh baked muffins or breads, several selections of coffees and juices, a wide variety of fresh fruit, and a main dish. Guests are treated to waffles, pancakes, strata, or other breakfasts on any given morning.


Enjoy breakfast on the front porch or just sit out and relax anytime.

Here are a couple pictures of the romantic bed and breakfast rooms in this century home.


Rates start at $110 per night.
Special Guest Packages are also available for anniversaries, birthdays, honeymoons, and more to include massage therapy, fresh flowers in room, decorate cake, bottle of wine, dinner for two, and more.
Port Clinton Area Attractions
There are many reasons to stay at 5 Bells Inn including the picturesque scenery, hospitality, and unique getaway.  5 Bells Inn is close to many area attractions.   One thing that sets 5 Bells Inn apart is their concierge service. Just tell them your interests and they will give you plenty of recommendations for entertainment, dining, and day trips. They also have brochures available to help you make your decision. Many people will stay at 5 Bells Inn for several days, taking a day trip to Put-in-Bay one day, Cedar Point another, and other Lake Erie outings. There is so much to see and do, there is something for every age and interest.
Visit Five Bells Inn
Plan your next visit to the Port Clinton Lake Erie area to Five Bells Inn. Whether you take advantage of the spacious family cottage or take a romantic getaway with your loved one, Five Bells Inn is a beautiful place to find retreat.   To book your stay, call 1.888.734.1555. For more information email requests@5bellsinn.com .

The Five Bells Inn
2766 Sand Road
Port Clinton, Ohio 43452
1.888.734.1555
This was not a paid post. My own opinions were used based on my perceptions and experience. Thank you to Five Bells Inn who provided us with lodging for review.