There is nothing sweeter than spending time with grandparents. We enjoy traveling with my parents and my husband's parents so that our children can create memories with their grandparents. We decided to explore Put-in-Bay this year with grandma.
Miller Ferry leaves Port Clinton/Catawba every half hour in the summer, making it an easy and most affordable way to Put-in-Bay.
This is a sponsored post.
Half the fun of our trip to Put-in-Bay is riding Miller Ferry.  A visit to Put-in-Bay is a close and convenient way to get away from it all and escape to island life. While on the island, if feels like your a million miles away from the everyday. We love watching the mainland disappear as we near the island.
There is plenty of seating for everyone. On the upper deck, there is both inside and outside seating. My kids insisted on the lower deck on our trip for the chance to get a splash.
What I love about my kids traveling with their grandparents is the opportunity to make life-long memories. Sharing experiences together and having the chance to talk one-on-one is priceless.
Although we've been to Put-in-Bay many times over the years (read all our Put-in-Bay reviews here), it felt like a new adventure with grandma. My kids couldn't wait to explore and experience island life with grandma!
You can't go to Put-in-Bay without getting a golf cart to scoot around town. It is so fun! We chose E's Golf Cart because they guarantee the lowest prices on the island and because their golf carts are in top shape and their staff is friendly.
Once you get off Miller Ferry, E's Golf Carts is located up the hill and to the right. Check in is quick and easy, especially if you reserve online.
The best place to experience family fun with grandma and kids is Perry's Cave Family Fun Center. It is always our  one stop for family fun at Put-in-Bay because there is so much to do there. Plus, you can purchase combo tickets for a discount. 
Perry's Cave Fun Center includes the Butterfly House, Miniature Golf, Fort Amaze'n, Gemstone Mining, Climbing Rock Wall, Antique Car Museum,  and War of 18 Holes Miniature Golf. First off, Perry's Cave!  Descent 52 feet below the ground to explore the 208 feet long by 165 feet wide cave!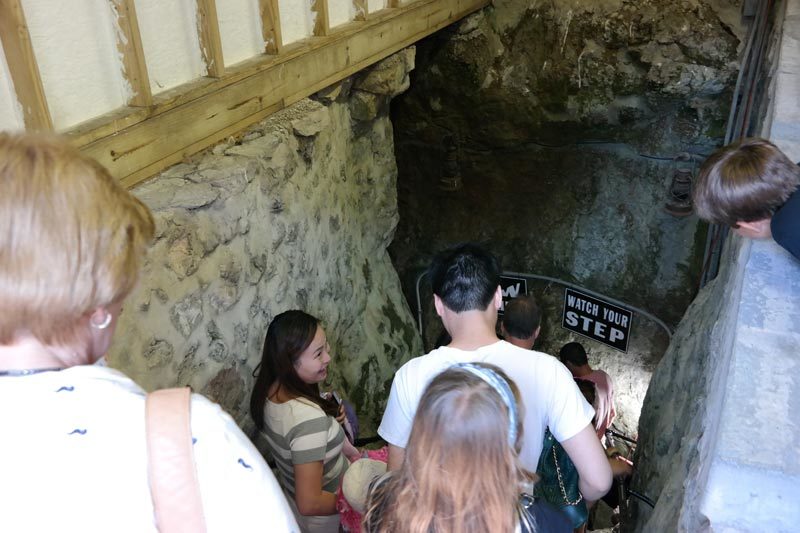 I wasn't sure how grandma would like the cave because she's never been in one before but she loved it. My kid enjoyed telling her about the stalactites and stalagmites in the cave. 
Perry's Cave is very impressive in scale. There is even an underground lake with a 8 foot depth, which is quite rare. Perry's Cave is one of two caves on Put-in-Bay island and part of our Top 11 Explorable Caves in Ohio article.
Perry's Cave's Climbing Rock Wall was a hit for my kids although grandma, my husband, and I took that time to take a break and rest. There are 3 levels so kids and adults can all have a shot at climbing to the top. I've done it in the past and it was a lot of fun. My kids enjoyed showing off their climbing skills for grandma!
The Butterfly House at Put-in-Bay is fun for all ages. It is an ideal spot to take grandparents of all ages.
This 4,000 sq ft aviary has over 800 butterflies flying around the beautiful gardens.  If you are lucky, they will land on you. They seemed to really like my hair, I had two land on me.
There are 500 exotic species of butterflies at the Butterfly Garden. Once you have a wristband, you can return during the same day. It is a relaxing place to hang out by their waterfall and on the benches throughout the garden.
My kids love competition. Fort aMaze'n is so much fun for all ages. My kids paired up with an adult – both wanted to go with grandma! The goal is to be the first to find all the numbered spots throughout the maze and be the first to get them all. It was so fun for my kids to run through the maze with their grandma. Where else could they have this kind of experience with a grandparent?!
The War of 18 Holes Mini Golf is also part of Perry's Cave. We didn't have the chance to do the course this time around but it is a really beautiful course with running streams of water and waterfalls throughout and cannons. It is perfect for quality time with grandparents for grandchildren of all ages.
You can buy a combo ticket at the Catawba Island Miller Ferry Ticket Booth to save money if you plan to do 3 or more activities at Perry's Cave.
The Antique Car Museum is located right next to Perry's Cave. It is a free Put-in-Bay Attraction. There are about a dozen antique cars including Model T's to check out. I suggest stopping by for a few minutes to check them out. It's fun for all ages to see the history of vehicles.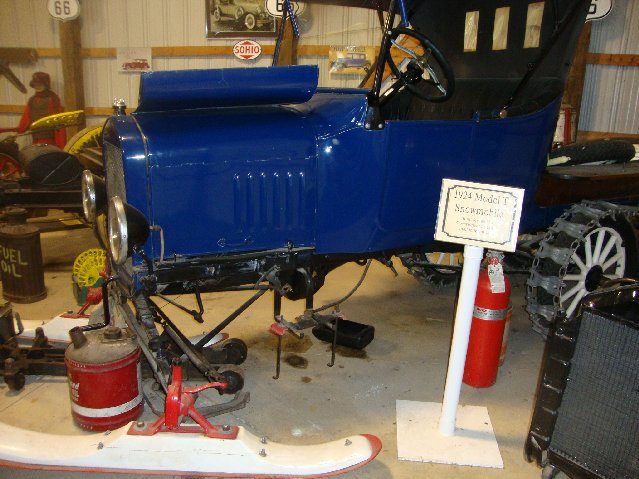 Another free Put-in-Bay attraction is the Ohio Division of Wildlife building. Inside, there is a large open air fish tank of fish and turtles found in Lake Erie, including invasive species that look like eels. There are many fish aquariums filled with fish native to Lake Erie.
Kids can even enjoy free fishing on Lake Erie off the dock by the Ohio Division of Wildlife building.  My kids didn't have any luck but the day was beautiful and it was fun watching the kids fish.
We had so much fun scooting around the island in our 6 person golf cart (there are 4 and 8 person golf carts available at E's as well). My kids took turns sitting with grandma, again, making fun memories.
Be sure to stop by South Bass Island State Park for an afternoon of relaxing at the beach. You can also rent kayaks and boats at the park.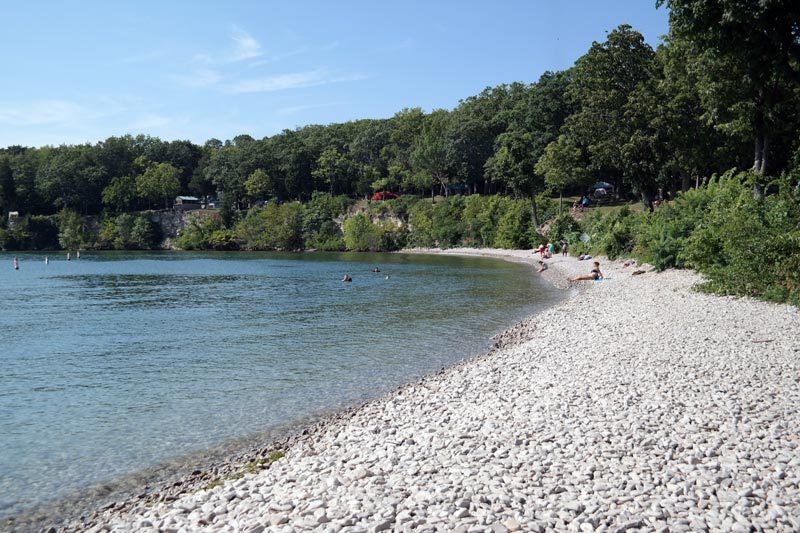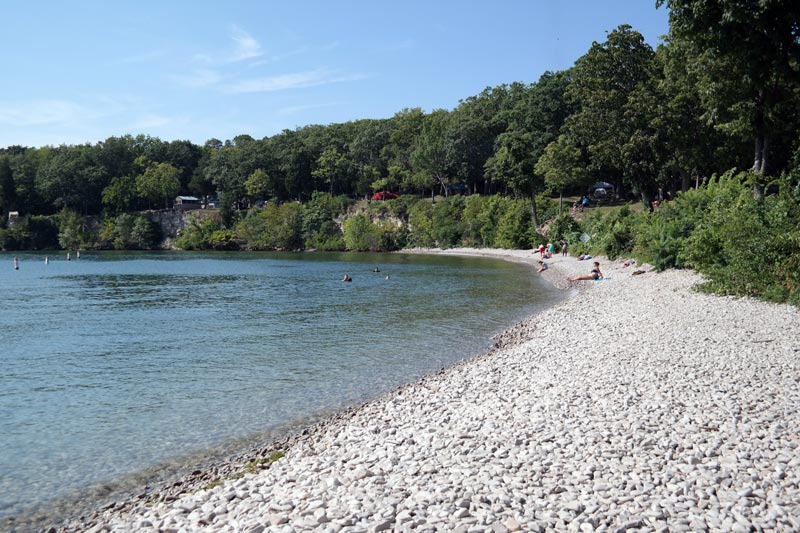 Our plan was to just relax by the water and maybe let the kids get their feet wet in the water. They ended up swimming in their shorts for an hour while grandma, daddy, and I relaxed. I suggest packing an extra set of clothes, just in case. Packing a jacket is always a good idea as it can get cool by Lake Erie once the sun goes down.
For dinner, we stopped by The Boardwalk, our favorite Put-in-Bay restaurant. Luckily they have both a nicer indoor area on the upper deck and a more casual, open-air dining on the lower deck since our kids were still a little wet from swimming in Lake Erie! You must try their lobster bisque. It is the best lobster bisque I've tried – even compared to both the East Coast and West Coast restaurants.  A sourdough bread bowl of lobster bisque was the perfect way to end our day at Put-in-Bay.
On our way home on Miller Ferry, we thought about riding up on top but still felt adventurous and stayed on the lower deck. Both provides amazing views of Lake Erie and Put-in-Bay island.
Our ride back also included a beautiful sunset and more one-on-one time talking with grandma. Traveling with grandparents is all about connecting and making new memories – for everyone, grandchildren, grandparents, and their kids. I love this picture of my husband chatting with his mom on our way back on Miller Ferry.
There is still plenty of time for you to take a trip to Put-in-Bay this summer! It is a fantastic way to end summer and spend time with those you love. Consider asking your parents or inlaws to join your family, your kids will have a blast exploring with their grandparents.