The Summit Hotel, a Dolce Hotel in Cincinnati, OH, is a modern upscale hotel with art at the heart and soul. Featuring an art gallery, rooftop terrace, garden space, ballroom, banquet areas, restaurants with local food, this hotel is a welcomed retreat for all. It is located just 9 miles from the Cincinnati Zoo and Botanical Garden and moments from Downtown Cincinnati attractions, businesses, and restaurants. The Summit Hotel is perfect for a family or couples getaway, staycation, or business.
This is a sponsored post.
The Summit Hotel Review in Cincinnati, OH
After a day of exploring Cincinnati or a day of business, retreating to The Summit Hotel is a pleasure.  The guest rooms are oversized and spacious, offering a very comfortable stay whether you spend the weekend or week.  Each room has colorful decor with plenty of art hanging on the walls. Speaking of the walls, I'm proud to say that my husband, the artsy guy he is, worked on the wallpaper designs in many guest rooms, including the two below!
The guest room has plenty of contemporary decor for both function and enjoyment.   You'll also enjoy extra amenities like robes, slippers, and safes built into the dresser drawers.
Plenty of natural light spills into the guest rooms with floor-to-ceiling windows that also offer beautiful views. Our view overlooked the outdoor event space with a rooftop garden and sprawling terrace! Other sights to enjoy include the stunning Cincinnati skyline.

Art at The Summit Hotel in Cincinnati, Ohio
What sets The Summit Hotel apart from any other hotel in Cincinnati – or Ohio for that matter – is their art. This hotel offers an artsy ambiance at every level. The entire hotel is draped in art. It is an artful, inspiring setting for anyone that visits – whether that is families on vacation or if you are there for business. There are many art forms throughout the guest rooms, halls, library, fitness center, yoga studio, and meeting spaces. There is even an art gallery!
This is one of my favorite pieces – it is a Weight Watchers Refrigerator – the camera reveals your photo on the front of the fridge – do you need to reach for that snack?!
Another favorite is the car doors with a running video of a California city from the perspective of being in the car! How clever!
Some art I don't understand, but I'm sure many do.  I did enjoy browsing the variety of art displayed throughout the hotel. I also enjoyed having conversations with my kids about the artwork. We may not be art critics, but we all have our views on what we like, don't like, and what we think the artist was trying to portray. Having those exciting conversations with kids is enlightening – so much better than everyone being stuck on their phones and screens.
This hotel is gorgeous, with every detail in place. The nine-story atrium is stunning. I love the reds, grays, and whites shared along every floor and visible from each floor level.
The seating in the atrium is perfect for chilling in the afternoon with the family or a casual business meeting.
The lobby is inviting and catches your attention right away with outstanding art – yes, even a car!
Located off of the lobby is their Art Gallery, curated with local and international works.
We loved exploring the Art Gallery! 
Dining at The Summit Hotel
There are plenty of dining options at The Summit Hotel throughout the day and night. Our visit was quick, so we didn't have a chance to experience it but could get a tour to share with you! The Overlook Kitchen & Bar is open for lunch and dinner. They feature local, seasonal produce and artisan meats for exquisite dining.
The seating inside is spacious and modern, while the staff is accommodating and welcoming.
If you visit during warmer months, I suggest the outdoor patio!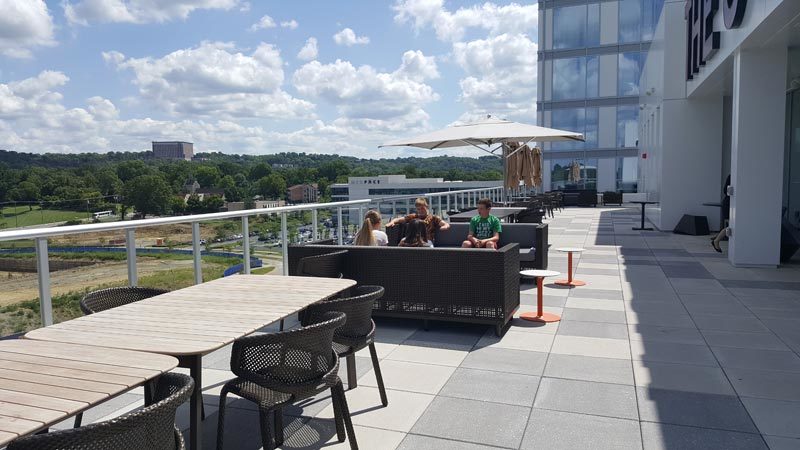 It's an enormous 3,800 sq ft patio with plenty of seating, including fire pits – so you may still be able to catch a day or two yet this Fall for fire-side food and conversation on the patio.
The Market serves breakfast daily with meals prepared to order by their chefs. I like the open kitchen layout.
This is also the place for a sweet treat of gelato or sorbet!
Cincinnati Meeting Space
The Summit Hotel is a premier destination for meetings in Cincinnati. They offer an astounding 32,600 sq ft of indoor/outdoor event space to accommodate every kind of meeting or event. There are 18 indoor meeting rooms available with food service available for any size meeting.
Visit The Summit Hotel
Book your stay at The Summit Hotel on their website for the best offers.
The Summit Hotel
5345 Medpace Way
Cincinnati, OH 45227
866-898-3567