Whether you are an out-of-state reader or planning an Ohio Staycation this year, we have the Ultimate Ohio Vacation laid out for you below.
Visit Ohio's Capitol
Columbus, Ohio is named one of the 52 places to visit in 2019 by the New York Times for many good reasons. Columbus is home to COSI ( nation's best science center), LEGOLAND Discovery Center, Columbus Zoo (nominated Best Zoo by USA Today), Franklin Park Conservatory and Botanical Gardens, world-renowned restaurants, and so much more. Don't forget to tour the Ohio Statehouse on Capitol Square too.


We recommend staying 2-3 days with accommodations at Renaissance in downtown, AC Hotel (near Zoo), or Hilton at Easton shopping district.
Experience the Heritage of Amish Country
Step back into a simpler time in Ohio's Amish Country where you'll share the road with horse and buggies and take in the beauty and serenity of the Amish lifestyle, rolling hills, and farms.
We recommend the back roads tour, Amish Country dining at Der Dutchman, Yoder's Farm for buggy rides, and Amish Country Theater for live family-friendly entertainment.
Retreat at the Inn at Honey Run or the Inn at Cedar Falls. We recommend a 2-day visit.
Experience a Wildlife Safari
Experience free-roaming exotic animals at an Ohio Wildlife Safari. The Wilds is a 10,000-acre park located in Cumberland with  300 rare and endangered species. You can go ziplining, horse-back riding, and spend the night on-site.
The African Safari Wildlife Park offers drive and walk-thru safaris of 50 species of animals in natural habitats in Port Clinton. Drive your own car through and feed the animals through your windows for a hilarious good time!
Each safari takes 4-6 hours.
Unlimited Thrills at Cedar Point
Ohio is home to the best amusement park in the world, Cedar Point. This 364-acre amusement park is the roller coaster capital of the world with 18 coasters for every thrill seeker and over 72 rides, including many kid rides.
Enjoy family-friendly entertainment for the entire family at their park, water park, and their private beaches on Lake Erie. We recommend 2 days at this destination with on-site accommodations at Hotel Breakers Beachfront Resort.
Island Escape
Lake Erie offers island escapes to Put-in-Bay and Kelleys Island. Put-in-Bay offers a wide variety of dining, shopping, and entertainment for the whole family. 
View the island from the top of Perry's Victory and International Peace Memorial.
Explore two caves!
Kelleys Island is perfect for the nature lover with lush forests, sandy beach park, rocky shores, and historic homes.
Explore the island's treasures including the spectacular Glacial Grooves at 400 feet long, 35 feet wide, and 15 feet deep!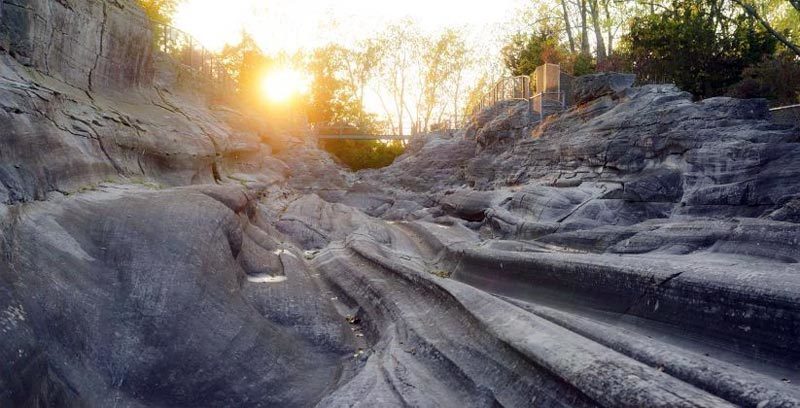 Miller Ferry runs to both islands.

We recommend 1 day at each island.
This is Cleveland
Cleveland is packed with family fun and has everything you'd expect from a metropolitan city. Rock & Roll Hall of Fame is a must-see for music lovers with fascinating rock & roll memorabilia and exhibits.
University Circle is home to world-class museums and parks including Cleveland Museum of Art, Natural History Museum, Severance Hall, Little Italy, and Cleveland Botanical Garden.
These are our top Ohio destinations, find more Ohio Travel here.