Have you ever wondered what it would be like to live in a castle? Now is your chance to stay overnight in a castle at Landoll's Mohican Castle! This fairy-tale looking castle is located in scenic Loudonville, Ohio which is only about 1 hour 20 minutes from the Akron, Ohio area, centrally located between Cleveland and Columbus, Ohio. This is your chance to vacation like royalty!
This is a sponsored post.
Landoll's Mohican Castle Video Tour
Landoll's Mohican Castle Review
My family visited Landoll's Mohican Castle for Spring Break. The castle and scenery were remarkable, I can only imagine out breathtaking it is with the leaves on the trees, or in the Fall when the leaves colors change or when it is snow covered! The castle is stunning. It reminds me of a luxurious castle of yesteryear. When visiting Landoll's Mohican Castle, you'll feel like you've been transported back into time.  The lodging, setting, restaurant, amenities, and staff all speaks of ultimate luxury, yet at an affordable nightly rate for family travel.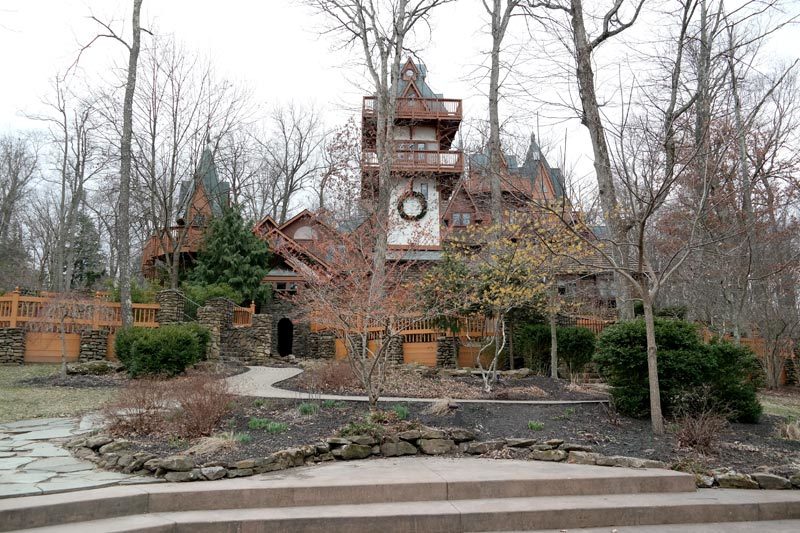 Landoll's Mohican Castle is a hidden gem located in the heart of Ohio that is perfect for a family vacation, romantic getaway, reunions, weddings, and corporate events. During your stay, you can really disconnect from the 'real world' and enjoy feeling like royalty on the estate. The grounds are beautiful – walk on the trails or relax on one of the many patios or seating around the castle and resort.
Be sure to walk up the Read Oak Tower for amazing views of the property! The castle property is at 1,200 feet so add to that the tower's height and you are pretty high off the ground – offering the best panoramic views of Mohican Country!
How amazing would it be to be staying in the suite opposite of the Red Oak Tower!
There are 11 suites within the castle as well as 2 cottages on the property, 4 suites that can adjoin in the Highland Building and another dozen in the new Stables Suites.  All suites are uniquely designed, transporting you to elegant European castles! Some suites are suited for families while others drip with romance for the perfect anniversary trip!
As a family, we were very well suited in one of the Stables Suites! The room was decked out in both castle and horse barn decor. We loved it! The suite was very spacious, giving kids plenty of room to play. We wouldn't feel cramped in these accommodations even if we spent the week! See video of the room in above video!
Who doesn't love a whirlpool tub?! I'm pretty certain that all of the suites have them. My kids both took turns enjoying a restful bath during our stay. Who can resist?
The spacious bathroom also has a double vanity and large, walk-in shower. And don't forget the plush robes!
As you can see, it is a gorgeously decorated room – right down to the sliding barn door on the bathroom and tv vanity. There is a small sitting area as well as a fully stocked mini-fridge.
The outside is what we were all about. It was finally warm enough to get outside and explore so that is exactly what we did. My kids loved the giant boulders right outside the stables and the trails all around.  It is such a unique backdrop for either an adventure or a peaceful retreat for families and couples.
There is plenty of outdoor seating areas throughout the estate to rest and take in the serine beauty of Mohican Country. There are even places to sit around a fire pit at night or take a horse-drawn carriage ride through the woods! There is even an 18th century grave yard on the property – with tales of ghosts including ghost tours throughout the year if you are into that.
You can't go on a family trip without a pool! My kids loved the large, curvy pool with cave! The water was kept at a nice temperature too so I had a nice time as well.  The dinosaur was a cute addition – or was it a dragon from castle times?
There is also a hot tub and steam room at the pool house for adults to use to really unwind and relax although the hot tub was under maintenance during our visit. I believe the rock backdrop is a waterfall during operating hours.
Also in the pool house is a well equipped fitness room – if you can't get enough exercise hiking outside!
I really liked the additional community room in the pool house as well. There was a large screen tv with plenty of seating on the couch and dining table.  It is the perfect place to settle in to visit with family and friends or bring out a board game. You can check out games at the front desk during your stay.
Don't you just love the idea of your family retreating to a place like this to really slow down, get off electronics, and enjoy each other's company? It may take a day or so for your kids to 'get over' their electronics but my kids just loved slowing down to enjoy things like playing pool with mom and dad! When was the last time you really reconnected with your spouse? How about your kids?
Landoll's Mohican Castle is a very popular destination for a castle wedding! Make it a destination wedding with rooms for everyone or spend your honeymoon in a castle suite! It would make for the most magical fairy-tale wedding location in Ohio! Can you even imagine?!
While staying at Landoll's Mohican Castle, all of your dining needs is available at the world-class Copper Mug Bar & Grille. Bring your appetite because their portions are large and the food is delectable! Read our entire Copper Mug Bar & Grille restaurant review, including their Gordon Ramsay dinner menu.
They are open for breakfast, lunch, dinner, and everything in between! You won't go hungry at Copper Mug Bar & Grille!
You never have to leave Landoll's Mohican Castle once you arrive although there is plenty to do and see nearby! Downtown Loudonville is worth a stroll for shopping and to check out the galleries. We enjoyed hiking to a waterfall, cover bridge, and the dam within Mohican State Park during our stay!
Book your stay at Landoll's Mohican Castle now for your next family Ohio vacation, romantic getaway, or event.
If you are visiting nearby Mohican State Park for a day trip or camping out there and would like to take a tour of Landoll's Mohican Castle, you can do so for just $5 daily at 1:30 pm. If you stay for a meal at Copper Mug Bar & Grille, you get $2.50 of that fee toward your check!
Landoll's Mohican Castle
561 Twp. Rd. 3352
Loudonville, OH 44842
1-800-291-5001
1-419-994-3427
info@landollsmohicancastle.com
If you missed our Facebook Live Event during our stay, watch now:

Get social with Landoll's Mohican Castle for the latest news and deals on Facebook, Twitter, and Instagram. Find out what others say on TripAdvisor.
Header image photo credit to Kyle Asperger of 301 Original.