Most kids dream of being a prince, princess or a knight at some point in their lives. My boys always talk about being knights and slaying dragons as they build their castles from cardboard, sheets other odds and ends. It gave me a thought.. what if we could visit a real castle! So I started looking around to see if there were any and I found some! So I thought I would share my findings with you.
Squire's Castle
This supposedly haunted Castle resides on the grounds of the Cleveland Metro parks property.
Squire's Castle was built as a Gatehouse, the stone use to build the castle were quarried from the property. Now all that remains is an open shell. Rumor has it that Mrs. Squire broke her neck while roaming the house while suffering from insomnia, or so the legend goes. Visiting is free of charge and it is available to rent for events. A friend's of ours did their engagement photos here and they turned out beautifully!
2794 River Rd.
Willoughby, Ohio 44094
Landoll's Mohican Castle

Beautifully decorated and well appointed suites fill this upscale hotel just 4 miles from Mohican State Park.  Set in an old world-inspired castle, you will find a wonderful, informal restaurant, ghost tours, carriage rides and great nooks to connect to nature and your spouse.
At the time of publishing their website was suffering a hack attack…  So be careful when you visit them!  Facebook Page
561 Township Hwy 3352,
Loudonville, OH 44842
(419) 994-3427
Piatt Castles
The two Piatt Castles in Logan County have been a popular destination for over 100 years.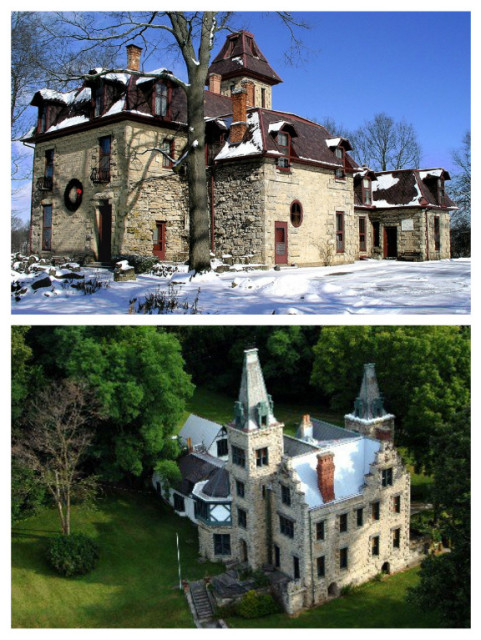 These beautiful and unique castles where built on the land and named to remember the Mecoche division of the Shawnee people who lived on the land long before the Piatt Family. All tours are self guided so you don't have to rush and admission ranges between $9.00 -$20.00 per person. Credit cards are accepted. The self guided tours are available April- November. Be sure to check their website for current opening dates and hours. There is also museum store and rentals for events are available, see the website for further information.
Mac-A-Cheek Castle:
10051 Township Road 47
West Liberty, OH 43357
Mac-O-Chee Castle:
2319 State Route 287
West Liberty, OH 43357
937-465-2821
Ravenwood Castle
The Ravenwood Castle is the newest castle on the block. Inspired by castles built along the boarder of Wales and England, this stunning castle was built from 1994-1995.
They have several types of accommodations, 7 suites in the castle, 5 cabins in Huntsman's Hallow, 5 medieval cottages and the 2 gypsy wagons! Breakfast is included in your stay and even if your not an overnight guest the great hall is open for dinner. After a hike in the hills be sure to stop by the Raven's Roost Pub for an ale. Accommodations cost between $59.00 -$279.00 a night depending on where you decide to rest your head. There is also lots of events (murder mysteries and more) going on! This would be another great wedding venue.
65666 Bethel Road
New Plymouth, Ohio 45654
740-596-2606
Loveland Castle
Built by Sir Harry Andrews, This Castle was inspired by Sir Harry's boy scout troop.  He  first built two stone tents before deciding that his troop, Knights of the Golden Trail, deserved a real castle and so he built one!
Knights still guard this almost full scale castle. Loveland Castle is available for rent, even for overnight events (think sleeping bag on the floor to this beautiful castle). Adults (13 and over) $5.00, kids (12 years and under): $3.00.Credit & Debit cards accepted. Winter Hours: October – March Saturday & Sunday ONLY 11 am – 5 pm,( not open on snow/ice days), Summer Hours: April – September Monday thru Sunday 11 am – 5 pm.  While you are in Loveland watch out for Frogmen!
12025 Shore Dr.
Loveland, Ohio
513-683-4686
Galmorgan Castle
Galmorgan Castle was built from 1904-1905 by Col.William Henry Morgan. This Castle is not a replica but is an original design by Willard Hirsh. Galmorgan Castle is made from Vermont marble, an amazing 96 train carloads worth.
There are three floors and a basement under the entire building. On July 18, 1973 The Galmorgan Castle was gifted to the Alliance City school District. Today the Galmorgan Castle is the central Admin building. Tours are normally available on Fridays at 1pm and 2pm. They are closed for tour of less than 10 people from December 18th  until after March 4th. For Groups Tours during that period call Joe Zelasko directly at 330-821-8972. A donation of $5.00 per person is requested.
200 Glamorgan Street
Alliance, Ohio 44601
(330) 821-2100
GreatStone Castle
GreatStone Castle has been an Ohio Landmark for over 10 decades.
Made from Limestone that is 18 inches thick, this castle features three turrets and a stone columns supported wrap around porch. With four floors at over 4,000 sq feet each this castle would make an idea location for many activities. They also have a spa with a wide range of services.
429 N. Ohio Avenue
Sidney, Ohio (OH) 45365
937-498-4728
Marietta: The Castle
The Castle Built in 1855 and has been open to the public since 1994.
In  1974 The Castle started being renovated lasting for about 2 decades. The Castle became a historical asset in 1992.  Admission cost range, groups are welcome, please check their website or call before visiting.
418 Fourth Street
Marietta, Ohio 45750
(740) 373-4180
Stan Hywet Hall & Gardens
This year Stan Hywet celebrates their 100th Anniversary. It is Akron's largest National Historic Landmark, and is an accredited museum of the American Alliance of Museums.
This amazing Estate includes five historic buildings, ten beautiful gardens and a great kids playground area, all situated on 70 acres.  To learn more about tours of the grounds check the website. Pricing ranges between $7.50 to $21.00 per person. Stan Hywet also hosts activities all year long including geocaching, living history days and more.
714 North Portage Path
Akron, Ohio 44303
Do you know of any castles we missed? I can't wait to start exploring these fantastical locations!