CosmiMake plans for a road trip to Columbus, Ohio to experience the new traveling exhibit, BE THE ASTRONAUT starting on May 27, 2017 for the summer. This must-see exhibit promises to engage kids and adults like with plenty of video game based "missions" for kids to complete for a firsthand experience of what it is like to be an astronaut! What kid doesn't dream of being an astronaut and flying into space?! This is your chance to discover what it would really be like!
Extend the space exploration with the new space Plantarium show and space Giant Screen Film to complete the Cosmic Summer experience for you and your family.
We just experienced the COSI Planetarium for the first time and can't wait to go back. It was AMAZING! The COSI Planetarium is the largest in Ohio, offering you a glimpse into the universe with a new Digistar 5 projection system and 60 foot dome that will transport you into the starry sky and into far away galaxies you've never heard of before!
We enjoyed Starry Night Live that allowed us to discover stars, constellations, planets, and deep sky objects – perfect for the Cosmic Summer theme at COSI this summer! It was narrated live by a COSI Chief Scientist and Astrophysicist- how impressive! You can choose between 6-8 shows including Magic Tree House Space Mission, Wildest Weather in the Solar System, Space Park 360, Deep Space Q&A.
Extending the outer space fun at COSI is easy as there are classic exhibits throughout the building that allows engage in hands-on learning and fun.  There are always multiple stations at each exhibit that allows for more than one person to join in on the fun. Even on the busiest of days, there is always a space open for you to join in on the learning fun.
Kids are memorized by space, I think the Cosmic Summer theme is going to be a huge hit with kids. I can't wait to see what is inside the traveling exhibit starting on May 27th. Even as an adult, I love anything that has to do with space exploration. I think we all grew up hoping to discover new planets and lifeforms, even if we never became actual astronauts ourselves. COSI allows us to get a glimpse into that super selective club of astronauts!
This is a blurry picture which I apologize for but I have to mention that there is a space craft simulator that you've gotta plan on doing with your family! It's only a few extra dollars to ride in a mini spaceship where you'll be speeding through the galaxy! My kids loved it and so did I! That is another thing I want to encourage you to do – have fun at COSI as an adult. You'll get a LOT more out of the experience and so will your kids if you play and learn with them instead of just watching and snapping pictures of the day. Trust me!

When you are ready to rest a bit, take in a movie on the National Geographic Giant Screen Theater. There are several movies to choose from to enjoy with 3D technology with Dolby surround sound and 4K projection! Journey to Space 3D is opening on May 27th too! This looks like it will be an amazing space adventure as you'll be launched to Mars!

Journey to Space – TRAILER [HD] from K2 Communications on Vimeo.
There is so much to see and explore at COSI, every square inch is full of learning opportunities – including the hallways where we found this Trizonal Space Warper. We love optical illusions like this one that makes you "see" apparent motion in the opposite direction after staring at it for 30 seconds!
COSI has a lot of great things for kids of all ages. Little Kid Space is wonderful if your kids are preschool age, and almost all of their additional permanent exhibits are great for kids of all ages.
This was the first time that one of my kids decided to brave the COSI High Wire Unicycle! My son pedaled the unicycle 17 feet above the lower level of COSI! The unicycle rides on a tiny 1.5-inch cable and he rode it 84 feet across the open space. He loved it!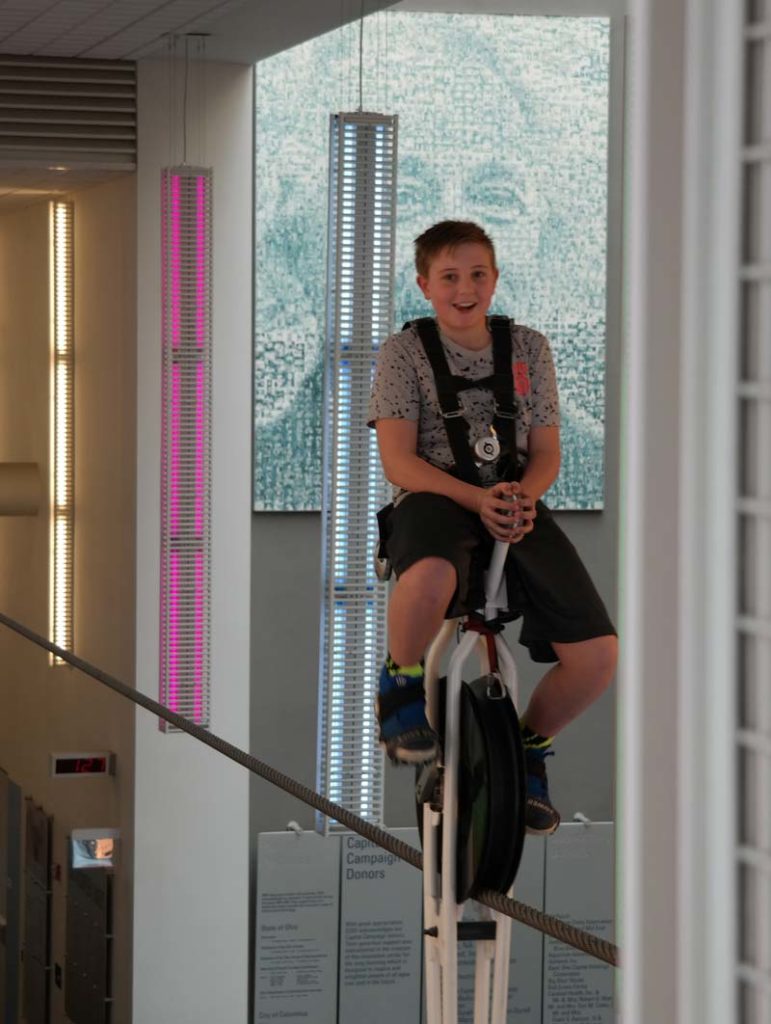 Another favorite classic exhibit that is fun for the whole family is Gadgets! You can spend over an hour in this area easily! There is a Gadgets Stage with shows on physics, chemistry, engineering, and energy.
My kids liked the hands-on activities like pulling their weight on a pulley chair and building a bridge.  There are things kids of all ages can enjoy in this area.
I loved seeing many adults playing in the Gadgets area too – even more so than other areas. Science is fun for every age at COSI!
Kids (and adults) can have fun learning what it takes to build a good bridge with this hands-on activity. Our kids were here at least 40 minutes building! There is plenty to learn about bridge making, including information on the famous Brooklyn Bridge, the largest suspension bridge in 1869. Kids can build their own arch trusses, kingpost tursses and partridge trusses by looking at the examples in the exhibit.
Although we love modern day science, one of our favorite exhibits is Progress. 
It is a chance to step back in time to see what technology and life was like in 1898! This is the perfect way for kids to see how technology and innovation changed all of our lives in such a short period of time.
Head outside when your kids are ready for active science learning at the Big Science Park! It is amazing how fun science can be when you are doing things like lifting a full size car with the help of a lever!
Plan Your Out-of-this-World Cosmic Summer at COSI
COSI Operating Hours:
COSI is open every day from 10am – 5pm. Closed on July 3rd. Last Friday of every month they are open 10am – 9pm.
COSI Admission:
Exhibits + One Extreme Screen Film    $20 (adults)  $15 (ages 2-12)
Add Planetarium for $5 ($4 for COSI members)
Add National Geographic Giant Screen Movie for $5 ($4 for COSI members)
Add Motion Simulator $5 ($4 for COSI members)
Additional pricing available on COSI website, including membership pricing.
333 W. Broad Street
Columbus, OH 43215
614.228.2674 or 888.819.2674