If you are planning a Virginia Beach vacation, give your family the comfortable space they need with the prime beachfront location at Comfort Suites Beachfront.
Video Review of Comfort Suites Beachfront in Virginia Beach, Virginia!
This is a sponsored post.

Comfort Suites Beachfront Virginia Beach, VA Review
You have many options when it comes to hotels in Virginia Beach, VA. My number one rule is to stay with a brand that I know and trust. Comfort Suites Beachfront is a Choice Hotels property so I know it is a safe, clean, updated place for my family to stay. Plus, I can earn rewards toward future stays with the Choice Privileges loyalty program.
If you are planning a classic beach vacation, staying at a hotel on the beach is a must! Your family will enjoy your beach vacation a lot more if you are located on the beach with views of the ocean, beach, boardwalk, and even the sunrise right from your room! Plus, as a mom, I appreciate the ability to run back to the hotel room if we forget something or if it is naptime for one child while everyone else stays at the beach.
Virginia Beach is home to wide sandy beaches that are perfect for sunbathing, sand castle building, kite flying, sand volleyball, and more.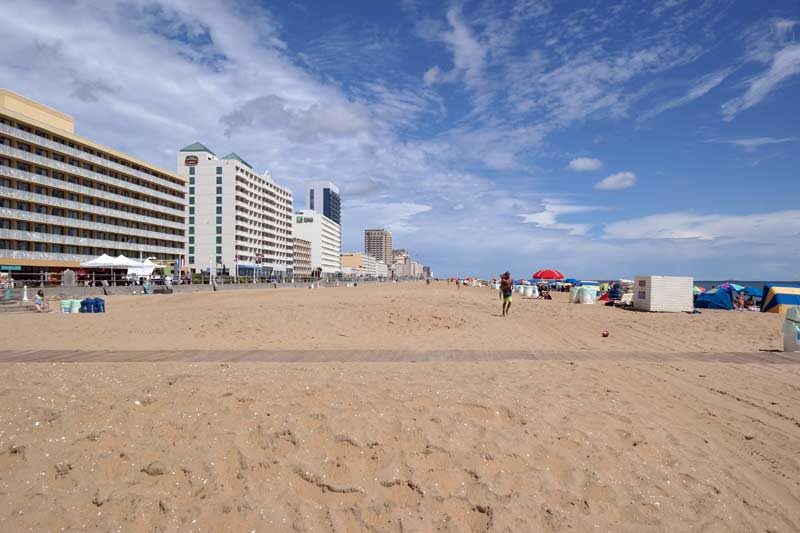 Another reason why I choose Comfort Suites Beachfront in Virginia Beach for our beach vacation is convenience. Lugging around a beach umbrella, beach chairs, shovels, towels, kites, coolers, and toys is a lot of work. I can't imagine the horror of carrying it all from a public parking lot or off-site hotel! I love that it this hotel is located right at the beach so getting our day's worth of beach gear to the beach isn't a chore at all.
Another thing that I love about Comfort Suites Beachfront is the location. Since it is located in the northern part of Virginia Beach, away from the pier and public parking lots, the beach and ocean are not crowded at all.
That means there is plenty of space to buggy board, splash in the waves, and play without running into other people. That is a real concern for Virginia Beach. Since Virginia Beach is the closest beach vacation to Ohio and other states, it can get crowded. If you are looking for an area that isn't packed with people, you'll have good luck here.
The beaches are clean and the sand is soft – perfect for burying your kids and sand castles! ha!
Beyond the amazing location, Comfort Suites Beachfront has much, much more to offer for family fun vacations. When choosing a hotel for your family vacation, be sure there is enough room to comfortably house your family for the stay. Many places offer a room with two beds but if you are spending more than just a couple days, you'll need more space or your family vacation will not be made of the memories you hope.
Comfort Suites Beachfront offers several room options including 1 King Bed and 2 Double Beds Suites. This is an all-suites hotel with all suites facing the ocean and beach!  I recommend the 2 Double Beds Suites if you are traveling as a family. It has a flat-screen TV, dresser, and closet.
In the video, I said "queen beds" but this suite actually has 2 double beds, they looked so big and spacious when I arrived that I thought they were queen. As you can see in the video at the top of the post, there are separate living areas in this suite. The bedroom with two beds is located right upon entering the suite, on the pool-side of the hotel.
The spacious living room faces the beach and ocean.
The couch opens up for another full size bed too. This is perfect if you have a large family or if you have kids that can no longer share a bed. My teenager son loved having his own bed and space at night in the living room!
Also in the living room is a wet bar with counter, mini-fridge, microwave, and coffee maker. This is all you need to keep drinks and snacks cold and ready during your stay. There is also a second flat-screen TV and table with two chairs. There is a free hot breakfast every morning too. My photos didn't turn out but the food was amazing and the dining room overlooks the ocean! We always spotted dolphins at breakfast!
The bathroom is located between the bedroom and living room. It is a modern bathroom with a large walk-in shower. The bathroom is spacious with plenty of room. Everything in this hotel is very well kept and clean, especially the bathroom. As a mom, I really appreciate a clean bathroom while traveling.
Another favorite thing about Comfort Suites Beachfront for us is the balcony! Every suite has its own balcony. We were on the first floor, so we were able to have a great view of not only the ocean and beach but also the boardwalk. It is perfect for people-watching.
We arrived later in the evening so all the higher floor levels were taken. We didn't mind because I actually prefer lower level floors. If you like higher up, arrive right at check-in time at 3pm for the best selection during peak season.
Virginia Beach is perfect for family beach vacations. We love the beach and ocean but it is really nice to have a boardwalk to stroll, bike, or scooter on. The boardwalk offers another safe and fun way to explore Virginia Beach with your family. I highly recommend bringing your bikes or scooters so that you can enjoy the boardwalk at your leisure. You can also rent bikes for the afternoon with Cherie's Bicycle and Blade Rentals. They have a rental location right in front of Comfort Suites Beachfront.
Another thing that makes Virginia Beach unique from other beach vacation location is what is flying in the air! Beyond beautiful birds, you'll see and hear plenty of fighter jets flying overhead. The Naval Air Station Oceana in Virginia Beach is where F-18 Jet Fighter Pilots are trained so you'll see and hear jets often. It is a unique experience that swells up American pride in visitors.
Not only is Comfort Suites Beachfront perfect for the location right on the beach but also because it is located next to Atlantic Avenue and the 24th Street Park for free live  Enjoy Beach Street USA Atlantic Live family entertainment. 
This free entertainment starts at 6pm every night with street performers, concerts, musicians, magicians, uni-cyclists, variety shows, and more. Download the Virginia Beach APP for a complete listing of each night's entertainment with location and time. You'll also find great deals, places to eat, shots to visit, and current weather.

We enjoyed several shows right next door at the 24th Street Park including a patriot orchestra, magic show, and a Polynesian concert during our stay.
The 24th Street Park and Virginia Beach Surf & Rescue Museum are located right next to the hotel. This offers more open space next to the hotel, making it feel less cramped than other places that are packed hotel to hotel. I love being able to just walk next door to the park for their free concerts and events instead of making it a trip from other hotels. Plus, with a park and museum next door instead of two large hotels, it cuts down on beach traffic next to our hotel.
Here is a view of Atlantic Avenue from the hotel's sun deck below. You can see that there are shops and restaurants below. There were little bands set up in the evening too, so we could hear some of the music while we were swimming in the pool!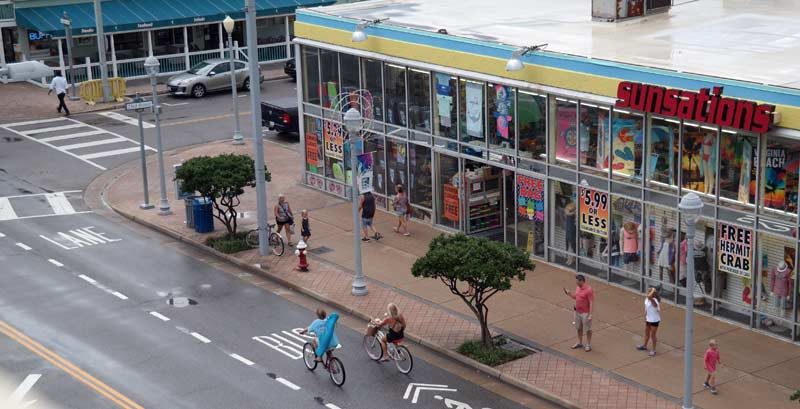 Comfort Suites Beachfront has a large outdoor pool and sundeck to retreat to when you get back from the beach. We spent hours here!  Our kids enjoy swimming and making new friends at the pool while my husband and I enjoy relaxing on the sun deck.
I really enjoyed the sun deck. All of the loungers and chairs are new. There are even fire pits to sit around and enjoy.
Near the pool is their indoor gym with plenty of elliptical equipment and free weights. I wish I had this view while running on the treadmill at home!! What a motivator!       
We really enjoyed our stay at Comfort Suites Beachfront. When we weren't exploring the beach, ocean, boardwalk, and other family fun at Virginia Beach, we enjoyed relaxing as a family at the hotel.
Hearing the crash of the waves at night while relaxing on the balcony was lovely as well.
I love how safe and family-friendly Virginia Beach is. Even at 10pm at night, you'll see families renting bikes and walking along the boardwalk.
There is still plenty of summer left to book your summer beach vacation now. Plus, there is plenty of festivals and fun to be had throughout the Fall in Virginia Beach.
Book your next Virginia Beach trip at Comfort Suites Beachfront today. Be sure to sign up for the free Choice Privileges loyalty program for extra discounts, lowest price guarantee, and to earn rewards on future stays.
Comfort Suites Beachfront
2321 Atlantic Avenue
Virginia Beach, VA, 23451
Check out our Virginia Beach Itinerary for Families Guide here to plan your next Virginia Beach vacation. Order your FREE Virginia Beach Vacation Guide now.