If you are traveling to Washington D.C., especially with children, make sure you stop by Madame Tussauds! Madame Tussauds makes learning history in our nation's capital fun, memorable, and even entertaining. The presidents were our favorite, wow, just wow! To see them up close and recall their successes were amazing, especially the founding fathers which is the first exhibit. 
This is a sponsored post.
Madame Tussauds Washington, DC Review
Your family will get to visit all of our 45 U.S. Presidents at Madame Tussauds in Washington D.C. up close and learn about them in a memorable way.
Some places have props you can wear or hold to really get in the picture too like these fur jackets that we threw on even though it was 100° during our visit!!
Madame Tussauds always amazes me with how realistic everything looks. I'm always second guessing if something is real or not – in fact, I said excuse me to one that I thought for sure was real!! Along with the U.S. Presidents, there are famous national leaders sprinkled throughout the exhibit. I love how Madame Tussauds brings history to life and to see my kids reactions when they see someone they just learned about in school. It is a great time to reflect on what they know and expand on it.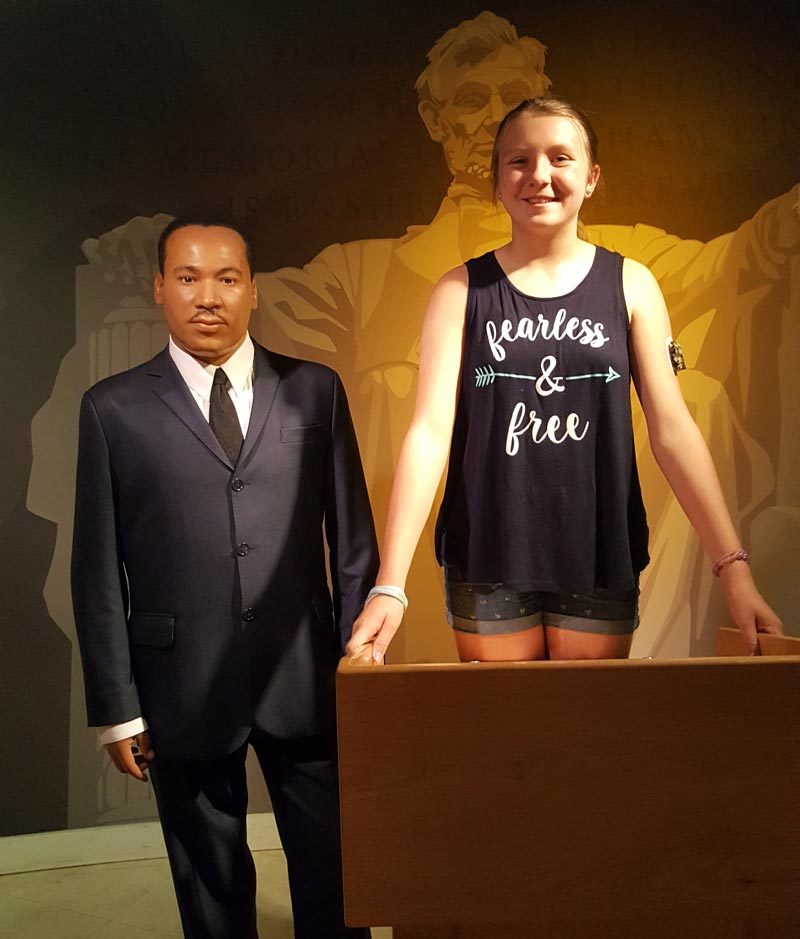 Beyond the mannequins, Madame Tussauds makes their exhibits interactive and fun. For instance, my son had fun chatting with J. Edgar Hoover about the social media chatter about Area 51. There are many secrets surrounding our first Director of the Federal Bureau of Investigation including his early life regarding the late filing of his birth certificate and little known about his childhood. Secrets was his game and my son was happy to share more with him!

My daughter especially enjoyed visiting Rosa Parks in D.C. as she did years ago in San Francisco when she was studying about her in school.
We were so excited to visit the Oval Office, once you get to the Oval office, there is a short line to wait in so everyone gets their turn to snap pictures behind the desk and next to the President and First Lady.
Again, my son found top secret files on aliens on the President's desk! We enjoyed taking pictures with Donald Trump, although we did see him up close and get his autograph at a rally in Cleveland.
Having access to the Oval Office area in small groups was great because we got all the shots we wanted! Plus, they will take your photo for purchase there. Barack and Michelle Obama were in this area as well. 
After visiting the presidents and Uncle Sam, you'll enjoy rubbing shoulders with Hollywood A-listers, athletes, musicians, the the elite!
A trip to Madame Tussauds is a lot of fun but also oddly strikes a huge patriot cord that I didn't expect.
Madame Tussauds is just East of the White House and easy to walk to. There are many parking garages around but we parked on the street with a 2-hour meter.
Madame Tussauds
1001 F Street, NW
Washington, DC 20004
Washington D.C. is a quick road trip from Akron, Ohio, about 5 hours driving.