Planning a family Virginia Beach Vacation? Follow our Virginia Beach Itinerary for Families for a classic beach vacation built for families that enjoy the beach, ocean, live entertainment, and plenty of fun. Nothing – I mean nothing is better than a classic beach vacation.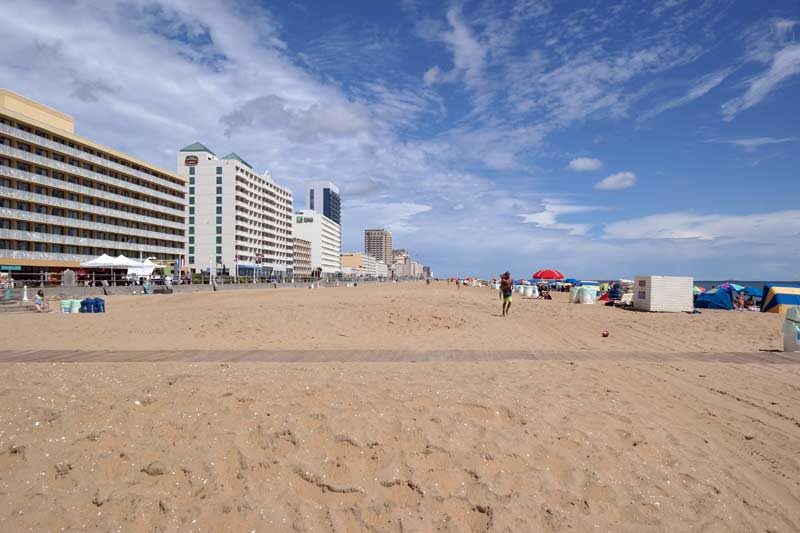 This is a sponsored post.
The larger the waves, the bigger the smile and louder the laughs – from kids and adults alike. No where else do I ever see so many big, happy smiles than at the beach in all of my travels.
Preferred Lodging at Comfort Suites Beachfront
The most important part of any vacation planning – besides the destination is lodging. You want a place that you can comfortably call home while on vacation with plenty of amenities.
Location is key! Comfort Suites Beachfront is our preferred lodging accommodations in Virginia Beach for a number of reasons.
Comfort Suites Beachfront:
All suites hotel with spacious accommodations
All beachfront suites with balconies
Free hot breakfast
Amazing outdoor pool and deck
Located on Virginia Beach Boardwalk
Located next to 24th Street Park and Atlantic Avenue for Free Live Family Entertainment
Read our full Comfort Suites Beachfront Review with Video Review here.
Virginia Beach Itinerary for Families
The thing that we love about beach vacations is that all you need is sun, beach, and the ocean for an unforgettable family vacation! The wide, CLEAN sandy beaches of Virginia Beach are built for family fun – sand castle building, kite flying, surfing, playing ball, and sunbathe. Beach lovers will find it all at Virginia Beach.
We love Virginia Beach because it is known as a family beach vacation destination with a heavy emphasis on family. They have FREE live family-friendly entertainment every night including street performers, musicians, magicians, uni-cyclists, variety shows, and more. Download the Virginia Beach APP for a complete listing of each night's entertainment with location and time. You'll also find great deals, places to eat, shops to visit, and weather forecast.
The boardwalk is the perfect place for walking, biking, rollerblading, hoverboarding and scooters – bring them with you or rent them at Cherie's Bicycle and Blade Rentals located right next to Comfort Suites Beachfront.
Virginia Beach Itinerary for Families Day 1
6am – Leave Akron, Ohio for 8-1/2 hour drive to Virginia Beach!
3pm Arrive at Comfort Suites Beachfront (check-in is at 3pm – the earlier you check in, the more options you have for the floor your on).
4pm Evening at the Beach – Enjoy a few hours of surf and sun – let the kids get use to the crash of the waves and build a sand castle.
7pm Enjoy Beach Street USA Atlantic Live Events along Atlantic Avenue or take in a concert or show at 24th Street Park next to Comfort Suites Beachfront on the main stage.
(Check the fireworks schedule to make sure you see fireworks during your stay, currently it is every Wednesday and Saturday nights right in front of Comfort Suites Beachfront!)
Grab dinner at a local restaurant along Atlantic Avenue and dessert at Sweet Frog!
Relax in the evening on your balcony overlooking the ocean and boardwalk.
Virginia Beach Itinerary for Families  Day 2
Guests at Comfort Suites Beachfront enjoy a FREE hot breakfast until 10am with a view of the ocean – see how many dolphins you can spot!
9 am – Noon- Beach Day! Pack up your beach umbrella, chairs, cooler, shovels, and boogie boards to settle in for a day at the beach! If you didn't pack any, pick up supplies across the street at the gift shop!
Noon Enjoy lunch at a Boardwalk restaurant or pack a picnic to enjoy at the beach.
1-2 pm Explore the Virginia Beach Boardwalk or rent a bike, surrey, or blades.
2-5 Explore Atlantic Avenue family fun attractions!
My family loves the wacky fun of the Virginia Beach Mirror Maze and 3D Fun Maze!
Visit Atlantic Fun Park for over 10 midway games and 15 rides – pay per ride or get an unlimited armband.
6 pm Enjoy a nice dinner with ocean views at Waterman's Seafood Restaurant, a short drive from the fun park. They have wonderful seafood dishes and plenty of choices for kids too.
7 – 10 pm Enjoy Beach Street USA Atlantic Live Events.
Virginia Beach Itinerary for Families  Day 3
Start the morning with a FREE hot breakfast if you are a guest at Comfort Suites Beachfront.
Enjoy a morning swim at the hotel's pool! Comfort Suites Beachfront pool is gorgeous with a large pool deck.
Enjoy lunch pool-side, in the hotel room, or grab a quick bite on Atlantic Avenue.
1 pm – Learn about the coastal history of Virginia Beach at Virginia Beach Surf & Rescue Museum, located next to Comfort Suites Beachfront on the Boardwalk (on the right on photo below).
They also have great family programs including yoga, ghost walk, and more.
2pm Walk up the boardwalk to Neptune's Park to let your kids play on the playground located on the beach.
Stop by the Naval Aviation Monument along the boardwalk to learn about the heritage of naval aviation honoring our proud aviators, the Navy, Marine Corps, and the Coast Guard who defend our country.
Stroll along the beach and boardwalk for the afternoon and evening.
Stay in the area for free concerts/shows on the 31st Street. Enjoy shopping and dining in the 31 Ocean Corridor.
Virginia Beach Itinerary for Families  Day 4
Guests at Comfort Suites Beachfront enjoy a FREE hot breakfast until 10am. Check out by 11am. Take one last family picture at the beach!
10 am Visit one of the best aquariums in the country – Virginia Aquarium & Marine Science Center. Over 300 species in 800,000 gallons of aquariums plus hands-on exhibits, nature path, and marshlands.
Lunch at the Aquarium Cafe and depart for home.
Book Your Virginia Beach Vacation
There is still plenty of summer fun to be had at Virginia Beach!! The best part of a trip to Virginia Beach is that you can do nothing but the beach and free activities and have a fantastic trip or you can plan lots of fun family activities close-by.  Either way, you'll have a classic beach vacation packed with family memories that will last a lifetime.
Fall is around the corner with even more fun, festivals, and year-round lively oceanfront fun. This Fall, enjoy the parks, play foodie, boat tours, and more like this Pleasure House Oyster Farm tour!
Order your FREE Vacation Guide now. Book your next Virginia Beach trip at Comfort Suites Beachfront!