Get revved up for NASCAR! This weekend is the 2012 Coca-Cola 600!  Recreate race day at home with a viewing party! My family will be throwing a viewing party at our home and via twitter using @CocaColaRacing #MYCOKERACE on raceday, Sunday at 6:19pm.  Join the fun by throwing your own Coca-Cola 600 Viewing Party and tweet with us on race day.

We will be cheering for our favorite racer Jeff Burton, # 31. Who will you be cheering for? NASCAR is such a fun, family friendly event to that grown ups and kids alike can share in the fun. My husband like to say that he wants to be a race car driver when he grows up, just for fun.  I think it is every kid's dream!
If you can't be at the race, the next best thing is a viewing party. Below are some tasty recipe ideas to get your party revved up! Be sure to serve plenty of ice-col Coca-Cola too! You can also gear up for race day by chatting with other NASCAR fanatics by checking out MCR.com/racing and tweeting with @CocaColaRacing and #MYCOKERACE  I'll be tweeting live, during the race on May 27, 2012 starting at around 6pm at @AkronOhioMoms  I hope you'll join me!
 NASCAR Recipes
Grill up a winning meal with these great Coca-Cola Racing Family favorite recipes during the race and all year long.
You can even download all the recipes for your own cookbook. Try favorites like Coke Can Chicken, Smoke Chicken Wings, Limelight Steak BBQ, Twin Cheese Dip, Coca-Cola Chili, and Pork Loin with Coca-Cola BBQ Sauce.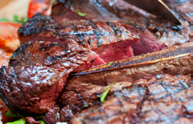 I'll be serving Limelight Steak BBQ at our viewing party this Sunday. Use any barbecuing steak, I'll using top sirloin. This recipe includes a marinade of Coca-Cola with Lime, garlic, Worcestershire Sauce, seasoning salt, and black pepper. It sounds delicious and I can't wait to try it!
As an appetizer, I'll be serving Twin Cheese Dip with a veggie tray. It contains a grated cheddar cheese, Worcestershire sauce, dry mustard, garlic, Coca-Cola, margarine, onion, salt, and Tabasco. Doesn't it sound delish!? Besides being a veggie dip, it is good with crackers, cocktail bread, and even on sandwiches.
Follow @CocaColaRacing on Twitter.
Enter 2012 Coca-Cola 600 Giveaway
Race fans are going to love this giveaway! Enter to win the 2012 Coca-Cola 600 Giveaway which includes:
1 Coca-Cola branded Grandstands Cooler
A Coca-Cola Branded Reclying Koozie to keep your drink chilled
A Coca-Cola Carabiner Key Light
A Coca-Cola NASCAR Decal Pack
A Coca-Cola and NASCAR Race Day Cap
3 Coca-Cola Tumblers (16oz. insulated tumbler)
[slickr-flickr tag=cocacolarace]
This promotion is in no way sponsored, endorsed or administered by, or associated with, Facebook. In order to comply with the latest Facebook Promotion Guidelines (revised 5/11/11), the following statements are true:
* Giveaway participants release Facebook from any responsibility whatsoever.
* Giveaways on this blog are in no way sponsored, endorsed or administered by, or associated with, Facebook.
* Giveaway participants are providing information to this blog and giveaway sponsors only; not to Facebook.
30 Day Winning Rule applies, if you win this contest, you are still eligible to win other prizes this month. For complete contest rules, please see our Contest Statement and Blog Disclosure.
Contest ends at 11:59pm EST on June 18, 2012 when a winner will be drawn at random. I will notify the winners and they will have 36 hours to respond or another winner will be selected!
This was not a paid post. My own opinions were used based on my perceptions and experience. Thank you to 360i for the products for review  and giveaway.
The prize was provided and may be shipped to the winner by Coca-Cola, but Coca-Cola is not a sponsor, administrator, or involved in any other way with this giveaway. All opinions expressed in the post are my own and not those of The Coca-Cola Company.