Kids of all ages love bounce house birthday parties. The Jump Palace is a new indoor bounce house in Streetsboro, Ohio that offers open play time daily as well as bounce house birthday parties that parents can afford. Their party packages start as low as $119, making it an affordable option for everyone! We just celebrated my daughter's 7th birthday at The Jump Palace, everyone had a fantastic time!
We received a party package to facilitate this post.
Bounce House Birthday Party at The Jump Palace in Streetsboro, Ohio
A bounce house birthday party at The Jump Palace offers more than many other local bouncy houses. The Jump Palace offers 4 huge inflatables for kids to explore and have fun on! Their prices can't be beat, nor their service and friendly staff. Additional fun can be had with their chalk rooms and arcade.
Plus, the facility is large, making it a quieter experience for everyone but especially appreciated by parents. It seems that the race bounce house was the favorite of all inflatables!
Kids start at one end, climb up a wall, slide down a slide, and then maneuver through, under, and over obstacles to the end at the other side.
As a mom, I was impressed that this area was staffed to ensure that only two kids at a time went through the race bounce house.
There are 4 bouncy houses to choose from – kids tried them all out one by one!
There is plenty of seating throughout for parents to sit if they decide to stay during the party, including sofas in front of a flat screen TV to take in the game! However, 1/2 the fun is joining your kids on the inflatables! It is allowed and encouraged for parents to have fun with their kids – at no additional charge!
In addition to 4 inflatables, there are 2 fun chalk rooms where kids can take a breather from all the exercise to show their creativity through giant chalk walls.
All the girls shared Happy Birthday messages and drawings for the birthday girl!
I was happy to see the staff clean the boards a couple times to ensure there is always a clean slate for kids to express their creativity.  They keep the facility so clean, even cleaning sections of the inflatables during the day. Amber, a mom and owner of The Jump Palace has cleanliness at the top of their priorities!
A Bounce House Birthday Party at The Jump Palace includes:
A host or hostess for your party
Paper products (if theme you may provide your own)
Pizza and drinks for children
Set up and clean up
Supervised play time on inflatables by our friendly trained staff
Your bounce house birthday party includes 80 minutes of play time in the inflatable area with 40 minutes in your own private party room for pizza, cake, and present opening. The rooms are painted in bright colors and decorated with table clothes, balloons, wall art, and more.
A bounce house birthday party at The Jump Palace is fun for kids and easy for parents. Parents don't have to lift a finger as your party host will set up everything from taking the gifts to the party room upon arrival to setting up your cake to serving pizza and cake!
I liked having a private party room that was away from the inflatables so that kids could relax and enjoy eating and opening presents without being distracted by everything around them. It was a time to focus on the birthday girl!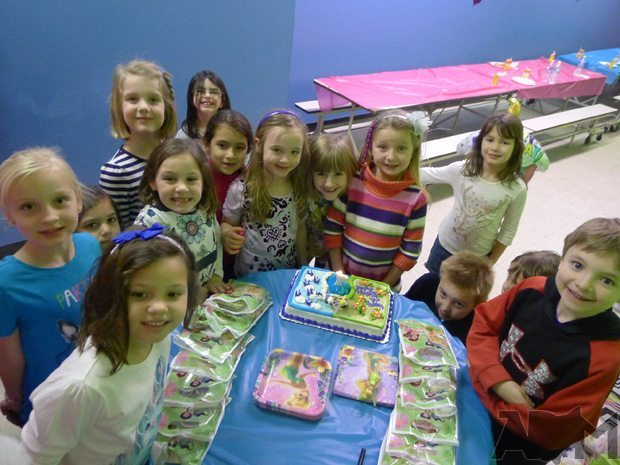 They thought of everything, including a birthday bench that is perfect for sitting the birthday girl and friend together while opening presents.
After the party room time, we enjoyed another 20 minutes of play time with the inflatables! Another thing that makes The Jump Palace different than other inflatable facilities is that your kids can stay for as long as they want after the party! Plus, if your child has siblings, they can come after the party for a discounted price. Our party went on for an additional hour with several of the kids – nobody wanted to leave!
Another thing that I noticed as well as other moms is the staff at The Jump Palace. There was always someone at the front by the door to greet guests –  and keep kids from escaping through the front doors. Plus, the staff engaged and played with our kids! They really liked this, especially my son and his friend who came along to the party of all girls!
There were several balls throughout the facility that kids enjoyed playing with on and off the bouncy houses. There are even video arcade games for an additional charge.
Plan a Bounce House Birthday Party at The Jump Palace
A Bounce House Birthday Party starts at just $119 during weekdays for up to 10 kids or $179 for 20 kids. On weekends, parties for 10 kids are just $169 or $229 for up to 20 kids. $10 for each additional child. Parents are always free and do not count in the party total.  You can add food items including pizza, wings, salad, platter, and more for an additional charge.
A bounce house party at The Jump Palace is fun, affordable, and easy for parents. It is a great place to celebrate birthdays as well as other special occasions, field trips, outings, and more.
Call 330-422-1295 to book your party – tell them you heard about them from AkronOhioMoms.com!
The Jump Palace Hours
Monday-Thursday 10:00am-7:00pm
Friday 10:00am-8:00pm
Saturday 11:00am-9:00pm
Sunday 11:00am-6:00pm
Read my review of The Jump Palace for everyday fun!
The Jump Palace
9254 Market Square Dr
Streetsboro, OH 44241
330-422-1295
Like The Jump Palace on Facebook
Follow The Jump Palace on Twitter
Follow The Jump Palace on Instagram