As Many of you know, my husband was in the U.S. Navy when I was widowed back in May of 2010. My oldest son Kelton, was only 3 years old at the time. Moving forward was very difficult for me but for Kelton it is harder in so many ways, the main being that he doesn't have friends who have gone through the same loss.  It wasn't until we found out about programs that are made just for children like Kelton, Camp Hometown Heroes is one of our favorites.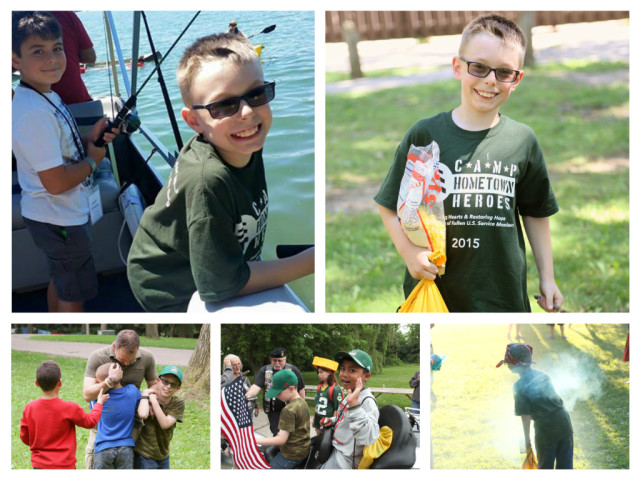 Not Just A Camp
Camp Hometown Heroes is just like your typical summer camp with activities such as swimming,archery, canoeing, fishing, climbing and more. It is also an amazing place where Kelton can experience all of his feelings without judgement. All the children understand that what makes them hurt, laugh, cry, is the same and they have all been there. The volunteers who run this amazing non-profit give the children a week of fun and healing. They support these kids in many ways. Kelton's favorite is Kyle's Korner, a group that provides trained pediatric grief counselors that do activities (mostly hands on, art based) and provide continuous support.
No Cost To Families
When a family goes though a loss like this financial issues often arise. Camp Hometown Heroes is no cost to the families whose children attend. This summer Delta Airlines helped ensure that the children all made it safely to Camp. (Again no cost to the family.) Many, Many donors make it possible for these kids to enjoy a week of growing, learning and healing. This year Kelton came home and I swear he matured 3 years or more.  I love that he has a place to go and be a kid but knowing that if he does break down or cry the kids all understand and they support each other. ( I can't put a dollar value on that!)
Kool Kids and Kool Friends
This year these Kool kids had extra Kool visitors. Kool & the Gang was the headliner at one of the camps largest fundraisers (Grand Slam Charity Jam), and it was there that they pledged to write a song for our Camp Hometown Heroes kids.  After lots of work and getting all the kids involved while at Camp this summer they have finished the song and video! Check it out!
Matching Donations
Right now Kwik Trip is donating $50,000 in matching funds to Camp Hometown Heroes, that means there could be a total donation of $100,000.  Donate now here and Kwik Trip will match your donation dollar-for-dollar.  Every donation made helps these kids in ways I can only begin to explain. Kelton grows and heals each year. He is becoming a stronger more confidant boy. For the first time this year he can talk about my late husband with confidence and pride. Please consider donating to support the children of our fallen service members! Or Consider buying this Kool shirt in support!