I knew my husband would be a great dad even while we were dating 20 years ago – yes, it's been that long! I had no idea that he'd be the awesome dad he is! He is more than an active dad, he plays, teaches, and has fun with our children. I knew that he and our children would love a book I came across called Dad's Book of Awesome Science Experiments because he loves to teach our kids about science and math!
I received product to facilitate this post.
Dad's Book of Awesome Science Experiments
Dad's Book of Awesome Science Experiments is packed with more than 30 interactive experiments that dad can enjoy with his kids. Actually, it is fun for the whole family but are fun experiments that dads will think are cool too! The book is designed to appeal to men with the layout, fonts, colors, and even 'duct tape' holding up pictures on some photos – they did a great job appealing to what guys would like to make it fun for them to look through which I think is great.
Being the awesome dad and husband that he is, my husband, Matt had their first experiment going last weekend while he let me sleep in. 🙂 When I woke up, I saw they were making Straw Balloon Rocket Blasters from the book. He even took great photos for my post! Love him!
All you need for Straw Balloon Rocket Blasters: balloon, string, scissors, straw, and tape. Easy enough and stuff everyone has laying around at home!  Even the wording in this book is for men. Check out how the instructions are written:
"Here's the deal: You're going to run a long string through a straw and then tie one end of the string to a high place – a tree, a bookshelf, doesn't matter…" What book for moms would say stuff like that? 🙂 So, he taped one end to the kitchen bar for height and the other to the living room coffee table.
Next, he taped the straw to a balloon and my daughter blew it up.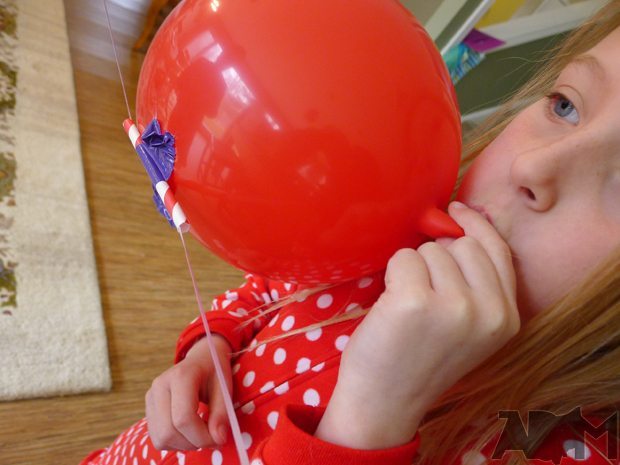 Then, they held the other end of the string with one hand and let the balloon go. The balloon climbs up the string like a mini-rocket.   (Please don't look at our messy living room!)
They loved this experiment and couldn't wait to show me what they did when I came downstairs. Just look at how happy my daughter looks below!
There are even cool facts in the book that explain what is going on in each experiment. For this one, they talk about Sir Isaac Newton's Third Law of Motion. My husband is in his glory!
There are tons of other experiments that look equally as fun and engaging from Rock Candy Crystals to Magnetic Fields. They all have easy-to-understand instructions that both dad and kids can work on together. Science can be so much fun! In this book, these are just a few things kids will learn with coordinating experiment.
Chemistry, with Soap Clouds
Biology, with Hole-y Walls
Physics, with Straw Balloon Rocket Blasters
Planet Earth, with Acid Rain
The Human Body, with Marshmallow Pulse Keepers
The Dad's Book of Awesome Science Experiments makes a great Father's Day Gift as well as a resource to prevent Summer Brain Drain this Summer!
Win Dad's Book of Awesome Science Experiments
You have the chance to win your own copy of Dad's Book of Awesome Science Experiments!
a Rafflecopter giveaway
This promotion is in no way sponsored, endorsed or administered by, or associated with, Facebook. In order to comply with the latest Facebook Promotion Guidelines (revised 5/11/11), the following statements are true:
* Giveaway participants release Facebook from any responsibility whatsoever.
* Giveaways on this blog are in no way sponsored, endorsed or administered by, or associated with, Facebook.
* Giveaway participants are providing information to this blog and giveaway sponsors only; not to Facebook
30 Day Winning Rule applies. For complete contest rules, please see our Contest Statement and Blog Disclosure.
Contest ends at 11:59 pm EST on May 30, 2014 when a winner will be drawn at random. I will notify the winners and they will have 36 hours to respond or another winner will be selected!