For the ultimate kids party, choose GameTruck. GameTruck is a mobile game theater that delivers hours of fun to your doorstep. It is equipped with HDTVs and all of the games your kids love for the ultimate kids party!
We received a GameTruck party to facilitate this post.
What is GameTruck?
GameTruck brings the fun to any party across the country. It is a fun way to celebrate your child or teen's birthday party, bar/bat mitzvahs, first communion, graduation, New Years Eve, and any special event.
GameTruck is a self-powered, climate-controlled trailer that is any kids' dream filled with up to 8 flat-screen HDTVs, advanced sound system, and equipped with all the major game consoles including XBOX360®, Nintendo WiiT and Playstation®. There are dozens of the latest multiplayer video games to choose from. The GameTruck trailer is climate controlled with AC and heat – as well as large windows that open up and additional HDTV and game system outside.
Each party comes with GameCoaches to assist the kids in their games and interact with them.
GameTruck Video Review
GameTruck Review
GameTruck can drive up anywhere there is at least a 50 feet drive or in front of a residential neighborhood. We opted for a local park that would be convenient for my 8 year old son and my 6 year old daughter's friends.
First, we were given the chance to select the video games we want available to the kids. You can select actual games and/or go by the ESRB Ratings. We chose E for Everyone, E for Everyone 10+ and C for early childhood. From this, our kids had dozens to choose from!
The game truck is super comfy with large leather couches along the entire length of the trailer. There was plenty of room for our group of 20, the truck comfortably accommodates 18-20 people. The HDTV screens are large and it can be split into 2 -4 screens to accommodate various games and players playing on each console.
The two hours quickly past by as kids played games with each other, trading spots and games back and forth.  I loved seeing the bright eyes lit up and giant smiles on their faces. It was cool to see some of the older kids teaching the younger kids how to play the games. There were many game secrets being swapped throughout the party.
Some of the favorite games during our GameTruck party were MineCraft, Disney's Universe, NCAA Football, and LEGO Batman. Others include Dinosaur Strike, Rayman, MarioBros, Madden, NBA, Star Wars, Sing Party, Kung Fu Panda, Angry Birds, and more.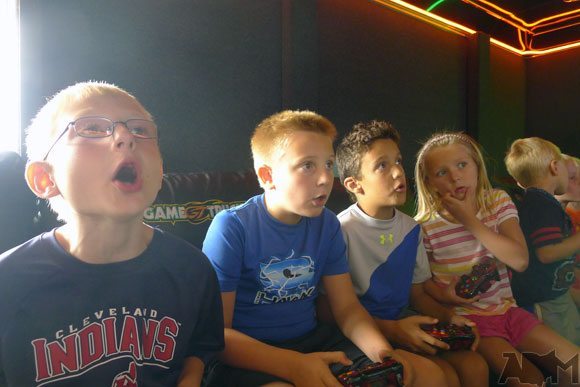 Each party comes with GameCoaches to assist the kids in their games and interact with them. All the kids had something fun to play and nobody was left bored or uninterested as can be the case with other kids parties. The GameCoaches were amazing! They kept our kids playing fair, sharing, and engaged.
[exceptional-citing quoted="cindy-beach-2011-headshot" template="elegant" date="" ]As a mom, I didn't have to do anything for the GameTruck party but sit back and enjoy the party.[/exceptional-citing]
I was able to enjoy watching all the kids have fun. The other moms that stayed couldn't believe how great the GameCoaches were at taking care of so many kids, keeping them happy, and playing fair.
Battroborg on GameTruck

Our kids were one of the first to battle with Battroborg, scheduled to hit the shelves this Fall.  With Battroborg, the motion-controlled battling robots battle it out as you control them with wireless remotes.
At first, I thought it was a little kid game that the GameCoach got out for the younger kids. Then, I realized this is a fun game for all ages that uses your actions to control the robots. All the kids gravitated to this new game that I'm sure will be on Christmas lists this year.
I also like that the Battroborg can be played by kids of varying ages like the 5 and 8 year old boys below.
 GameTruck for Girls
There were plenty of games available for girls to play at the GameTruck. My daughter was especially into MineCraft as seen above sitting with the boys. It seemed that the girls gravitated more toward the wii games. At the entrance of the GameTruck is a large HDTV set up with wii games. The girls played here a lot – as did the boys.
They even set up the outdoor HDTV with another wii system. I like that the GameTruck has such flexibility to accommodate and make all the kids happy. When the GameCoach saw that the girls were enjoying the wii, he opened up the outdoor system.
I also like that during warm weather, they open up the large windows behind the couches for fresh air and light.
From the party, already one mom has booked her son's birthday party with GameTruck because he loved it so much. The moms that stayed agreed that it is a fantastic option for kids birthday parties, the kids had a great time and the parents don't have to do a thing!  GameTruck is a great hot Summers and cold Winter birthday party option for temperature reasons too.
Like GameTruck on Facebook
Book a GameTruck Party
Find your local GameTruck based on your location.
We were very pleased with the GameTruck from Akron, Ohio. Visit the GameTruck NEO blog to read testimonials,check out party photos, watch videos, see them in the news, and for pricing.
Win GameTruck Party
You  have the chance to win your own GameTruck party!!
Prize: One (1) GameTruck party. GameTruck party must be booked for a weekday. Winner needs to be within a designated GameTruck franchise service area. If winner is outside the area GameTruck will make their best effort to get the winner a party, but if it cannot reasonably be accommodated participant may either share the prize with someone that is within a service area or be compensated with a cash prize of $200. GameTruck party must be redeemed by Dec 31, 2013.
The awarding of the Giveaway prize is the responsibility of GameTruck
This promotion is in no way sponsored, endorsed or administered by, or associated with, Facebook. In order to comply with the latest Facebook Promotion Guidelines (revised 5/11/11), the following statements are true:
* Giveaway participants release Facebook from any responsibility whatsoever.
* Giveaways on this blog are in no way sponsored, endorsed or administered by, or associated with, Facebook.
* Giveaway participants are providing information to this blog and giveaway sponsors only; not to Facebook.
30 Day Winning Rule applies. For complete contest rules, please see our Contest Statement and Blog Disclosure.
Contest ends at 11:59 pm EST on September 24, 2013 when a winner will be drawn at random. I will notify the winners and they will have 36 hours to respond or another winner will be selected!
This was not a paid post. My own opinions were used based on my perceptions and experience. Thank you to GameTruck who provided the parties for review and giveaway.