Stan Hywet is Akron's ode to Akron's economic heyday.  Stan Hywet was built in West Akron by the F.A. Siebering co-founded The Goodyear Tire & Rubber Company.    Now a National Historic Landmark, and led by a well-organized group of people, Stan Hywet is indeed a showplace for ALL THE PEOPLE.
This beautiful home is open to the public for tours- you can check their website for weekend evening DECK THE HALL dates and times.  My family and I were invited for a preview event a few days ago.  This year is a particularly beautiful year- matching individual room designs (decorated by exceptional local florists) some offer trend setting designs, that I think, will transform what you think about Christmas decorating!
Is it elaborate- of course!
Oh- for those of you that have checked it out in different years- the large music room is set up like it would have been for the original family (minus some of the decorations) so it's a bit more authentic in 2017.
The place settings in the breakfast room, and the dining room…just make me jealous.
The back yard has taken some cues from the Stan Hywet summer light show.
Snooping from the outside in.. It's like a movie.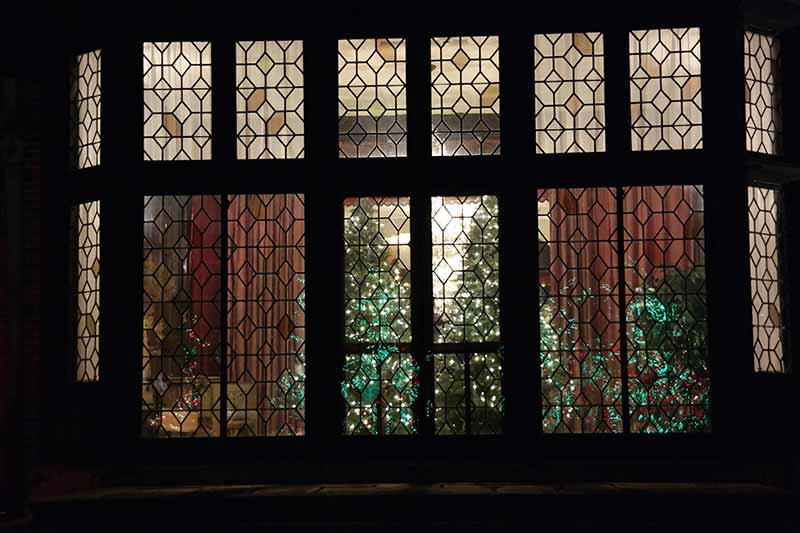 Gingerbreadland and Dazzle are a feast for the eyes- totaling over 1 MILLION LIGHTS (between the house and the grounds) this is a beautiful experience!