Updated: 2012 We made another Leprechaun Trap. This year, we made it double sided. On one side, my son made a sign with "Gold Inside" and a rainbow to entice the leprechauns. Since leprechauns work is to make shoes for fairies, my daughter tempted leprechauns with a dangling baby doll shoe and a sign that reads "Fairy Needs Shoes".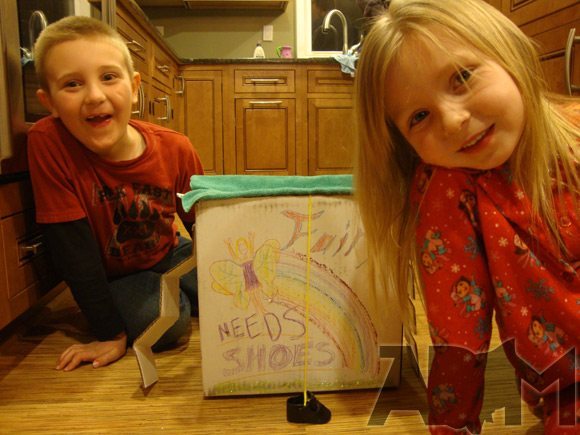 My 6 year old son came home from school this week asking if leprechauns were real. When I don't know what he wants to hear about fairy tale type of things, I just say I don't know, that I haven't seen one. My husband blurts out No, they aren't real! Elijah insists that yes, they are real because 2 kids from his class make a leprechaun trap and his teacher made one too. So, this year, yes leprechauns are real in our house. So, of course we have to make a Leprechaun Trap.
How to Make a Leprechaun Trap
I did some research on how to make a Leprechaun Trap. I don't recall ever making one as a kid or ever seeing one. I found a lot of really creative examples on About.com with pictures of leprechaun traps.  Most looked like mom and dad did most of the work. As much as I like things perfect and nice, when it comes to crafts, I let my 4 year old and my 6 year old use their creativity instead of following step by step directions to create something from the imagination of another person.
You should have the basic items at home already to make your own leprechaun trap. You can use anything for the base such as a box, paper towel rolls, containers, or anything else lying around that is big enough for a leprechaun. (Who really knows how big leprechauns really are, thankfully my son didn't ask!) To trap the leprechaun, you'll need something like another box or cage (fruit basket like blackberries come in), string, yarn, or other ways to trap him.
Next comes the fun part, luring the leprechaun. Of course leprechauns are greedy so anything sparkly is great such as gold coins, jewelry, and jewels.  Leprechauns are also attracted to the color green so use lots of paint, markers, stickers, and glitter. Leprechauns also like rainbows, 4 leaf clovers, and Lucky Charms cereal.
Video on How to Make a Leprechaun Trap
[youtube]http://www.youtube.com/watch?v=FV7M50SlE7o[/youtube]
How do you know if you caught a Leprechaun?
If he's in the trap, then you caught a leprechaun! Don't take your eye off him for even 1 second or he will disappear. If your trap was tripped but no leprechaun is in site, you can still know if the leprechaun was there. Leprechauns always leave a trail of gold  behind them. Just watch for the gold glitter! I'm glad I found the bit about the glitter or I would have had a disappointed little boy in the morning!
Our Leprechaun Trap
Our Leprechaun Trap is filled with jewels of all kinds. My kids only put in jewels that they could live without because they were afraid that their trap would not work and then the leprechaun would take their jewels! There is 1 string that the leprechaun will try to climb to get out of the box once he falls in. Once he grabs the string, it will close the box top and he is trapped!
HOW TO MAKE YOUR SHOES LEPRECHAUN SHOES| LEPRECHAUN SHOES