Recently is was my partner's birthday and my son, Kelton really wanted to make him something.  I was struggling because everything Kelton came up with was more for himself then Dad.  So we talked about Dad's favorite things and the one thing that we both said was CANDY.  So I pulled up Pintrest and typed "birthday candy card" in the search bar.  Here's a screen shot of what came up!
Write it Out
The first four images inspired me. I showed them to Kelton and he loved the idea.  So we came up with a basic idea of what we wanted to say and then tried to make candy fit in.  We started with this.
Hey Daddy Sugar Daddy,
Sit down and  TAKE 5! For your birthday we wanted to SKOR you something EXTRA special like a trip to new YORK,  or down 5TH AVENUE, or better yet a 100 GRAND. But when PAYDAY came it all slipped though our BUTTERFINGER's.
Sometimes you are a big NERD but you MENTOS so much to us, that we AIRHEADS thought you might like TURTLES, a KIT KAT, SWEDISH FISH or a WHATYAMACALLIT. Or maybe you would rather a STARBURST or an ORBIT around the MILKYWAY.
At CRUNCH time mom said no way. We know she thinks you're a BIG HUNK but we know you're a NERD. We hope you don't ROLO over with a JELLY BELLY.
Happy Birthday and love!
Your, 3 musketeers
On our way to the store we came up with more ideas but I didn't write them down since I was driving.  I tried to buy everything we needed but they didn't have everything where we were and with time running out we worked with what we had. I also picked up a piece of foam board to put the candy on so it wouldn't bend in half from the weight.
Tape it on
Then I sat on the floor with the candy, foam board, a sharpie marker  and a note pad to do a test run. I suggest you get wording figured out before writing on the board.   My could still have been better. 🙂 Once you have it down write and tape the candy as you go along.
Here is my finished product!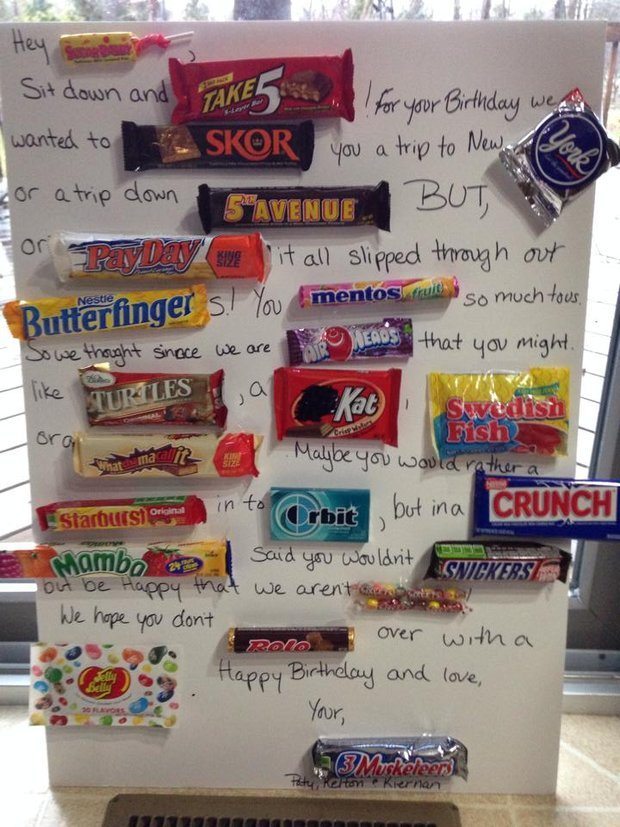 It reads:
Hey Sugar Daddy,
Sit down and take 5. For your birthday we wanted to skor you a trip to New York, or a trip down 5th avenue but on payday it all slipped though our butterfinger's! You mentos so much to us. So we thought since we are airheads that you might like turtle, a kat, swedish fish or a whatyamacallit. Maybe you would rather a starbust into orbit, but in a crunch, Mamaba (Mom) said you wouldn't but be happy that we aren't sixlets. We hope you don't rolo over with a jelly belly.
Happy Birthday and Love Your,
3 Musketeers.
So if you need a last minute gift that will also get a good laugh, try this Candy Card!