We had a great family outing at the Stan Hywet Deck the Hall, A Dickens of a Christmas Media Preview that I just have to tell you about. If you are looking for a fun Christmas activity in Akron or NE Ohio, this is it. Not only will you see an amazing light display of Half a Million Lights but tour the Seiberling's  Manor House that has been transformed with beautiful Victorian Christmas decor, live music, and live actors portraying the infamous Charles Dicken's A Christmas Carol, plus you can see Santa in his workshop. All of this activity for an affordable price.
Video of Deck the Hall "A Dickens of a Christmas" Experience
Our Dickens of a Christmas Experience
The excitement started as soon as we drove onto the grounds. My  kids loved watching as we drove under arches of white lights! Just wait until you lay your eyes on the beautiful manor house and surrounding trees & shrubs bathed in white lights. It has to be breathtaking with snow on the ground!
.
Be sure to start your Dickens of a Christmas Experience at 5:30pm sharp. This is when everyone will gather around the Christmas tree by the entrance for Santa to light the Christmas tree in a very jolly manner! It's so exciting! Kids and adults will love it!
Santa's Workshop at Stan Hywet
Step right up to Santa's Workshop after the tree lighting ceremony.
We had just a short wait until we were able to get quality one-on-one time with the jolly Santa Claus. Santa is a very jolly Santa. He doesn't ask kids what they want for Christmas but does tell them about the Naughty and Nice List, luckily my kids were on the Nice List! Santa gave the kids a special envelope with his favorite Christmas cookie recipe, an adaption of Mrs. Seiberling's Christmas Cookie recipes. My kids really loved that, it is a sugar cookie recipe with candy cane pieces on top, Santa gave them the candy cane inside the envelope. This was a big hit!
Visiting Santa Claus at Stan Hywet Deck the Halls is an up close and personal experience that is quite different than sitting on Santa's Lap at the mall.  We didn't feel rushed and could even take a free picture of Santa with our kids.
Just outside of Santa's Workshop, you'll find a stand with Hot Chocolate and Fresh Gingerbread Man cookies!
Deck the Hall A Dickens of a Christmas Manor House Tour
If you haven't been to Stan Hywet before, now is the time! The Seiberling's Manor House is an incredible sight to see and experience to tour year round. At Christmastime, the manor house is transformed into the Victorian era with lovely Christmas decor throughout the entire house, every single room. I hope you will enjoy the pictures below that I was permitted to take for the sake of this review, photography inside the manor house is prohibited.
The Seiberlings enjoyed Charles Dickens "A Christmas Carol" and liked to re-enact scenes at Christmas time. Thus, the theme for the Deck the Hall "A Dickens of a Christmas" event at Stan Hywet Hall.
Check out this actual picture of the Seiberlings at Christmas in a scene right out of "A Christmas Carol".
Behind it, is a replica of the scene of  the picture taken. You can just imagine how fun it must have been to live in this house at Christmas. This is found in the Music Room which has live music during every Deck the Hall event except for 12/30/10.
There are many, many decorated Christmas trees throughout the entire house, I should have counted, there were many. I would be thrilled to have just one of those in my home. The below Christmas Tree took more than 100 man  hours to decorate! It is found in the main living area of the manor house.
Bah! Humbug! The first character to greet you in the first room when you enter Stan Hywet Manor House is none other than Ebenezer Scrooge. Counting his money at his desk, just like in the book/movie. Ebenezer Scrooge will interact through verses from "A Christmas Carol" and one-on-one, in character. He almost hired my 5 year old son to work for him 6am – 4pm, 7 days a week carrying wood. Elijah was too eager to help! My kids were confused with his reply to Merry  Christmas when he growled, Bah! Humbug!
Your journey through the manor house will take you through "A Christmas Carol" through the eyes of Ebenezer Scrooge. Many rooms will have entire scenes set up with live actors quoting directly from the Dickens story. They are great at on-the-spot impromptu comments to personally engage you as well.
The first scene is with the jovial merchant, Fezziwig from Ebenezer Scrooge's past. Join in with Fezziwig and a beautiful lady in their festive Christmas party that Ebenezer so enjoyed in his early years.
Visit the ghost of Jacob Marley in what use to be the Seiberling's boys' bedroom. This room is filled with music and sounds of scenes from "A Christmas Carol" with a eerie dark presence.
Next is the much more lively Ghost of Christmas Present. Each room has written quote from "A Christmas Carol", decor, and most have live actors.
One of the Seiberling's girl's bedrooms looks like Christmas in action with toys all around. It looks like my kids' bedrooms.
Bob Cratchit's wife was not too pleased with her husband's comment about Ebenezer Scrooge being the founder of their feast. She had something to say and wasn't afraid to say it. She offered to explain to our kids that although they would feast for Christmas, they would be hungry for the next couple weeks because of it because Scrooge didn't pay her husband enough. She was a very real character.
On our way out, Elizabeth spotted the manger scene within the greenery. The true meaning of Christmas.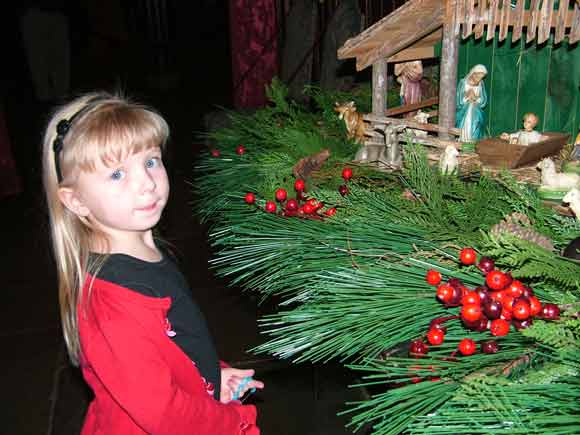 Stan Hywet Grounds at Deck the Hall Christmas Event in Akron
Bundle up and head outdoors for the amazing 1/2 million light display. The walk down to the greenhouse is aglow with brilliant colorful lights on flowers the size of adults. My kids enjoyed pretending to be ants under the flowers. Capturing outdoor lights is a challenge that I did not do so well. You'll have to see this for yourself. It was a great evening to walk the grounds to take in all the lights. As you walk toward the tea houses, through the vineyard, there are hanging bunches of purple grapes on green vines – custom made light displays. Look over the lagoon where light "ornaments" dangle from the trees. The greenhouse is filled with lights as well.
End your lovely evening at the Carriage House and Molly's Shop & Cafe. Here, you'll find unique gift items for that hard to buy for person, scrumptious treats , hot chocolate, and even fresh greens for your home.
Stan Hywet Hall & Gardens offers a fun, Christmas event in the Akron and NE Ohio area for people of all ages that is family friendly. I have kids ages 3 and 5, they were entertained the entire time. I do recommend that your kids watch "A Christmas Carol" before going so that it makes more sense. We came home and rented Disney's A Christmas Carol
. It made a lot more sense for my kids and we got to talk about our evening all over again!
.
Buy Tickets for Deck the Hall "A Dickens of a Christmas"
To order tickets, Call 330-315-3287, order online, or upon arrival.
Prices:
Adult: $16 House & grounds tour OR $10 for the gardens and grounds only
Youth and college students with I.D.: $5 per person for the house & grounds tour OR $4 for the gardens & grounds only
Kids 5 and under: FREE with an adult
Member prices are available.
Deck the Hall "A Dickens of a Christmas" at Stan Hywet Hall & Gardens open November 26-28, and December 2-5, 9-12, 16-19, 21-23 and 26-30 from 5:00 pm – 8:00 pm.
Stan Hywet Hall &   Gardens
714 North Portage Path
Akron, Ohio
This was not a paid post. My own opinions were used based on my perceptions and experience. Thank you to Stan Hywt who provided the tickets for review.