Does your kid want a themed birthday party this year? Save yourself the stress and give your kids an exciting, fun party at LifeCenter Plus in Hudson, Ohio (on the Stow border in Summit County). LifeCenter Plus offers parties for kids ages 3 and older. Each party is designed to be the most fun for your child's age and interests. Does your daughter want a Princess Party? Does your son want a Pirate or Super Hero Party? Or how about a pool party? sports party? rock climbing party? scooter party? They offer these themes and more!
My son loves to run around the house in super hero costumes year round. He's always fighting the villains with his super hero powers. The LifeCenter Plus Super Hero Party was exactly what he wanted for this 6th birthday party this year. He invited all boys to this party, however most parties are designed for both boys and girls at LifeCenter Plus.
Stress-free birthday party in Akron Hudson area
Before we get into the kids' perspective of the LifeCenter Plus party experience, I want to tell you how it is for parents. Stress-Free! From the beginning to the end, this is a stress-free party that you will get all the credit for. Who can beat that?!
Just call LifeCenter Plus to make arrangements for your party at 3 weeks ahead of time.  Ask for Laura at 330-655-2377 ext. 145 or email lcoon at lifecenterplus.com. You can choose from their popular themes listed above or create your own theme. They are super flexible and will do anything to accommodate your birthday child.
You will receive 15 invitations to mail out to your kid's friends. The party is for the honored guest plus 15 of their friends. If you go over the 15, you can pay $5 extra per child, up to 20. Just fill out your party details and mail out. I like that the invitation lets kids know what kind of party it is and what they should wear.
Did you notice that Parents get use to the LifeCenter Plus facility FREE during the party? I thought that was a great selling point. Instead of parents waiting around town, going home, or for the parent whose kid is reluctant to have mom leave, they can stay and work out, walk, swim, etc! We had several parents do this for my son's birthday party.
When you get to the party, there is nothing for you to do as a parent. You actually get to enjoy the party with your child. I am always running around fusing with food, decorations, plates, etc for birthday parties and never really get to have fun with my kids. This was the first party were I was able to enjoy watching my son have a great time with his friends.
In the party room, there is a table for kids to sit at with a party table cloth as well as tables for the food and gifts. All of the paper products and cups are provided. The party comes with a FREE birthday cake from Giant Eagle personalized with your child's name and punch or soda. They even provide the candles and matches – you literally don't have to remember or do anything.
If you have a pool party, you will have a life guard running the party, otherwise you will have an instructor run the entire party. Stacey was our instructor and she did a fabulous job. She was able to keep the attention of our group of 6 year old boys while leading them in every activity from the games to cake to gifts.
Exciting Birthday Party Activities at LifeCenter Plus in Hudson, Ohio
First stop was the gym that we had all to ourselves for a hour of Super Hero activities! First, we played Guard the Castle! This is kinda like dodge ball but safer. The kids were split up into 2 teams, I believe the Super Heroes and Villains. Each team had 4 orange cones lined up. The goal was to roll your team's ball to knock your opponents' cones down. The kids really had a great time playing. As the games progressed, there was more and more strategy coming into play with each team. This was a super active game that everyone had fun with!
Parachute games at indoor birthday party in Akron / Hudson, Ohio
The kids also got to play several games with the giant parachute. The parachute is always a huge hit with kids.The instructor related every game to be super hero theme. Of course if your party is princess, pirate or other themes, they switch the games to be that theme.
By far, the kids' favorite game was when Spiderman tried to catch the villain under the parachute. Each kid had a chance to be both. Spiderman would start off on top of the parachute. The kids would wave the parachute up and down while the villain crawled under and all around the parachute, trying to escape from Spiderman. Spiderman had to tag the villain which is not as easy as it seems when the parachute is flying up and down. Some kids were really good at this game, making it a challenge for Spiderman to defeat. The kids liked being both characters!
Fun in Party Room in Hudson LifeCenter Plus
After a full hour of play, the kids were ready for drinks and to eat. We headed back to the party room for the last 1/2 hour of the party. You can order pizza for the party for an additional $15. The kids devoured it after such active play, so I recommend it!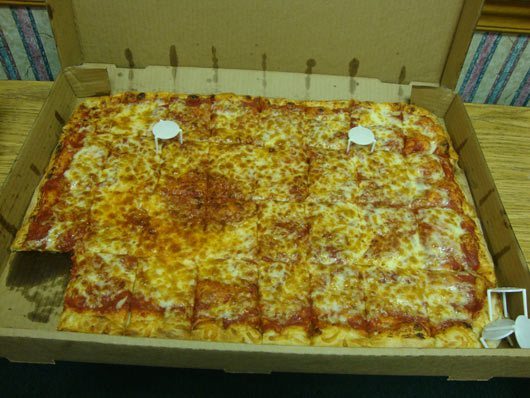 Again, the instructor will take care of everything. Unless you are like me and simply enjoy serving happy kids pizza! There was plenty of pizza for each kid to have 2 slices and there were leftovers.
After pizza time, we sang Happy Birthday to Elijah. The instructor turned down the lights which made the candles have a bigger impact. The kids thought that was so fun! You can have your choice of cake, Elijah chose Chocolate! Giant Eagle does make a good birthday cake!
Finally, it was time for every birthday kid's favorite part – birthday presents! I really liked how they put the spotlight on the birthday kid & gift giver by having them sit on chairs with the kids all around.  I thought that was such a good idea.
As I scrambled for a piece of paper and ink pen to jot down the presents and the gift givers, I noticed that Stacey already had it covered. LifeCenter Plus really thinks of everything! Not only did she write it all down but she put the cards with each present after they were opened, and consolidated the presents into the fewest number of gift bags so it was easier for us to take them home.
The kids didn't want to leave when their parents came to pick them up! Elijah handed out goodie bags and LifeCenter Plus gave us a ring pop aka Super Hero Ring for each child to take home as we said our goodbyes.
As we grabbed our coats, I noticed that Stacey had already boxed up the extra pizza and cake for us as well as the presents. As we left, she cleaned up the entire mess.
Themed Birthday Parties in Hudson Stow Akron
LifeCenter Plus has many popular themed birthday parties available. If your theme isn't listed, they will accommodate you and create the party around your child's theme.
Fit-N-Play (3 – 6  years)
Pirate Party (3 years and older)
Princess Party (5 years and older)
Sports Party (5 years and older)
Rock Climbing (5 years and older)
Super Hero (5 years and older)
Scooter Party (6 years and older)
Pool Parties (7 years and older)
Surf-N-Turf (7 years and older)
Have your kids birthday party at LifeCenter Plus in Hudson, Ohio
I highly recommend LifeCenter Plus for a fantastic fun themed birthday party in Hudson / Stow / Akron, Ohio area. Kids have a great time with the kid-approved games and activities, they have all the popular birthday party themes plus any other you request, and it is a perfect place for a birthday party year-round. It is hassle free for parents from beginning to end so you can actually enjoy your kid's birthday party.
The price is $145 if you are a member of LifeCenter Plus or $169 for non members. The party is for 15 of your child's friends with a $5 charge for over 15 up to 20. Additional charges may apply for various themes.
LifeCenter Plus
5133 Darrow Road
Hudson, Ohio  44236
(330) 655-2377
LifeCenter Plus  on Facebook