FREE family fun awaits at the 15th Annual Duck Tape® Festival June 14-16, 2018 in Avon, Ohio. This FREE event includes a parade, Duck Tape Fashion show, Tractor Supply Company's Fair Tour & Experience, main stage entertainment, Ferdinand movie night, and more. There will be fair rides and concessions for purchase.
The Duck Tape Festival is unlike any other festival around! Each event, exhibit, and experience revolves around Duck Tape. This year's construction-themed event will showcase the creativity of many people with their larger-than-life Duck Tape sculptures , created by students from the University of Cincinnati College of Design, Architecture, Art and Planning (DAAP), that will be assembled on the Festival grounds for all to see!
Can you believe this 22 foot tall Empire State Building is made out of 2 miles of Duck Tape?! That would be incredible to see! There will be exhibits throughout the festival like this.
If you can only go one day to the Duck Tape Festival in Avon, go on Saturday! The Duck Tape® parade is at 10 a.m. on Saturday (starting at Avon High School). The floats are created out of Duck Tape® by community groups and local businesses.  Move over Rose Parade – the Duck Tape Parade is where all of the creativity is showcased!!!
Also on Saturday is the Duck Tape® Festival Fashion Show at 1:30pm on the Main Stage. Constants compete for a chance to win a Grand Prize, sponsored by Cedar Point Amusement Park.
Tractor Supply Company's Fair Tour & Experience will make a stop at the Duck Tape® Festival. The tour features barnyard-themed interactive games and exhibits for Festival-goers of all ages. 
Check out some cool rides on Thursday at 5 p.m. during the FLP Cruisin' Car Show. Ride tickets on Thursday are just $15 starting at 4pm. Movie night takes the main stage at 9:30 p.m. on Thursday!
The Duck Tape Festival looks like a lot of fun with creativity showcased around every corner! Be sure to be one of the first 500 visitors each day and you'll receive a free roll of Duck Tape® so you can can build, fix and construct at home!
The Duck Tape Festival offers FREE admission, FREE Entertainment, and FREE Parking every day June 14-16th!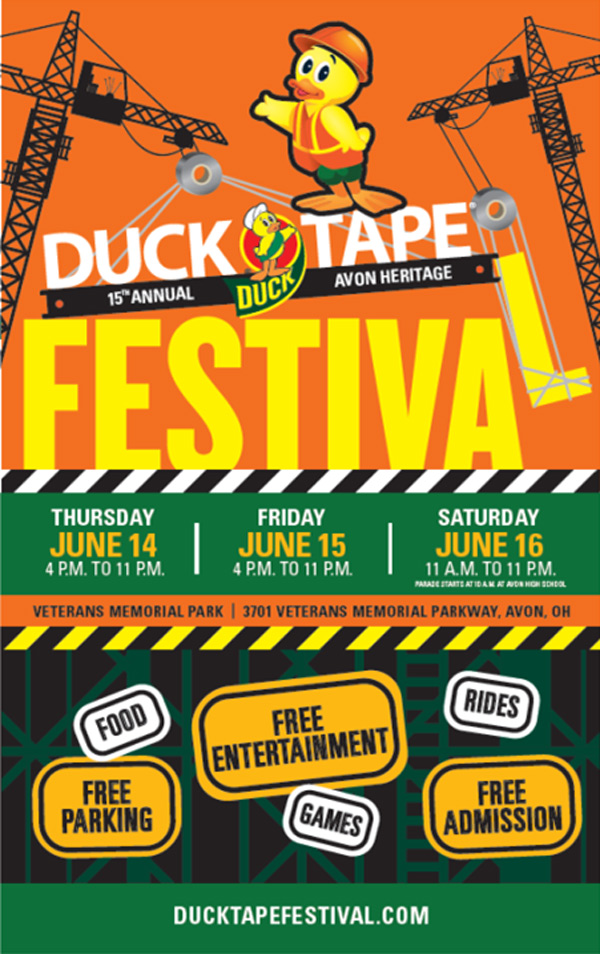 Duck Tape Festival
3701 Veterans Memorial Parkway
Avon, Ohio
June 14, 2018 from 4pm – 11pm
June 15, 2018 from 4pm – 11pm
June 16, 2018 from 11am – 11pm