It is the beginning of summer and time to plan your family fun events. Be sure to save the date for Ohio county fairs for good, old fashion fun! Ohio county fairs are so much fun for all ages with plenty to do, see, and ways to be entertained.  My kids love the fair rides and food. I love the arts & crafts buildings and animal barns. We all love the live entertainment and shows!
Summer schedules fill up fast. Be sure to save the date for at least a couple fair days for your family.
This is a sponsored post.
Ohio State Fair
If there is only one fair your family goes to this year, make it the Ohio State Fair on July 25-August 5, 2018. The Ohio State Fair is the largest state fair in the USA! There is so much to do and see, you might want to plan to spend 2-3 days there!
There are many daily attractions and shows you won't want to miss including family favorites: petting zoo, pony & camel rides, and parade. New this year are the Budweiser Clydesdales, Nervelss Nocks All American Stunt & Thrill Show, Marvelous Mutts (family friendly 'circus' type of dog show using rescue dogs), and Local Matters (learn how to grow healthy foods, taste difference of whole foods to fuel your fun). Choose from many concerts and stage entertainers too! They have the largest selection of fair rides for all ages with the option of a ride-all-day wristband!
If you only have a day at the fair, don't miss these 10 tops things to do at the Ohio State Fair!
Summit County Fair
Located in Tallmadge, the Summit County Fair is July 24-29, 2018. This fair offers special discount days for seniors, veterans, families, and more. There is a full schedule of live entertainment this year including motocross, demolition derby, KOI drag racing, truck pulls, and rough truck. Plus, enjoy an exciting day of fair rides, food, 4-H animals, beard contest, and more.
Medina County Fair
Close by and celebrating 173 years this year, the Medina County Fair https://www.medina-fair.com/ is one of the best in NE Ohio. Mark your calendars for July 30-August 5, 2018. They have incredible rides, activities, food, live entertainment (demo derby, moto cross, rough truck, truck pull, & Ohio bull riding) and the best selection of animals from horses to rabbits! Appearing this year at the grandstand is Kane Brown.
Cuyahoga County Fair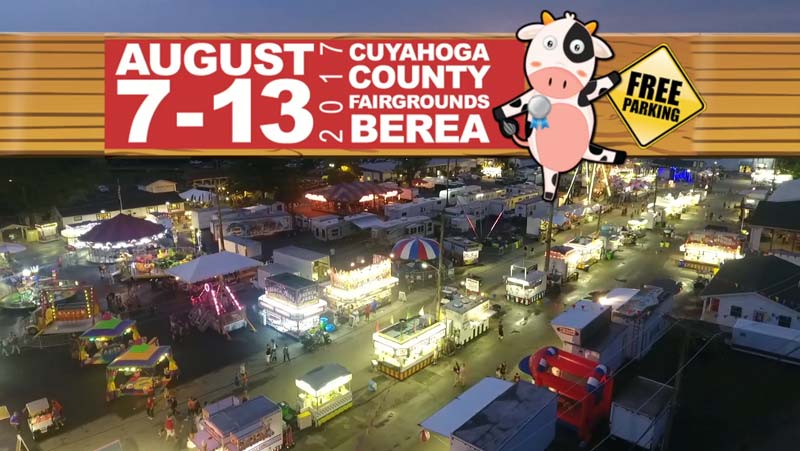 The 122nd annual Cuyahoga County Fair  is August 7-12, 2018 with discount days Tuesday – Saturday! This fair is packed full of fun with demolition derby, rodeo, draft horse pull, monster truck racing, live entertainment (concerts, magicians, performers), motor sports, fair rides for young and young at heart, arts & crafts buildings, games of skill, and plenty of animals including horses, cattle, goats, birds, rabbets, cavies, sheep, and more (barns to visit and shows to entertain).
Stark County Fair
The Stark County Fair is August 28-September 3, 2018. They have a great line-up of live entertainment including Travis Tritt, Aaron Lewis, All-ages Micro Wrestling, tractor & truck pulls, demolition derbies, harness racing, band shows, and more. There are plenty of special fair attractions throughout the day including daily racing pig shows, and magician shows. Visit hundreds of farm animals to visit in the animal barns as well as livestock shows & sales, square dancing, and more. There are fair rides for all ages. Enjoy unlimited rides for just $16 and discounts for seniors, kids, military, and more on select days.