Make December magical with a trip to Great Wolf Lodge! This season, Great Wolf Lodge has been transformed into a winter wonderland, complete with falling snow inside, holiday activities and even a fairy tale life-sized Gingerbread House!
All during the month of December, Great Wolf Lodge guests get to enjoy not only the most amazing family-friendly indoor waterpark but all of the fun holiday activities. Your family can even enjoy a meal inside the Gingerbread House – it accommodates up to 6 guests for a magical experience! Plus, all the proceeds for this special treat goes to Big Brothers Big Sisters so you can feel good about helping others during this holiday season as well.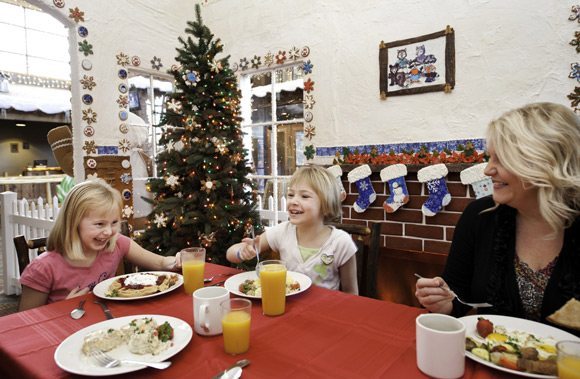 Great Wolf Lodge family-friendly holiday activities in December:  Writing letters to Santa Claus, Santa's Workshop holiday-themed crafts, earn Snowploma, caroling, special Snowland Clock Tower show, Rowdy the Reindeer story reading, and photos with Santa and Mrs. Claus.
Doesn't 84 degree weather sound fantastic right now? At Great Wolf Lodge, the indoor waterpark is always a balmy 84 degrees! Surprise your family or give a trip to Great Wolf Lodge as a gift to someone you love. Make reservations now! If you RSVP today, December 12th – you can get 20% OFF!  Check back often, there are always great deals and savings at Great Wolf Lodge.