Elijah has been playing the uber safe kids video game JumpStart this week. Almost every waking minute!  It's his first video game infatuation, and so far its cute, but a little worrisome.  He tells me how he trained his dragon, how much bigger he grew on a daily basis, and how High he can jump with his log cart.  On Sunday I got an update every hour.
On the same PC, my husband has his video games.  He recognized  years ago that violent video games are not good for the psyche, so his list include games like PixelJunk Eden, Portal 2, Crazy Machines, Civilization, etc… Basically, he sees more blood from a knee scrape then all these put together.
Violent Video Games being promoted on STEAM
Matt always watches for the $2 deal to on STEAM o see if its anything worth playing.  He's cheap.
 Steam is an online video game store, and from what I can tell, one of the biggest.  It has countless games you can try out and purchase.
Below are the sales graphics used to sell the games being featured right now.  I've not altered this list at all.  It includes no more, and no less than what is being promoted: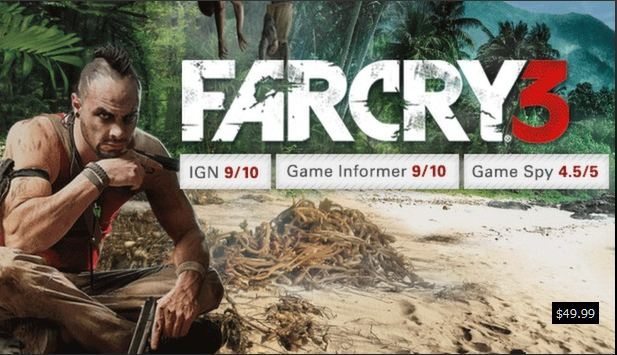 Disgusted by the Violence in Video Games
It is obvious that Steam, and game publishers love to push death and mayhem because it must fill a consumer need.  I don't like that they sell it, and I don't like that mankind likes to buy it.  As my son grows up, I am sure he will fight me and hate me for not allowing him to play these, well, what I see as evil games.
If he played these games would he have problems?  Likey not.  But do I want him desensitized to the dignity of human life?  Obviously not.  Why would I want that??
But are there REAL risks?
Now, sure, I know that 100s of thousands of kids will play M-rated video games this very week.  We do not have an epidemic on our hands (yet) , we have sole shooters, and people lost outside of reality.  But, did violence in video games lead to any of the tragedies this side of 1999?  I think we can all say 'probably'.
We all have that kid down the street or that 2nd cousin's child that always seems to be in a dark place- he should NOT be staring at an XBox 360 screen shooting people.  Would you not agree?  But how do you make that happen?
I believe in Freedom, but I believe in Parenting More
Video game publishing, just like movies, are protected under the Freedom of speech.  I get that, and I won't fight it.  This is the free country we live in.  However, I know it is my personal responsibility to raise my children right.  I wish that every parent would have the same view as me and steer children away from violence, but that is not going to happen.  Ugh? What's a country to do?  I suppose raise awareness, and keep screaming it!!!
Do please like this post, and comment below, in turn showing your facebook friends what you think.