Just in time for Christmas, MARY POPPINS RETURNS is a fun, entertaining movie the entire family will enjoy! Make plans now to go to the theater with family and friends to enjoy the classic story of Mary Poppins. This time, Mary Poppins is back to help the next generation of the Banks family!
This is a sponsored post.
Going through difficult time, the Banks family is in desperate need of help. Can Mary Poppins help again? Typical of a Disney movie, the mother in the story dies, leaving the two young Banks children in a lonely state. The father is still mourning and about to lose the family house. Sister is there to help in any way she can but it is Mary Poppins who comes in to save the day with an unforgettable, fantastic adventure with young Banks children.
My family's favorite scene with Mary Poppins is right in the beginning – let me just say that we all wanted to go home to take an exciting bath! It reminded me of when my kids were little and had long bathtimes filled with playing and imagination. Oh, to have that imagination in our lives our whole life would be amazing!
Throughout the movie, Mary Poppins has the help of Jack. He helps Mary bring aback joy, wonder, and excitement back to the Banks family – dad, sister, and kids alike. The scenes are fantastic and lively, especially the ones that Jack are involved in. It feels like the circus performers were all hired for these amazing scenes.
I love the witty, fun humor of Mary Poppins in this movie. She's nurturing but also lively and fun. "Is this quite safe to ride the bike like this?" "Absolutely…not"
Mary Poppins Returns is all about imagination! The Royal Doulton Bowl scene is both very touching as it was the children's mother's 'priceless' bowl and wildly entertaining as they jump into the land of the bowl's scenery! My husband and I both agree that the way Mary Poppins addressed the children's sadness of the loss of their mother in this scene was the most touching and the most perfect way to handle such a delicate issue.
There are many surprises in the movie, including Dick Van Dyke's dance number! Speaking of dancing, this is a musical. Obviously. I do not like musicals at all, in fact, it is something I avoid. I don't know why. However, this movie does an stellar job at making the music numbers more incorporated into the story line. It is part of the conversation and fabulously performed. I loved it!
Another aspect of Mary Poppins Returns that was amazing was the animation. It is all two dimensional and hand-drawn and hand-painted, just like the original film! So creative.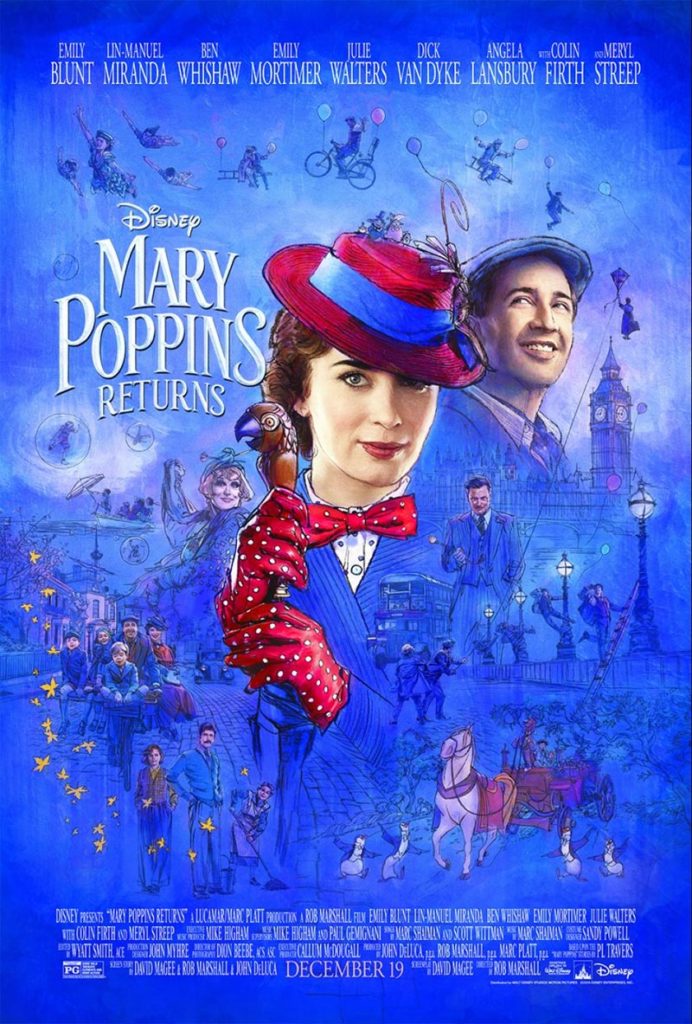 MARY POPPINS RETURNS is in theaters everywhere! Take your family on a fun adventure this Christmas!