isMiddle school is tough. What an awkward age. My middle school age son was home from school sick earlier this week. We sat down to watch the recently released Lionsgate movie, Middle School: The Worst Years of My Life together.
I received product to review for this post.
Middle School: The Worst Years of My Life follows the life of Rafe as he is transferred to a new school that is beyond strict. He still finds ways to have fun with his epic imagination and best friend, Leo. This movie offers non-stop laughter with many, many pranks that middle schoolers will think are hilarious.
Rafe is super creative and his imagination and drawings come to life throughout the movie as Rafe imagines alternative scenarios to his real life experiences. I love the mix of animation in the movie.
It was a great movie to watch with my son. There was only two times that I felt some-what uncomfortable watching it. Once was a reference to a drawing Rafe made of a girl character and once he said the "p" word. I don't allow swearing at all and hate when it is thrown into 'kid' movies. This movie is rated PG, so watch accordingly.
There was one point in the movie that both my son and I were shocked over – in a good way but a little sad. You'll have to watch the movie to understand. I'll just tell you that we were blindsided by it.
You can purchase Middle School: The Worst Years of My Life at retailers nationwide as well as on Amazon.com.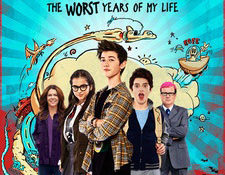 This movie is based on the Middle School, The Worst Years of My Life book, which would be a good read for middle schoolers and even kids as young as 10.