September and October's above-average temperatures has given us a later than normal fall foliage season in Ohio. NE Ohio 's Fall foliage peak starts this weekend through the first weekend of November. Fall is the perfect time to get outside for a nice hike with your family at one of our local parks. 
This is a sponsored post. The coupons for product redemption, information, and gift card have been provided by Entenmann's® Little Bites® so that I could try the product and share my thoughts and information about Entenmann's® Little Bites®. The opinions expressed in this post are my own and do not reflect the opinions of Entenmann's® Little Bites®.
Ohio's Fall Foliage Peak is Here – Get Out and Hike!
Fall is my family's favorite time to hike because of the beautiful fall foliage that can only be fully experienced while hiking.  Ohio families don't have to travel far with the Metro Parks system and Cuyahoga Valley National Park, we have endless trails to choose from in Summit County.
Our favorite park is Virginia Kendall Ledges, part of the Cuyahoga Valley National Park. It is the perfect place to take in Ohio's Fall foliage with the scenic overlook of the Cuyahoga Valley.
There are also pretty cool rock formations, caves, and trails to explore.
I just posted this Facebook Live video below of a hike earlier this week with my kids and dog.  Another favorite park for Fall hiking is Brandywine Falls.
Cooler temperatures makes hiking in the Fall one of the best time of years for people and dogs. Hiking with your dog is a great way to get everyone some exercise and fresh air. Below is a trail at Virginia Kendall Lake park.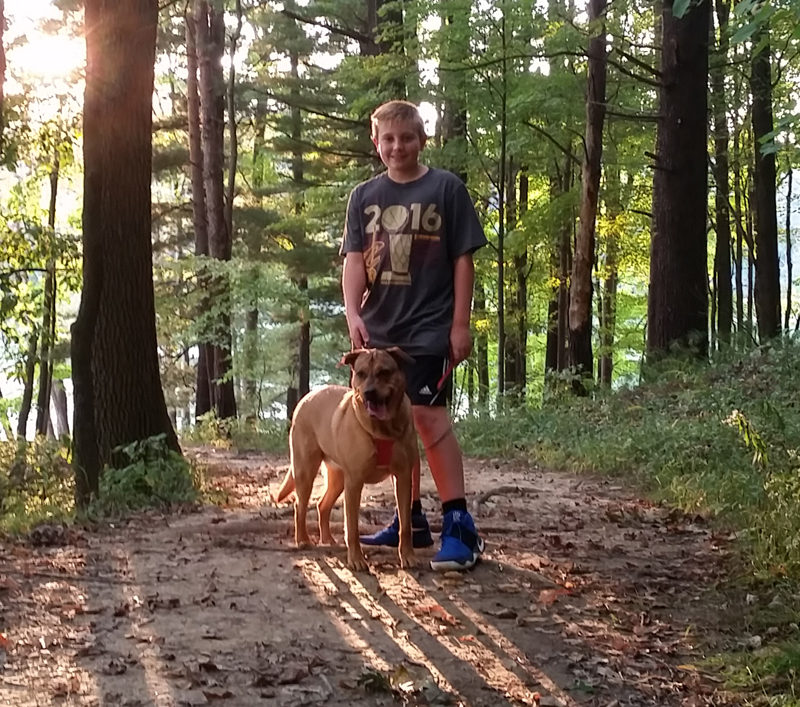 The lake is gorgeous in the Fall with all of the trees surrounding the lake in full color.
While taking a hike, I always pack a snack to enjoy half way through our hike. My kids look forward to it, especially if it is a long hike. We were all excited to try the new Entenmann's® Little Bites® Pumpkin Muffins! What a scrumptious treat to enjoy this Fall. Made with real pumpkin, these mini muffins taste amazing and just perfect to enjoy while enjoying the vibrant colors of Fall.
So soft and moist, the new pumpkin muffins are perfect for all ages. My 15 month old nephew loves them too! It is a snack that I can feel good about giving everyone, as they contain no high fructose corn syrup or trans-fat.
There are four mini muffins in each pouch, making it the perfect size to pack along for an on-the-go snack.  They are easy to take along on a hike or bike ride while you take in the beautiful Fall foliage.  They are great portion control and only 180 calories and 25 grams of carbohydrates per serving.
While hiking this Fall, be sure to check out all your surroundings, beyond the brightly hued trees. Look below for more gorgeous sights. We found this interesting white growth among beautiful moss on a fallen tree during our hike. I have no idea what it is but love the beauty of nature this time of year.
Sometimes the best views are found off the trail, like this salamander my son found under a log. Before my son was born, I had no idea there were so many salamanders and newts in Ohio. As soon as my son was able to walk on his own at parks, he would find and pick up salamanders – when he was 2 or 3 years old!
I love that my kids enjoy exploring nature, something they would never have the chance to do if we didn't take them on walks from an early age.
We also found a spooky tree in the forest. Doesn't the tree below look like a tree out of a Halloween scene? We were half expecting the mouth at the base of the tree to start speaking to us.
Another great way to experience Ohio's Fall foliage is by train. We are fortunate enough to have the Cuyahoaga Valley Scenic Railroad in Summit County. They have a special Fall Flyer 2-hour train ride to enjoy the scenery of the Cuyahoga Valley National Park for the next two weekends.  Be sure to pack a box of Entenmann's® Little Bites® Pumpkin Muffins to enjoy a harvest snack fitting for such an occasion.
I hope you'll get outside this month to enjoy the vibrant colors of reds, oranges, golds, and yellow Fall foliage and time with your family. Be sure to bring the harvest treat of Entenmann's® Little Bites® Pumpkin Muffins with you as a snack.
These tasty pumpkin muffins also make great peanut-free snacks to send to school for your kids and for Halloween class and at-home parties. They are a great addition to your child's lunch too. Available for a limited time, be sure to pick up a couple boxes soon. I found them at my local Acme and Giant Eagle stores.
Win $25 VISA and 3 Boxes of Entenmann's Little Bites
You have the chance to in $25 VISA and 3 coupons for $5.00 off the purchase of 3 Boxes of Entenmann's Little Bites (they are usually priced under $5).
a Rafflecopter giveaway

This promotion is in no way sponsored, endorsed or administered by, or associated with, Facebook. In order to comply with the latest Facebook Promotion Guidelines (revised 5/11/11), the following statements are true: