Send your child a personalized Santa video for FREE this year with Portable North Pole! Over 100,000 personalized videos have been sent by Portable North Pole since 2008 and one look at their videos and you'll see why. They offer top notch videos with an excellent Santa, fantastic scenes, adorable elves, special effects, and the option to personalize!

 I received product and compensation to facilitate this post.
Santa is Sending FREE Personalized Videos this Year with Portable North Pole
Get your free Santa video today via email or on your apple or android devices from Portable North Pole. You can create a personalized video with multiple pictures including a picture of your child and a toy they are asking for. You can also personalize the Santa video with your child's grade in school and where they live. All for FREE. You can also create a free birthday video from Santa for your child. Or send another adult friend a personalized video made just for adults.
Get started now on your free personalized Santa Video on the Portable North Pole website.
Premium Santa Videos
You can also create a premium Santa video for just $3.99 or unlimited videos and calls from Santa at just $9.99 – use this for multiple children! With the premium option, there are more story lines to choose from and more ways to personalize the video including adding a photo of where you live!  Check out the Premium Santa Video I created for my daughter, Elizabeth.
In the video, Santa goes to a massive library of books of all the kids to see if they are on the nice or naughty list. He takes down Elizabeth's book, which is located between her brother, Elijah and her dog, Roxy's! You can add up to 5 names.
It the book, it shows her photo and that she is in second grade. You can also add other things like goes to school/preschool, stays home with mommy, goes to daycare, or something generic like is in elementary school. You'll also have the chance to add a goal for your child that Santa will say aloud. For my daughter, I added to keep her room clean and tidy.
Santa goes on to look at a couple more pictures. He says "I see you had a nice vacation" for the below photo.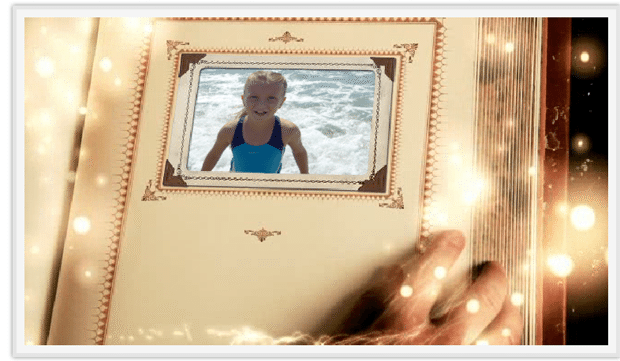 There is much more to the video, including funny antics with the elves. It is a top-notch production, they put a lot of effort into it to really make it look nice. The elves power up their Verdict Machine to see if Elizabeth is on the Naughty or Nice list this year and were so excited to see she is on the Nice list!
All in all, it is about 5 minutes long. In the end, Santa looks through his special periscope to see where Elizabeth lives.
Then he zooms into her house!  This was a huge, magical experience when I first saw it. I know my daughter will be amazed. I can almost see her eyes get big right now!
You can also receive free and premium call from Santa with Portable North Pole.
Share the magic of Santa this year with your children with your very own FREE or premium video from Santa with Portable North Pole.  If you choose to go with the premium video, use Promo Code BLG20BKP for 20% OFF!
I think it is also important to note when companies give back. Portable North Pole donates 5% of all sales to a kids hospital in your region. In Ohio, the donations go to UH Rainbow Babies & Children's Hospital. Last year, they donated over $75,000!
Go to PortableNorthPole.com to get started.
You can also connect with Portable North Pole on Facebook, Twitter, and Pinterest.